In the Ancona province, a beautiful farmhouse surrounded by centuries-old olive trees and sunflowers standsToday, we bring you in the Marche region. To be more precise, in Cupramontana, the so called "Verdicchio Town": among green hills, luxuriant olive trees and sunflowers, Great Estate proposes you an amazing farmhouse for sale.
Cupramontana, a location dating back to the 16th– 15thcenturies at about twenty kilometres from the sea, takes its name from the goddess of Cupra, the fertility divinity venerated by the Picentes who, right in this territory, created a temple addressed to her. Important municipality during the Roman Augustan era, Cupramontana still maintains the plans, today undergrounded, of the Roman thermal baths.
Near this town, surrounded by an amazing natural context made of green hills, centuries-old olive trees and sunflowers, Great Estate proposes you a rustic farmhouse, perfect to be used both a first or holiday home, as well as a touristic accommodation.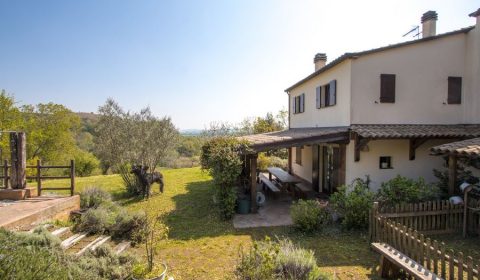 After the renovation works, the insides of this house in Cupramontana (click here to discover the property tab) maintained their traditional style. In the meantime, some modern confront and services has been included too: solar panels for the water heating, under-floor heating system and video surveillance system. The four beautiful apartments creating the farmhouse are framed by a green and well-maintained garden, where a small swimming pool and a Jacuzzi stand too. The perfect place to relax yourself. In this amazing context, a private 80 trees olive grove is included too.
Discover this and all the GE interesting property for sale in the Marche region by visiting our website.