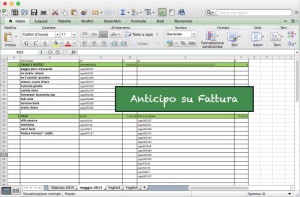 In most cases they can be submitted in advance of all invoices that have been issued but not yet paid
In principle, they may be submitted in respect of all invoices that have been issued but still have to be paid or settled. The bank may, nevertheless, decline them as they may view some invoices as 'unacceptable' where, for example, clients or companies may be insolvent.
There is no limit to the amount on the invoice that can be submitted. There is, however, anticipated limits that must be at or below an agreed credit limit or other requirements as set by the bank. This could, for example, include an agreement not to use the entire credit limit on a single client.
Finally, it's important to remember that the bank will not usually offer credit for the full amount of the invoice but only a percentage that will not normally exceed 80%.
The advance invoice, therefore, represents an alternative funding stream that can prove useful if you have problems collecting bills quickly (within one month) and want to "unfreeze" some credit to get liquidity flowing once again.
Edited by Angela Cocca and translated by Tanya Starrett