In this article, we will give you some valuable tips on how to quickly and profitably offer and sell your beautiful property, despite the current difficulties caused by Covid-19: we are going to introduce you to the "Virtual Visits" project.
Dear owner, another period of great news and necessary changes-innovations awaits us.
Undoubtedly, we are going through a complex moment.
The past lockdown and the current restrictions are forcing us to open our minds to important innovations, the aim of which is to stem as far as possible the physiological decline in "physical" visits of all types of property and, consequently, the reduced possibility of finding the right client in the shortest possible time.
As Great Estate group, this period has suggested to us some alternative solutions, identifiable in various innovative activities, which can help us to counteract the current difficult moment.
We firmly believe that these activities can become important pluses for the near future, also in view of the great results already achieved that we will tell you about in a moment.
Thanks to some innovative solutions that we have designed and tested, we are now able to present your beautiful property even if the buyer cannot physically visit it.
This is possible thanks to our project: "VIRTUAL VISITS".
This innovative solution, which requires an open mind on our part and on the part of each owner who wishes to take advantage of it, will allow us to create a series of videos through which we can present your beautiful property to our entire database, via one or more Virtual Tours.
Yes,… We know exactly what you're thinking.
… but my property will never be sold without buyers seeing it for themselves …
Do you remember what I told you earlier?
You need to open your mind to a series of changes that are already taking place. Therefore, invest your time in reading and listening carefully to the stories we will be proposing shortly.
---
IT IS VERY IMPORTANT THAT YOU KNOW THE HISTORY AND ACHIEVEMENTS OF OUR GROUP DURING THE FIRST LOCKDOWN, SO THAT YOU CAN BASE YOUR FUTURE ON THE POSITIVE EXPERIENCES OF THE PAST.
WELL YES!
WE HAVE BOUGHT AND SOLD MANY PROPERTIES WITHOUT THE BUYERS VISITING THEM PHYSICALLY.
Reading these real-life experiences will convince you that the results of others can become your own results, if you just want to and if you talk to your Great Estate advisor today.
And if you're not yet a Great Estate client, call us now for this and many other consultations.
The sale of "Tenuta Santa Cristina" (Umbria), sale price approximately of € 800,000: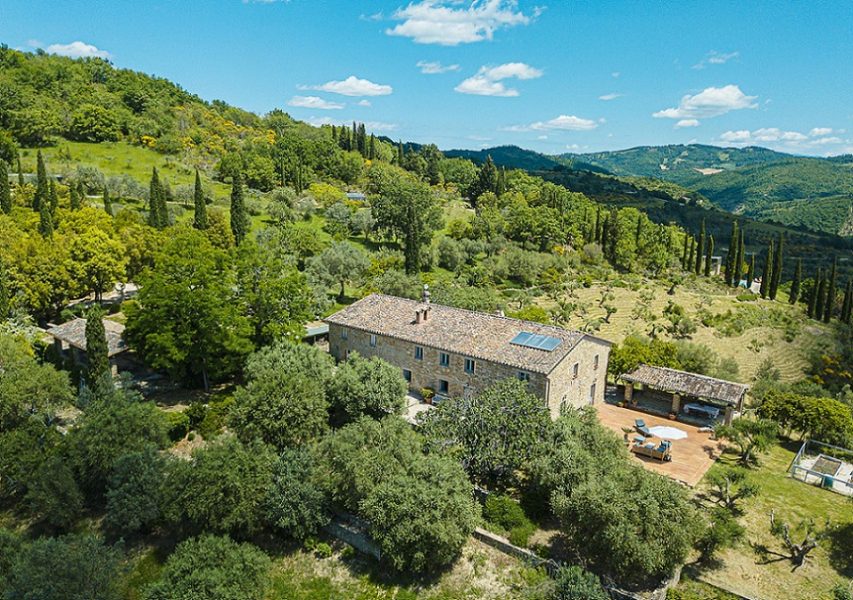 Invest 10 minutes of your precious time to listen to an interview with the buyers in which they tell about their experience.
---
The sale of "Il Paradiso Su Todi" (Umbria), sale price 1,250,000 euros: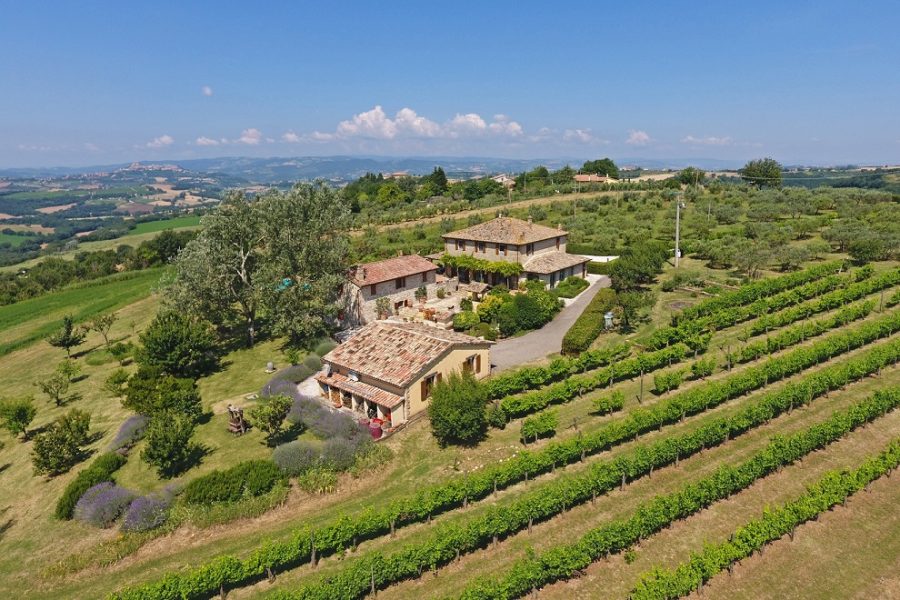 This sale was also realised as a result of interest shown by the buyers, which had followed:
an adjustment of the asking price in relation to the value of the property (a fundamental basis for making a property attractive on the market);
the possibility of seeing the farmhouse through a Virtual Tour, thanks to the previous realization of both a professional Video with Drone, and the Virtual Tour of the property (here is another focal point: the fundamental importance of how we present a property, and how this is possible even thousands of kilometres away if we have previously done an important and professional job);
the efforts made by our professional in organizing a subsequent Virtual Visit (specifically the One to One Virtual Visit) which allowed the Italian-Argentinean buyer to "virtually experience" what would soon become their new property.
to the great synergy and teamwork of the professionals who handled the buyer and seller.
The combination of these factors made it possible to achieve a €1,240,000 sale without the buyers ever seeing the property 'live':
asking price in line with the estimate made by our group via our THE BEST PRICE;
implementation of drone and virtual video that allowed Italian-Argentine clients to fall in love with the property;
one-to-one virtual visit by the professional.
In order to have another, different point of view, the clients had asked a friend of theirs to view the property … however… they had already made their decision, for the very reasons I have just explained to you.
And … do you want to know something else? The new owners of "Il Paradiso Su Todi" signed the deed of sale on 28 October 2020, but they will be able to see their new home only in March 2021, due to the lockdown still in progress in Argentina.
---
The sale of "Amore Di Vino" (Tuscany), sale price about 300,000 euros: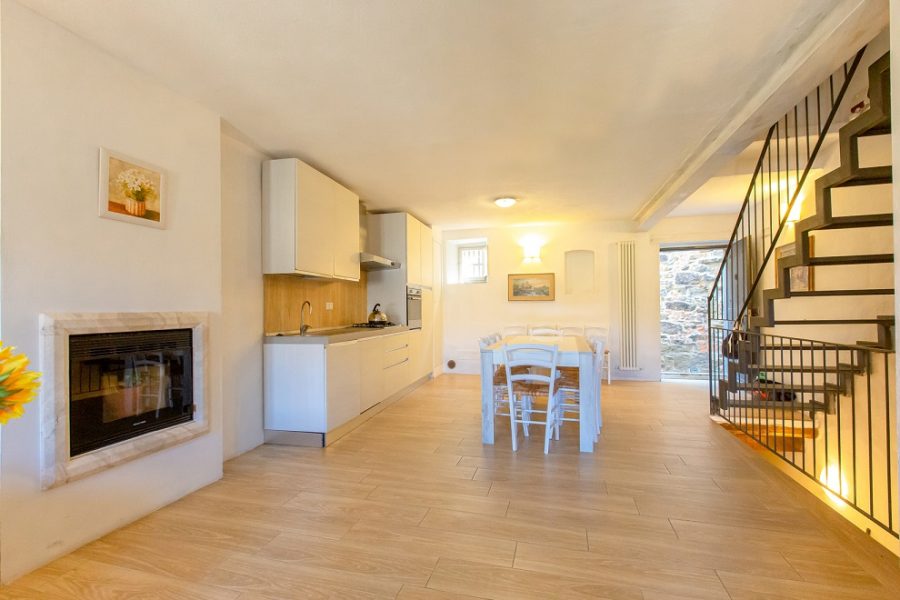 Also in this sale, buyers were able to "immerse" themselves in no less than three virtual tours of the house, namely:
The first, through a professional promotional video of the property and our Virtual Tour with tools that allows 360° visits: the latter allows the buyer to dwell on all the details that interest him/her the most, as well as to "walk-around" the house as if he/she was actually there, directly on site.
Secondly, through the viewing of the Internal and External Video of the property, where the professional who made it focused first of all on certain important internal details of the property, shared with the purchaser of the same, in order to highlight the greatest aspects of the property, as well as certain details inherent to the external location of the same.
The third and decisive one was the One to One Virtual Visit, carried out by our professional via a WhatsApp video call. A service that allowed the buyers to "live virtually" what has now become their new property in Italy.
This last visit was the starting point for the entire negotiation process, which ended on 4th November 2020 with the signing of the final deed of sale.
A "small" detail:
buyers were able to physically see their new property for the first time only a few days before the signing of the deed (after signing the preliminary contract of sale), being so able to relive all the emotions and sensations they had perceived thanks to the three virtual visits.
Invest 10 minutes of your precious time by carefully reading the interview with the buyers and the story of their experience:
---
The sale of "La Terrazza" (Tuscany), sale price approx. 400,000 euros: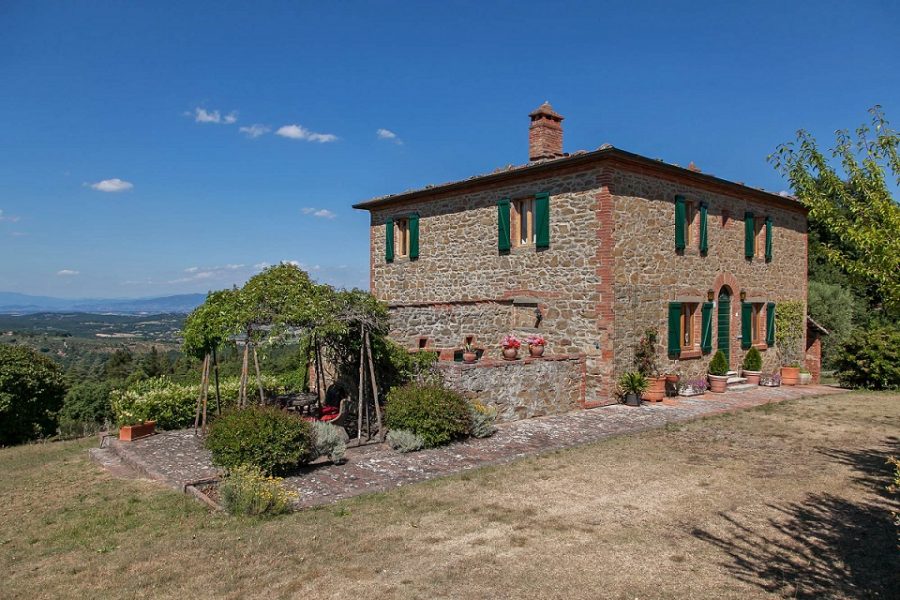 All it took to achieve this sale was, so to speak, just a One to One Virtual Visit via FaceTime video-call between the professionals of the sellers, those of the buyers, and the buyers themselves.
Thus, a Virtual One to One Visit was enough to convince the buyer clients to start negotiations for the purchase of their new property in Italy.
Below, read all the statements from the protagonists of this fourth and exciting story that confirms, if there was still a need, how deals can and should be reached thanks to the technology and an innovative mindset that is open to change or, perhaps even better, a mindset that is an advocate and participant in change.
---
Well,
now you have the opportunity to have another important point of view, and you can decide to approach this period in two different ways …
1 a thought that results in a static attitude is:
"… unfortunately there is a difficult moment and I can do nothing …"
"… it is true that others have sold with virtual tours, but those properties were selling themselves …"
"… unfortunately my property is not suitable for this type of sale …"
2 pro-active thinking that translates itself into a dynamic way of doing things is:
"Objectively, it is a complex time of great change, but I know that other owners have managed to sell through innovative systems that rely heavily on virtual visits.
So, I will do everything I can do, without finding futile justifications, so as to achieve the best possible result even at this particularly complex time.
Furthermore, I am aware that it is necessary to rely on a structured organisation, and that one is certainly Great Estate: they have already achieved a lot with these techniques and they invest a lot every day to improve techniques, processes, and property presentations.
I am confident that together with them I will achieve the best possible results!"
So, what should be done in practice from now on?
If you still have some doubts about what we can do together for your property, then go back to the beginning of the article and read it 1, 10, 100 times until you are convinced of all that we can achieve together.
We can provide you with analysis, tools, and guidance, but a lot depends on you and your willingness to share with us all the best tools to make your property more attractive.
When you share this approach, contact Great Estate or, if you are already our client, contact your trusted professional.
Consider that, to achieve the best result, you will have to start from these basics:
Adjust the asking price to the real value of your property and share it with your trusted professional via THE BEST PRICE tool.
Sign up with our group for a shared exclusive assignment: thus, you will be entitled until 31-03-2021 to a special investment gift for virtual visits.
---
Here there are all the types of Videos that we could make for your fantastic property and that buyers from all over the world will be able to watch directly on our sites, via dedicated accesses:
Virtual Tour
CLICK ON THE PHOTO TO SEE AN EXAMPLE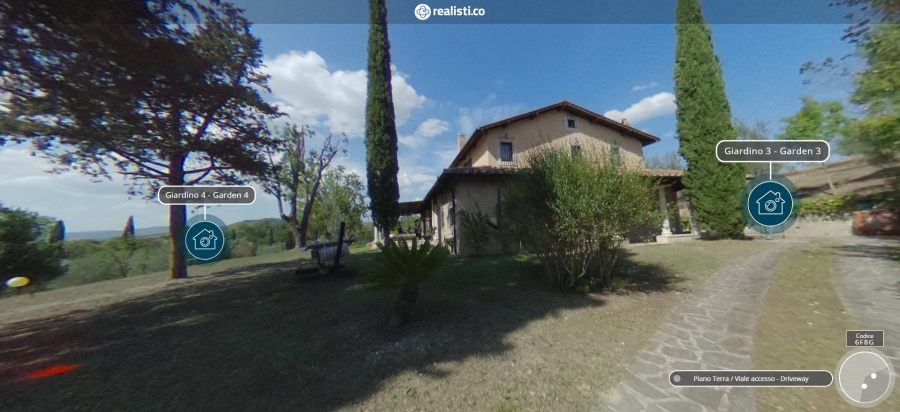 Drone Video
CLICK ON THE PHOTO TO SEE AN EXAMPLE
Internal Video
CLICK ON THE PHOTO TO SEE AN EXAMPLE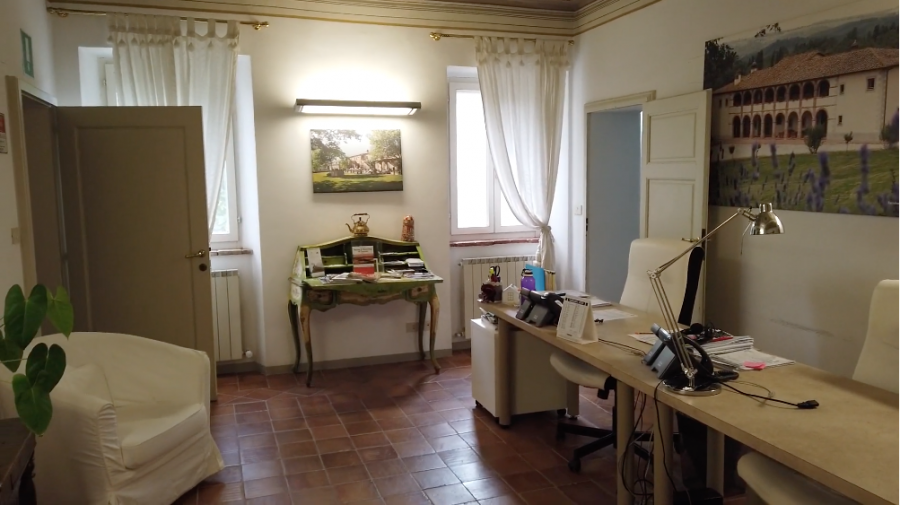 Internal and External Video
CLICK ON THE PHOTO TO SEE AN EXAMPLE
Professional Video with actor
CLICK ON THE PHOTO TO SEE AN EXAMPLE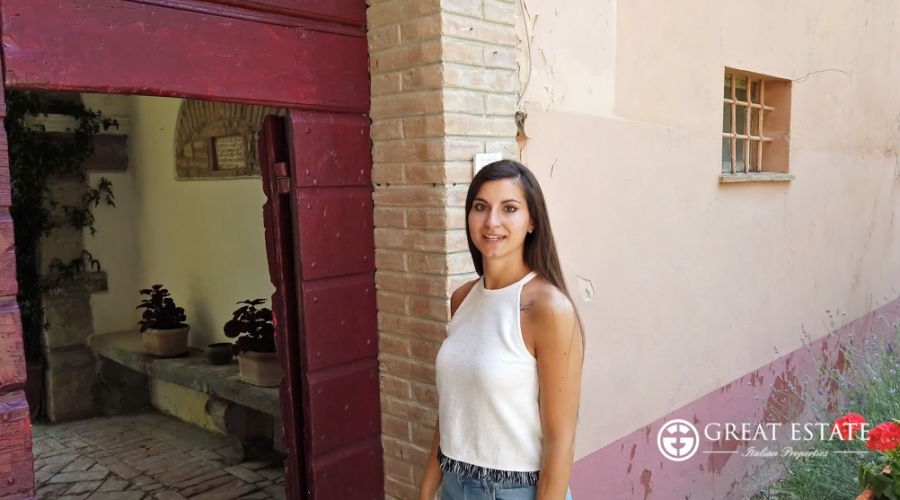 ---
"Virtual Open House" Project
As a group, we are always striving for excellence, which is why we have gone beyond making videos and have also structured a further, extraordinary project: the VIRTUAL OPEN HOUSE.
If you want to read more:
---
Here below you will find a summary of the various types of our services, with an indication of the relevant investments: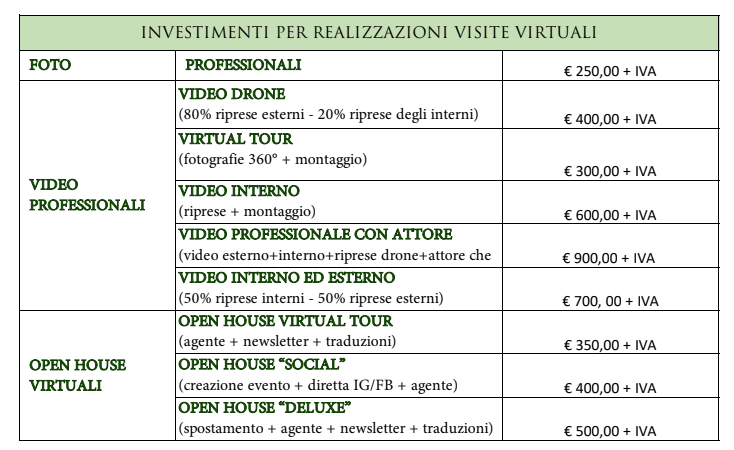 Very good.
Now you know the various possibilities we can offer you to present your beautiful property in the best way and to achieve the best result possible.
So … now you do!
Now you know what you can do!
---
GENERAL CONCLUSIONS
The good news is that, unlike other sectors (let's think about restaurants, hotels, gyms and many other businesses that don't have the same opportunity as you), those like you who have the will to find the right buyer can do a lot, even if another lockdown or similar restrictions are imposed.
While we must be aware that this emergency will eventually come to an end, we must also try to "calm down" this objective difficult situation as much as possible … as they say: "making a virtue out of necessity".
What will happen to you if you don't open your mind?
And what will happen to you if you start putting into practice, day after day, all the powerful suggestions you have read in this article?
If you do not open your mind to these innovative activities, you will concretely find yourself without the possibility of achieving goals.
Unfortunately for you, there will be little movement of clients in the coming months. Therefore, day by day, you will become more and more demoralized, blaming the general situation and the pandemic, and trying to justify your failures.
What we are clearly communicating to you in this article is that, if you want to sell your property quickly and profitably, the best way forward today is to keep up with a world that has already changed, even though many of us still don't want to admit it.
And, while it's true that in times like these people spend a lot more time online, especially on social media, thanks to our group and the many solutions we can offer you, you can take advantage of a unique opportunity to showcase your fantastic property to as many potentially interested clients as possible, through an absolutely innovative and winning communication.
By starting today to put into practice everything we have told you in this article, you will achieve the same important results that other sellers have already achieved in the first lockdown and, indeed, you will gain the knowledge that these innovations will bring you great benefits in the future, once this unpleasant and difficult time is behind us.
"Every moment of crisis has huge hidden possibilities …"
"It is not the strongest of the species that survives, nor the most intelligent, but the one most responsive to change."

Charles Darwin
Read also: