"
How did you find Great Estate and when did you have the first contact?
The first contact was with the agency in San Casciano dei Bagni where we saw the property in the Great Estate agent window, and we contacted Elisa Biglia, who she had been in correspondence with in regards to an earlier property.
"
Why did you choose Paciano?
I familiar with the area because of the house I have in Piazze for a few years, I love the people, friends and I'm comfortable with the area, I love that the train station is only few minutes away (is near by) it's very convenient for us and it's very easy for us to get off the A1, that's why we moved down here and why we love this area. We've looked at many areas and nothing had fit and we walked into this house and it was like:" this is it". We walked in here the ceilings where high the views where amazing and the light was perfect. Elisa Biglia and Roberto Biggera put there heads together and came up with this.
"
Can you tell us what it means for you and your family to buy this farmhouse in Paciano?
First I came here "I'm sorry I'm getting emotional" I've never been to Italy but I felt a connection. I had such love fot the people, the area, the Italian culture. I really feel like I resonate here. I feel peace here. I feel home here. I don't want to be a tourist. I feel part of the land, the culture and the people here.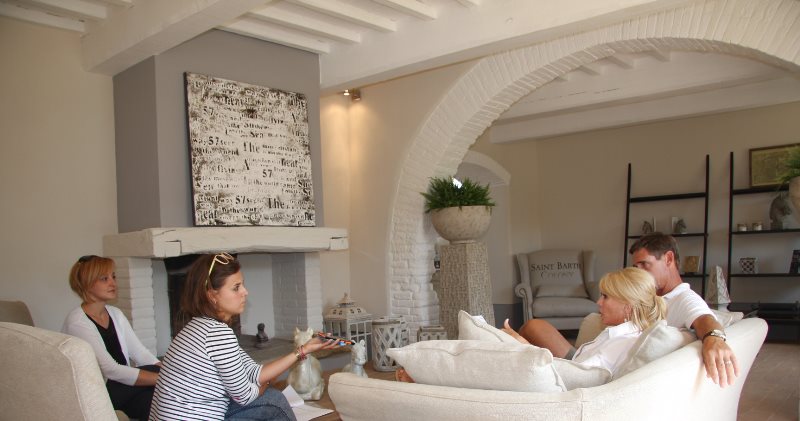 "
Was it difficult to find the property you were looking for?
It took a few days but you know when you walk into a place. We looked at apartments in the old parts of town but that wasn't for us. It was remarkable that we found it in one week time. We wanted land, the views and a large kitchen.
"
Why do you entrust the Great Estate Group?
They worked so hard for us in finding the property that I would like and I knew that they'd do that again. Elisa spoke great English, and everybody's helped us find our dream home.
"
Can you tell us something about Emanuela Miani partner of Great Estate that did a work?
She was so gracious to show us her space and her furniture. We couldn't see the space and it was scary not being able to see all this work in progress. We trusted that it would be good and it was beyond what we imagined. They did a very professional job. She was very helpful. She got the air conditioning and the internet working. The washer and dryer was working. She made it possible that when we got in from the airport the bed sheets and towels were available. She made it possible that we could come here and stay and be comfortable from the first day. She exceeded our expectations. She is wonderful!