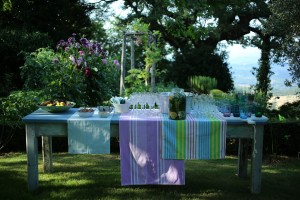 "Could you tell us about your new web-site? What's the main topic?
We are going to run cooking classes at our farmhouse "Le Contesse". Leads by local chefs from the area. These days we are working on our web site. We are working now with our web site team to conclude the last details. Hopefully, It will be on air soon. In the web site, one could learn about our various cooking classes' options, about the house and its gardens and be able to find a suitable program.
"It has been a year since you bought this property, what are your impressions of life in Italy so far and Cetona in particular. How are you finding it?
Cetona is a wonderful place to live in. We love our village life. People are warm and friendly and we have made already many new friends.
We are actually coming here more often than we thought at the beginning and next year we plan to come for even longer period.
"Have there been further renovations to the property in addition to those already made prior to your purchase?
We have purchased the property in a very good condition, so there were minor works to be done. We had to do some wall painting and renew the irrigation system and built a new and bigger kitchen garden, mixed with flowers, vegetables and herbs for our cooking classes.
"What was it in particular that impressed you most about this property?
It was love from first sight. The house and garden size, its style are perfect for us. We like the big and professional kitchen, the romantic garden, the setting, location and the view of Cetona and the surrounding from each point of the house and garden.
"Were you pleased with the work of Great Estate?
The team at Great Estate is great to work with. They saw us through all the yearlong also after purchasing the property. Buying a house with Great Estate turned to be a pleasant and positive experience. They keep helping us with any issue we face and give us answers to every question we raise. They are familiar with the procedures needed to transfer house utilities bills. They communicate with the municipality, Bank, TV, Gas, phone companies etc. that makes the whole process very smooth. They assist us professionally with lots of good will. With Great Estate, we know we have someone beside us all the way.
"And what are your future plans?
We would love to be able to spend more time in Tuscany and to stay in our house much more often. We hope the cooking classes will be successful and a fulfilling experience for us.