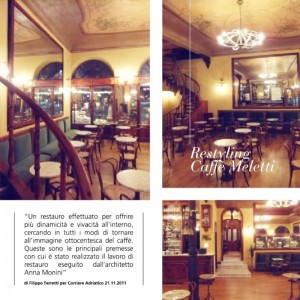 When did you discover your passion for architecture?
I grew up surrounded by architects desks and travertine as my father was a mineral engineer (among other things, he was an architect on the Fortress of Civitella del Tronto restoration project). I would have to say that architecture is in my DNA!
Who were the architects that inspired you during your studies?
The first image that comes to mind is the " House of the waterfall – Fallingwater by Frank Lloyd Wright". As soon as I saw it, I knew what I wanted to do and how to get there using a unique and elegant style that is never excessive.
Tell us about your professional history?
Since 2001, I have worked in the field of preservation and restoration within the framework of the Historical Heritage Building Code. I have worked on architectural restoration projects of farmhouses and period palazzos in the historic centres of Ascoli Piceno, Teramo and San Benedetto del Tronto.
In 2010 I was involved in the restoration and preservation of the historic Caffè Meletti in Piazza del Popolo in Ascoli Piceno and, through its restoration, revived this bygone jewel for the modern age.
In the field of Interior Design, I have designed and built several apartments and residences as well as on industrial and commercial projects through, for instance, the redesign of factories and commercial properties to enhance their architectural function.
In 2012, through my studies on ecological design, I became a qualified Energy Manager.
When I am involved in a company's renovation project, I pay close attention to its brand so I can capture the best fit that will match the client's style and business activities.
In my role as project manager and director in charge of the Diocese of Ascoli Piceno, I am currently working on the Church restoration project of Nuova Chiesa di St. Lucia in Folignano-Piane di Morro.
What type of clients do you mainly work with and what services do you offer?
I mainly work with individuals, couples or families who have lived for years in a property and want to change the look of it in terms of its expressive potential and function. In addition to being an architect involved in the design and building of new homes, I also restore older buildings as well as being involved in green architecture and interior design: today there is the knowledge, ability and incentives to ensure that the environment in which we live and work is healthy and energy efficient. This is achieved through the use of environmentally friendly materials and facilities, the careful planning and use of sunlight and artificial light and the correct distribution of space for better interaction between people then it is individual's choices with colour and so on. This is also very important as choosing the right colour for our environment helps to make our work more effective and as comfortable as our home.
How did you make contact with the Great Estate & Chesterton Group and what are the reasons that led you to become a partner with them?

I was looking for a real estate agency that I could work with in the restoration field because I live in between the Marche and Umbria regions and know the potential of the area. When I first made contact with the group I was favourably impressed by its professionalism so I decided to become a partner. I trust it will be a profitable relationship for both client and us.
Edited by Valentina Fabbrizzi and translated by Tanya Pia Starrett