Today we present three excellences in the Umbrian real estate panorama, located between the green landscapes of Trasimeno and Valnerina, recently acquired by the Great Estate group professionals. Get ready to experience an enchanting journey to discover wonderful properties with unique charm.
GIOIELLO SULLA VALLE
A stone villa with an authentic flavor born from the careful restoration of what was originally an ancient convent and then a mill for pressing olives. This charming residence of about 500 square meters is embellished with quality materials, such as the original terracotta tiles and oak roof beams.
Surrounded by a wonderful garden with a panoramic swimming pool, olive trees in production and centuries-old oak trees, "Gioiello sulla Valle" will surprise you with its elegance and attention to detail, an author's home a few kilometers from Spoleto.
Congratulations to our consultant, Carla Caselli of the Great Estate headquarters in Spoleto who has acquired this magnificent residence, dedicating herself with passion to its enhancement.
LA CASA LUNGA
If you're looking for a property with ancient origins, immersed in absolute quiet, then this fantastic home acquired by our consultant Claudia Turco from the Castiglione del Lago office is the right one for you.
"La Casa Lunga" represents the excellent result of the meticulous recovery of an ancient country house, who origins are placed between 1300 and 1800, of which we can still admire the ancient tobacco tower and the stone oven.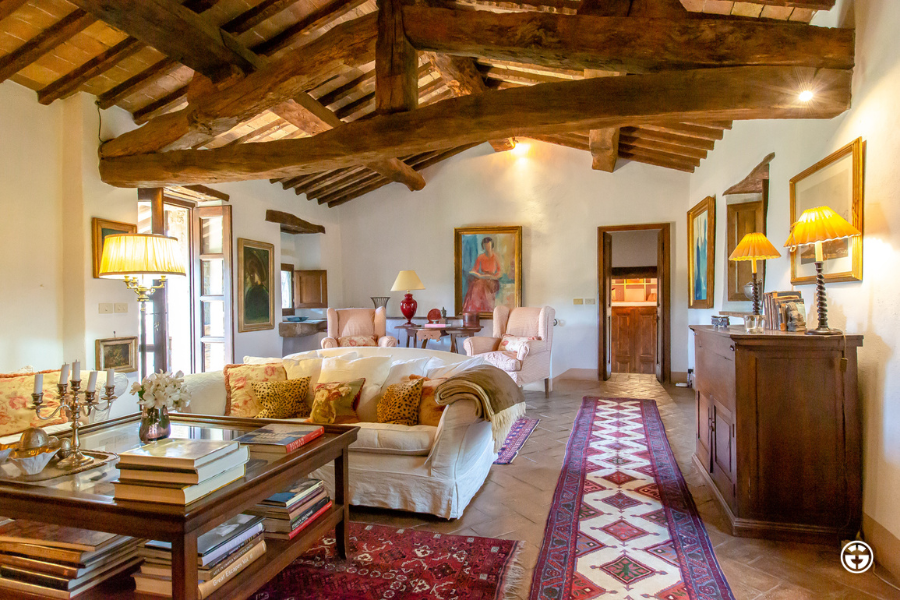 The farmhouse of about 400 square meters, which offers a wonderful view of the valley, develops horizontally, offering large and bright rooms, enhanced by exclusive handmade materials and enchanting outdoor living areas, ideal for your summer dinners.
Born from a careful landscaping project, the garden with swimming pool of "La Casa Lunga" gives a touch of romanticism to the property, further enhancing its outdoor spaces.
PODERE DELLE FONTI
Antique terracotta, stone, wood and designer furnishings are the undisputed protagonists of this excellent property recently acquired by the consultant Ilaria Peparaio of the headquarters in Città Della Pieve, located on the border between Umbria and Tuscany, near the historic village of the same.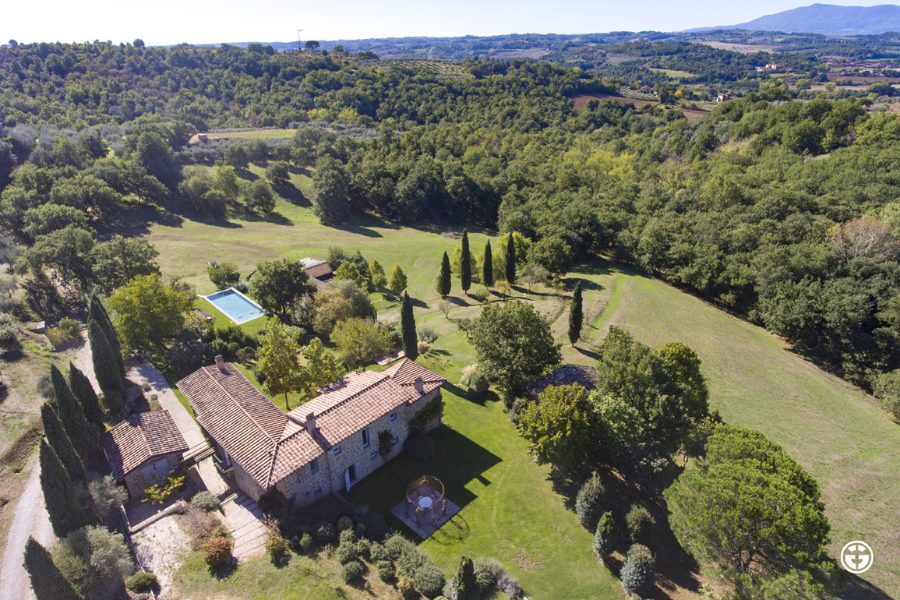 "Podere Delle Fonti" consists of a recently renovated main farmhouse, an outbuilding, the former barn and the old stable entirely made of wood, for a total area of about 650 square meters.
The garden of the property, which houses a beautiful swimming pool, is about 4.5 hectares with 80 olive trees, a private pond and a tree house.
A property where tradition, charm and a touch of modernity create an elegant combination, offering an excellent opportunity to those who cultivate the dream of living in the countryside in a beautiful area between the hills and the lake.
Visit our website or contact our main office