Il Giardino Incantato, one of the most beautiful farmhouses of the southern Siena province, in the municipality of Sarteano. It has been purchased by an Israeli client: the new success of Great Estate.
Let's interview Rosanna Lucarelli, the ex-owner of this amazing property.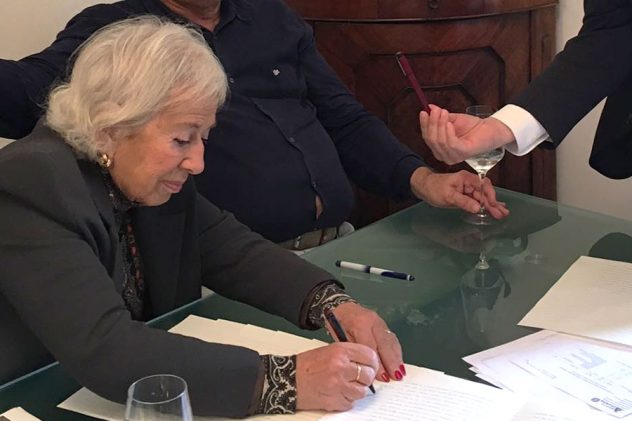 Rosanna, can you tell us something about your property?
I purchased it about 40 years ago, right after my first visit to this property.
Initially, it did not seem logic to me, so I decided to visit other properties too. However, its location, beauty and features had already made me decided.
Thanks to the amazing work of Ippolito Pizzetti and Margheriti, the property had soon became, as everyone who visited it said, a little "paradise".
Federico Fellini, who spent his August, 15thwith us, was thinking about a Italy regions film. He thought to write about Tuscany while sitting in our garden.
When did you decide to sell your property? Why?
I decided to sell it after my husband's death, which was five years ago: this farmhouse is beautiful if lived in company and with many friends.
How did you discover Great Estate?
I discovered it through one of its partners.
We know that, at a certain moment, you wanted to remove your property from the market. Indeed, you had also sent an assignment for sale termination communication to Great Estate. Why?
Because, at the beginning, I gave the assignment for sale of my property superficially. So, I decided to give it to the agencies which had already sold the properties of some friends of mine.
How this the second cooperation with Great Estate started?
Because, one day, two beautiful and funny guys had directly knocked to my door. So the story started.
How was this your experience? We know that your property was still for sale with other competitor agencies of our as Knight Frank, Casa Italia International, Lionard and Toscanaimmobiliare too. What do you think about Great Estate?
It was great, everyone was really professional, helpful and polite. They were always ready to answer and support me, but without being too invasive.
Maybe, people like Stefano Petri and Robeto Biggera are the elements which distinguish Great Estate to the other agencies.
We know that, at the beginning, you gave the assignment for sale of your property to some local agencies too. What do you think about them?
Sincerely speaking, the local agencies to which I addressed myself did not have brought any visit to my home. It is clear that they were not ready to face a so important negotiation.
Let's tell us something about your property buyer.
The negotiation started normally.
I did not realize the interest of this clients immediately, but we "worked" as always.
We know that, in the same moment, you received two different purchasing offers. Why did you accept the one coming from the Great Estate client?
Even if the other offer was higher, I wanted to conclude with Great Estate. This was because of the great relationship and work did together. For this reason, and particularly thanks to Stefano and Roberto, I will always entrust myself to them in case of another similar negotiation, as well as I will suggest Great Estate to every friend who is willing to sell his/her property.
Moreover, I want to thank you. You avoid me to face some problems which, for a person like me, would have surely been something very hard to deal with.
How did Great Estate supported you for the negotiation fiscal aspects?
All the GE professionals I met were always ready and prepared in their matters. They dealt with every aspect of the negotiation. A really excellent work!