Here, at the end of a long and suggestive cypresses and centuries-old pines-lined road, "Il Poggio Tra I Laghi" stands.
An extraordinary and elegant country residence: "Il Poggio Tra I Laghi", an ancient estate dating back to 1700.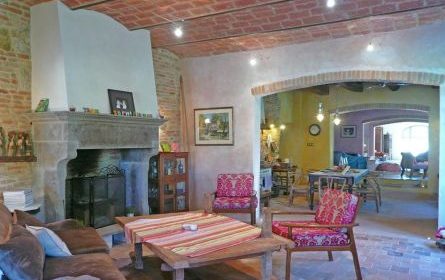 Today, we can admire the result of a well-done renovation of the farmhouse, which ended in 2008. During the works, a particular attention was addressed to the maintaining of the many original materials and elements of the building. Those can be seen both in the external and inner structure of the property: the ceilings of the living and sleeping areas are characterized by the alternation of ancient chestnut beams, cotto tiles and bricks vaults.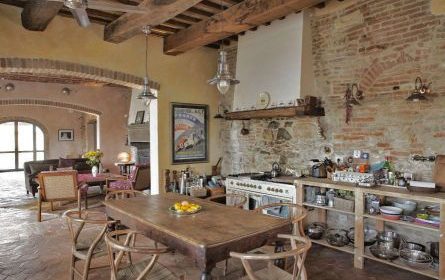 Floors are in cotto: very particular is the hexagonal one of the kitchen at the ground floor which, antically, was used as stable. This room presents also a stone and bricks original wall.
Immersed into this traditional Umbrian style made of stones, bricks, cotto and travertine fireplaces, modernity finds its place too: from the warm shades used for the walls to the double and reinforced glasses and the underfloor heating system divided into 10 areas.
As a confirmation of the great charm of "Il Poggio Tra I Laghi", you can look out of its windows or moving into its amazing park: we find ourselves on the top of a small hill surrounded by the traditional Trasimeno Lake landscape. Often called the blue heart of Umbria (il cuore blu dell'Umbria), this lake owns both a rich fauna and flora. The landscape around it is characterized by smooth hills full of olive groves and vineyards. Here, one of the most beautiful hamlets of Italy, Castiglione Del Lago, stands too. Among sunflowers and corn fields, this incredible property is located a few kilometres from this town.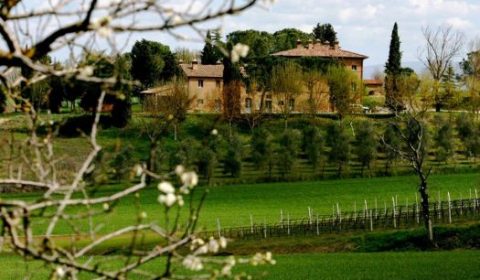 Discover the amazing "Il Poggio Tra I Laghi" farmhouse and all the other GE properties for sale in the beautiful area of the Trasimeno Lake.
Related articles: