Mr Simon and Mrs Chris are going to tell us the history, anecdotes and emotions had while living in their charming property located in Umbria, in Monteleone D'Orvieto: "Il Noceto", one of the beautiful proposals of Great Estate.
In 1995 we were living in a lovely 15th century cottage in rural England surrounded by paddocks with our horses, sheep and chickens.

Then two things happened. Firstly, our daughter left home to study medicine in London and, secondly, I was offered a position with the UN Food and Agriculture Organisation in Rome – an offer hard to refuse!

So, by the autumn, we had moved into our new home, Il Noceto, in Umbria along with our dogs, cat and Mr Louis our Welsh pony … alas the sheep had to stay in England. Actually, when we moved in, the two stunning mature walnut trees that greet you when you arrive and which give the house its name, were just small saplings. That is just one of many changes that has occurred over the last 25 years.

Why did we choose Monteleone D'Orvieto?

Well, neither of us are city dwellers to be honest.

So, we needed somewhere in the country where I could still commute to Rome. We had friends who had just bought the disused schoolhouse in Perumpetto – a abandoned hamlet just below Monteleone – so when a neighbouring house came up for sale it was an obvious choice. I could catch the 06.30 train every morning from Fabro – less than ten minutes away and be in the office in under two hours. But we still had all the advantages of country living – space, fresh air and freedom. And, the views from the house were just stunning – even by Italian standards.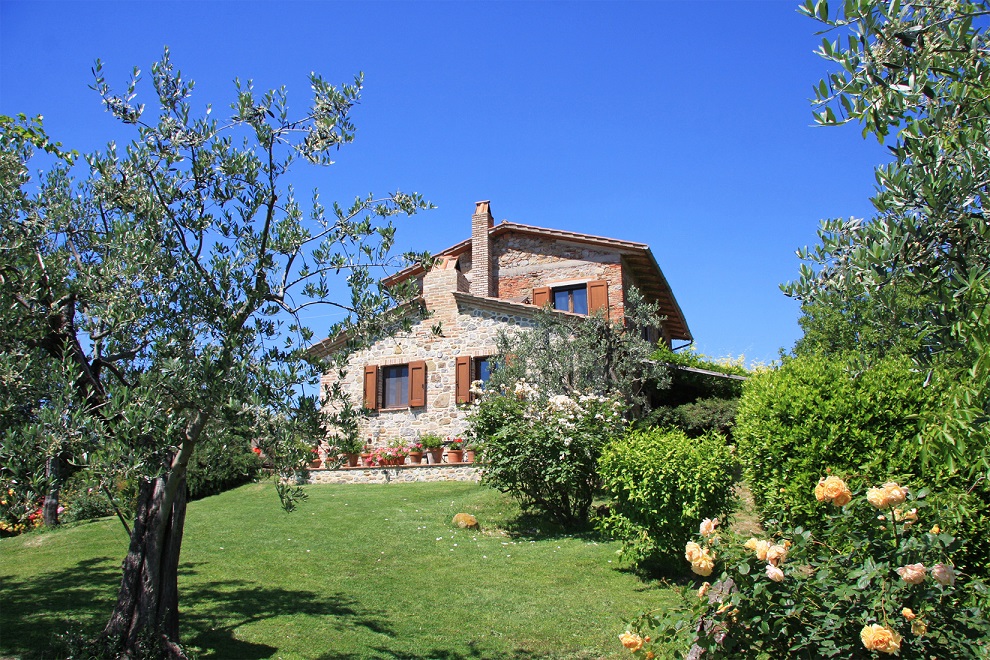 Monteleone d'Orvieto is a delightful traditional Umbrian hill town with a spectacular historic centre. It has an active and forward-thinking administration (Comune) that supports numerous cultural events including the famous mid-summer corteo and its Christmas presepe. It has a bar, restaurant, shops, a bank and a chemist. Also, importantly, it is a small Comune which provides a friendly face when dealing with the infamous Italian bureaucracy – definitely something to consider when buying a house in Italy. These days, of course, it is so much easier with agents such Great Estates who will guide you expertly through the whole process.

Now, when we bought Il Noceto it was a house and garden that needed, shall we say …. vision. Before moving in we did some structural changes – mainly converting two small bedrooms into one master bedroom with an en-suite bathroom, built-in wardrobe and windows on three sides. Plus, the more boring bits like rewriting, plumbing etc.

The next project was the garden, which is still evolving. Over the years we have managed to covert the wilderness into a well-established garden with flowering shrubs, fruit and olives trees which now is securely fenced and pet proof. Surrounding the fenced garden are terraces with approximately 120 olives trees – these produce our own lovely, robust Umbrian olive oil. Lastly, there is the remaining area which consists of mature woodland that provides a haven for birds and wildlife as well as providing extra privacy – we just leave this to nature!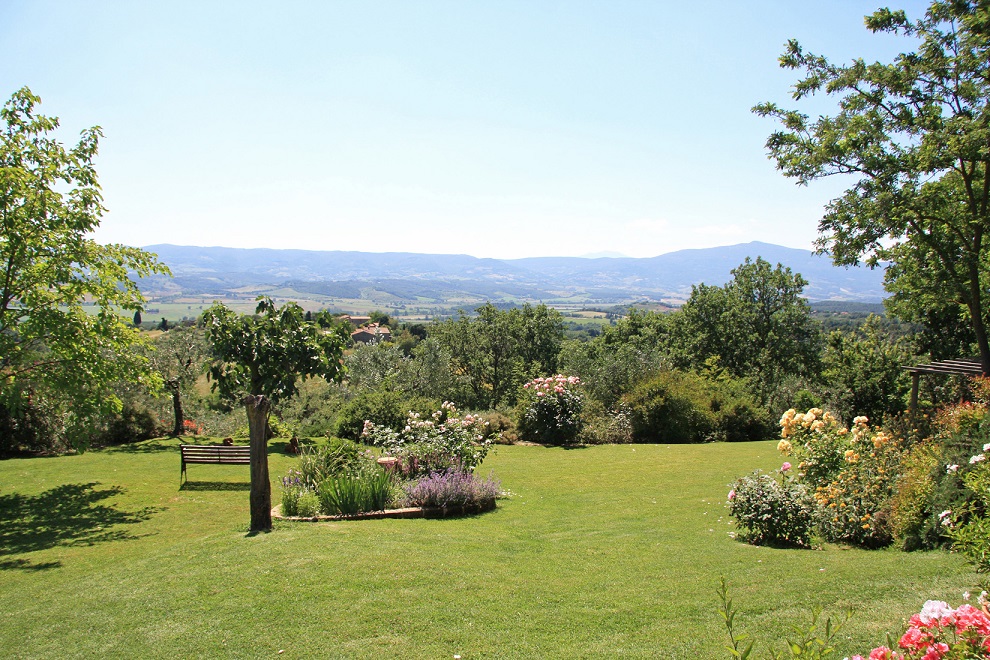 Apart from the developing the garden there have been a number of other important milestones over the years. Such as, the local residents setting up a consortium to maintain the access road – now everyone, including the Comune, has to pay their fair share. Another big day was when we were connected to the main water supply from Monteleone – plus we still had water from our own borehole and the rain water collected off the roof into the original well next to the kitchen. Such abundance! The other big change was the arrival of a good, reliable internet service, opening up the opportunity to work, shop, google and stream TV from home.

But the biggest change came ten years ago when we decided to expand. The old kitchen came down and was replaced by our dream kitchen – double in size accommodating quality units, Corian tops, a large range cooker and an open fire.

On the side of the house we added a new entrance hall, a utility room (probably one of the most useful rooms in the house) and stairs leading to up a new master guest bedroom. It was amazing to watch our local builders combine traditional skills of bricklaying and stone masonry with modern insulation and stringent building regulations. Having building work done however is never convenient – for three months to go to bed we had to climb a ladder onto the portico roof and in though the spare bedroom window. But the end result was well worth it.

Outside, on a terrace just below the house, we put in a 15m swimming pool. Hidden from the house and the road, the pool has wonderful views over the valley. Evening cocktails by the pool watching the sun set over Mount Cetona … just magic!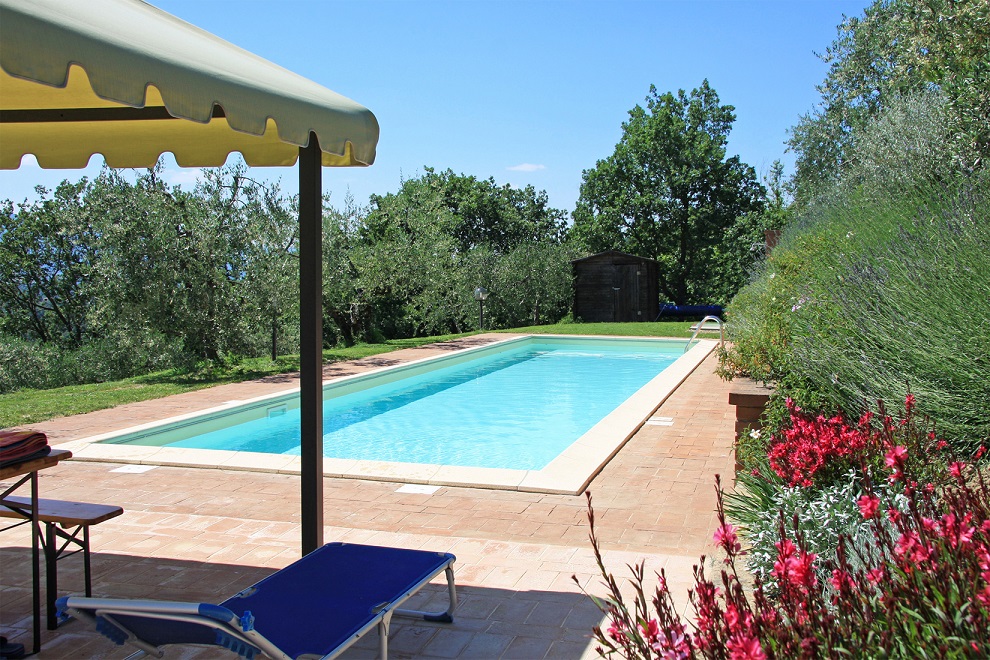 Our next project would have been to covert the ruin of an old stone-built annex next to, but out-of-sight of, the house. This would make an amazing studio or separate guest wing. And, as the building is recorded in the catastral survey, permission would be easy to get.

We mentioned that in 1995 our daughter went off to the medical school in London. Well, five years ago, with three children of her own, they moved to Perth in Australia. So we have decided that the time has come to be closer to them. So, after 25 years, we will sadly be leaving Il Noceto. We just hope the new owners love the house and the area as much as we do.

So … if you are looking for country property for a relaxed retirement, a second home with excellent rental potential, or somewhere where you can work easily from home – then Il Noceto could be the house for you. It is secluded, with lots of space and fresh air – but not isolated. It is very well connected and close to all the services and amenities you need, including world a class hospital, yet it is close to the train station and autostrada providing convenient and easy access to Rome and Florence.
Simon and Chris
So, why do not discover more in detail this incredible property? Call our head office: one of our professionals will give you all the answers you need.