Do you remember the sale of "Antica Checchera"? Great, we are now going to propose you the tale of Mr Duranti, the vendor of the property: from his memories on the farmhouse to the incredible cooperation with Great Estate!
Some time ago, our GE consultants Valter Luciani and Alice Ceccomoro told us their impressions regarding the sale of "Antica Checchera", officially purchased by a US couple last June.
Today, you are going to discover another point of view, the one of Mr Duranti, the ex-owner of this charming farmhouse near Parrano: the tale of his experience, from the memories which bind him to the property to the cooperation with Great Estate that brought to its sale.
My wife, Mrs Elinor Ochs, and I are anthropology professors at the University of California, Los Angeles. We travelled a lot because of our jobs, and we have also cooperated with many specialists all over the world. We carried out some researches in the Samoa Islands, USA, and Italy while dealing with different issues: from family life to socialization and politic.

In addition to courses on culture and language, together with my colleague Kenny Burrel – a famous jazz player and music and ethnomusicology professor at UCLA –, I have also taught jazz aesthetics.

We always have come to Italy during the summers.

After having owned a charming apartment in Cetona dating back to '600, we decided to move in Umbria because of the beauty of its nature and the possibility of having a large home with a garden and view.

In 2005, the year when we finally purchased "Antica Checchera" (discover it here), the view from the farmhouse was the first element catching our attention. We were amazed by the medieval structure of the castle and the whole hamlet that still maintains its ancient architectonical features. All of this was just two kilometres from our home.

In the original farmhouse, there was just a floor that could be lived and it included the kitchen and bedrooms. Under it, there were three stables and a low ceiling.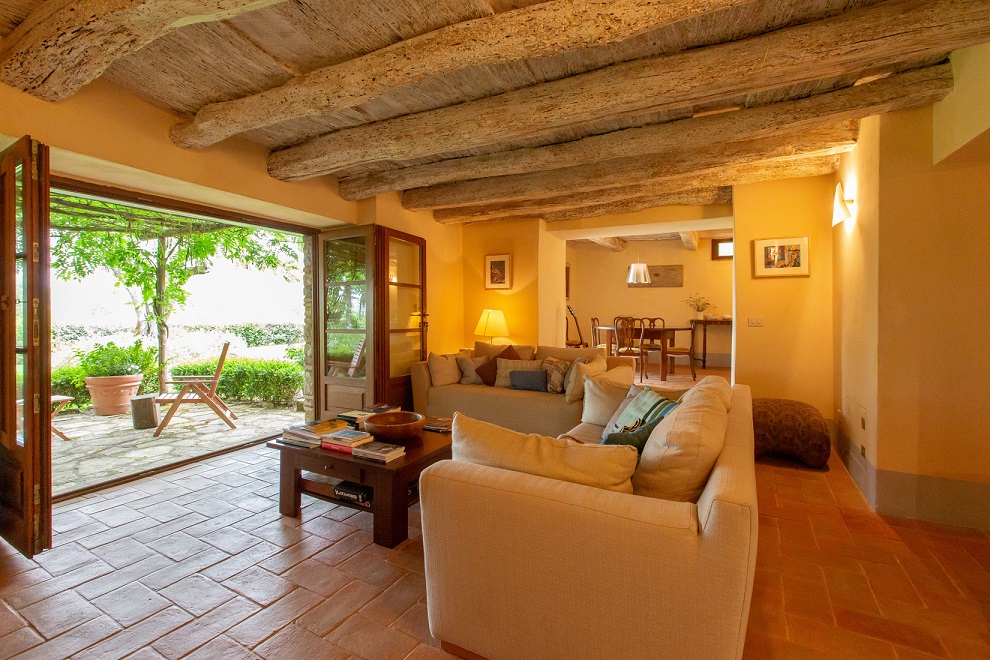 The technical study Rocchini-Terziani perfectly dealt with the renovation of the property (done by Mr Maurizio Carrozzi), transforming so an old, dark, and dusty structure into a charming, airy, and bright home at the first floor, while fresh at the ground one, even during the hottest summer days.

We decided to transfer the kitchen at the ground floor, remove part of an enormous wall, lowering the garden so to bring it at the new level of the house, changing the stable into liveable rooms (the floor has been lowered of about one meter, everything handmade):

So, a really beautiful and difficult intervention… but really worthy!

Parrano and our farmhouse represented a great location where we spent some amazing moments by ourselves and our family. Our home was perfect to welcome some guests because of the very large and acoustically isolated thanks to its walls. They were originally built with some stones located under the garden that, once discovered, have been put at its borders so to create some natural benches.

Today, our children live in North Carolina and Sydney (AU). They love Italy but, with the time passing, it has become very difficult to meet all together here for a period sufficient to justify the maintenance of a second home.

So, we finally decided to sell it… and we made it!

This has been possible thanks to Great Estate and, to be more specific, to our consultants Valter Luciani and Roberto Biggera.

In addition to their sympathy, they are two great professionals with huge experience and honesty. We found ourselves very well with them, right from the very first moment. Moreover, during the whole negotiation, when we're in the USA because of Covid-19, Valter and Roberto kept us informed and updated by always being ready to support us until the final step of the sale.

I found myself incredibly with Great Estate:

All good guys with who we cooperated very well, being so able to reach the best result possible.

Talking about the negotiation, it was quite hard because of the economic situation, both Italy and of the rest of Europe.

Valter, Roberto, and the GE CEO, Stefano Petri, helped us to understand the economic situation and our different possibilities. They proved us to be very polite, without ever pushing us in order to close the sale quickly.

The "remote sale" worked very well. To be honest, I did expect some problems that, on the contrary, did not happen. Nowadays, technology is amazing and, even if distant, we have always felt to be close.

Unfortunately, we could not meet in person the buyer of our home, but it has been a pleasure to meet in him live via WhatsApp the day of the final deed of sale. He was with Valter and Roberto. We had a little and friendly conversation.

I would really recommend Great Estate to all those people who are willing to purchase or sell a property in Umbria, Tuscany, or in whichever part of Italy where the Group is present.

The advertisement done to promote our farmhouse was incredible. Its amazing photos still make me miss our beautiful home.

To conclude, I would like to underline what already said: my experience with Great Estate was absolutely positive!
WE ARE REALLY SATISFIED WITH THEM!
Read also: