August 07th, 2018: thanks to Great Estate, the beautiful "Casale Torregentile" farmhouse, Todi, has become the amazing home of a

Luxembourger 

couple. Stefano Calafà, the CEO of Via Dei Colli Immobiliare – a G.E.P. Umbria partner agency -, managed the vendor, the architect Miani (read here her article). Today, he tells us about his experience.
The uniqueness of "Casale Torregentile" (click here to read the property tab) come from an elements union which is rare to be found in a single property: a charming location with a postcard-view on Todi and at seven kilometers from the town, a good privacy granted by the four hectares property land too, a traditional architecture with stone facades and typical elements, characterized by colonial chic rooms and large windows that make it very bright. Moreover, thanks to some modern energy-saving and environmental sustainability devices as the 15kw photovoltaic system on the roof, solar panels, underfloor heating with heating pump,.. it offers also extreme residential comfort.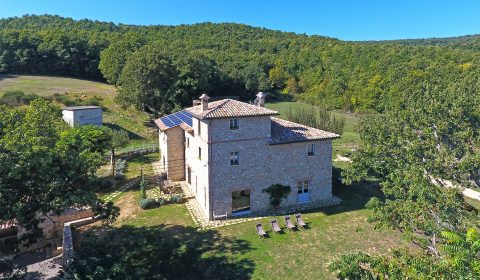 The buyers have immediately loved the property context. A charming place where to live in harmony with nature.
They appreciated the style of Emanuela Miani. Indeed, they commissioned her a further 130 sqm enlargement, which will be done soon following the same features of the original part. Given that the purchasing was subordinated to the possibility of creating this enlargement, the permissions and the authorizations needed to build has been the most difficult part of the whole purchasing process. This is because it was necessary to obtain the competent body consent for the disposal of a shed which was previously used as a water tank, as well as to prepare some demolition and rebuilding papers for others and different annexes of the property. In the meantime, a decision of the Italian Corte Costituzionale that eliminated some Urbanistic law articles of the Umbria Region modified the building's precautionary seismic settling procedure.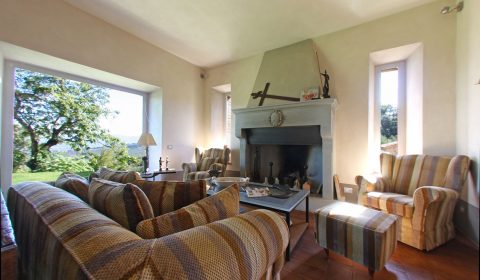 The work of the architect Emanuela Miani and her surveyors and engineers team was very precise and rapid, allowing so to respect the times predicted for the stipulation end. It was done six months later the signing of the first purchasing offer.
As real estate agents, Roberto Biggera – the buyers' consultant – and I assisted the clients in every single step of the process, including during the new building negotiations, with its prices, time, materials and contract definition.
The ability to deal simultaneously with many and different kinds of issues in an IT and competent way and towards many professionals have been, in this case too, one of the best weapons of the group.

Dott.Stefano Calafà