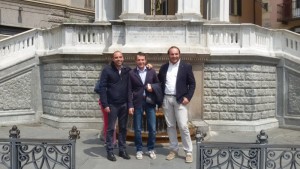 This is yet another important development for the Great Estate Group in Italy 
We talk with Stefano Petri, CEO of the Great Estate Group:
"I am proud to tell our clients that the Great Estate Group has just recently shared its development and Network with the Monti Real Estate agency based in Acqui Terme in the province of Alessandria.
Andrea Monti, owner of the real estate agency, was our guest at the first two day meeting in San Casciano dei Bagni and immediately showed a strong interest in the great opportunities that the group had to offer for those who wanted to invest their time and professionalism as well as their commitment to the management of medium to high level properties.
In this second week of May, we shared together with Dr. Anile Antonio, tutor for the Monti Real Estate, the basics for the best way to begin the partnership project, in this beautiful area of northern Italy, which is experiencing a growing interest by the international clientele who want to invest in Italy.
I have often heard that Piedmont is the "new Tuscany" and as a Tuscan I have to admit that this region has many positive features that international clients would be interested in. This area is seen as a valid real estate investment for living that Italian lifestyle.
I also had the opportunity of visiting Acqui Terme and its adjacent countryside and towns such as Alba, Bra and Cherasco, where history, culture and natural beauty come together in an explosive and exciting mix.
Our market analysis shows that there is an increase in international investors from Germany and Switzerland who are interested in the Piedmont area: countries where Piedmont and its fascinating areas can be easily reached.
I have no doubt that the group's methodology, as applied by friends like Monti Real Estate, will bring great results in marketing that we have already seen among the first real estate agencies deemed especially important by international clients.
And finally, we believe that the US and the Russian market as well as that of Northern Europe would be interested in investing and we are certain that our communication skills, combined with the area's acquisitions of our friends at Monti Real Estate, will be an excellent mix that will lead to significant results. These established skills continue in the regions where our brand is prominent; from Tuscany through to Umbria, Marche and also recently Liguria.
I want to thank Andrea Monti for the opportunity of initiating this collaboration and his very professional colleagues Martina Bosetti e Maria Rosa Camillozzi and for their great willingness and commitment to embrace the methodology of the Great Estate Group.
I am certain that in a relatively short time we will be celebrating with all our readers the group's first sale in the beautiful Piedmont region."
Edited by Stefano Petri and translated by Tanya Starrett