Discover with us, three prestigious residences located in the green countryside of Orvieto and Narni, where Umbria meets Lazio.
CASALE MONTECCHIO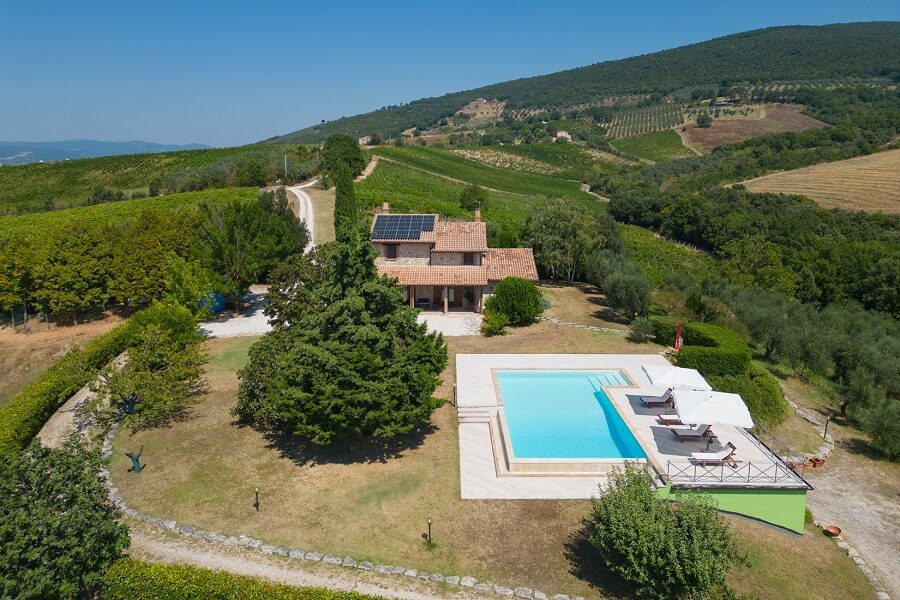 On top of a hill, near the medieval village of Montecchio, about 20 minutes from Orvieto, stands Casale Montecchio, a magnificent property rebuilt in 1997 in compliance with anti-seismic regulations which preserves intact the characteristic features of Umbrian tradition.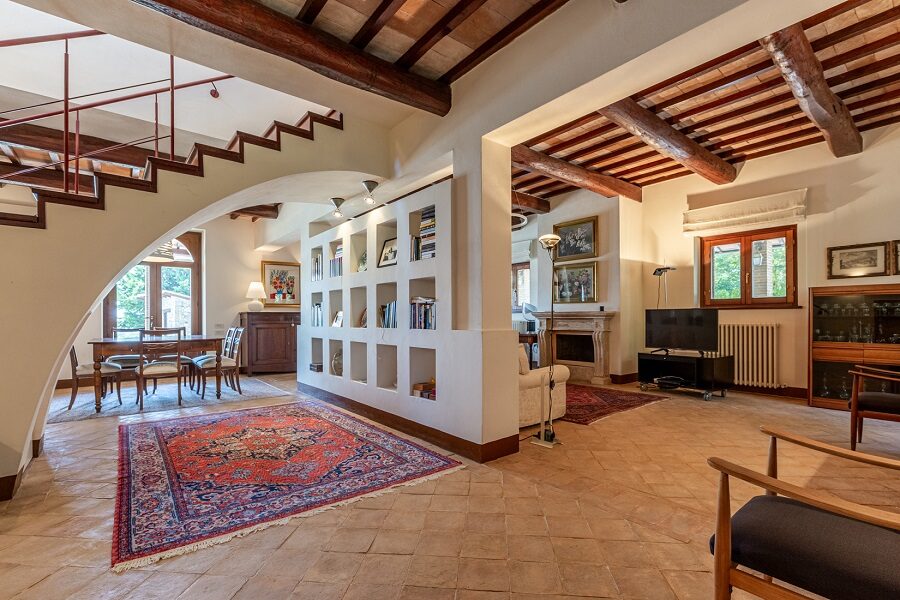 Casale Montecchio is the wonderful result of a careful reconstruction which sees typical local materials as protagonists, such as terracotta from Castel Viscardo and exposed wooden beams. Elements with an unmistakable charm that we find in the magnificent open space living room with fireplace.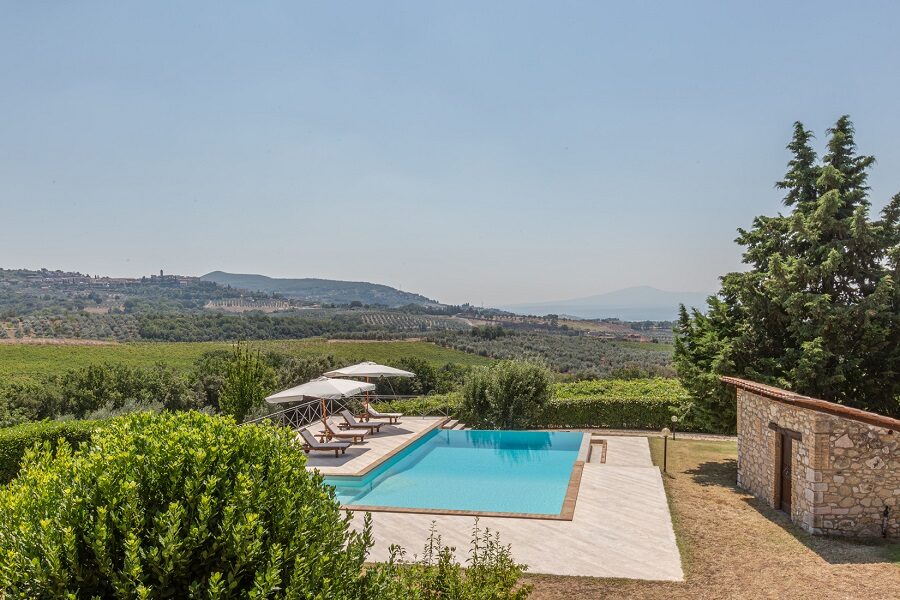 The location that surrounds this dream property, offers a wonderful view of the surrounding hills and olive groves and the village of Montecchio. A spectacle that you can admire from the wonderful Roman travertine infinity pool located in the well-kept garden surrounding the farmhouse, with olive grove and English lawn.
CASALE DELLA LUNA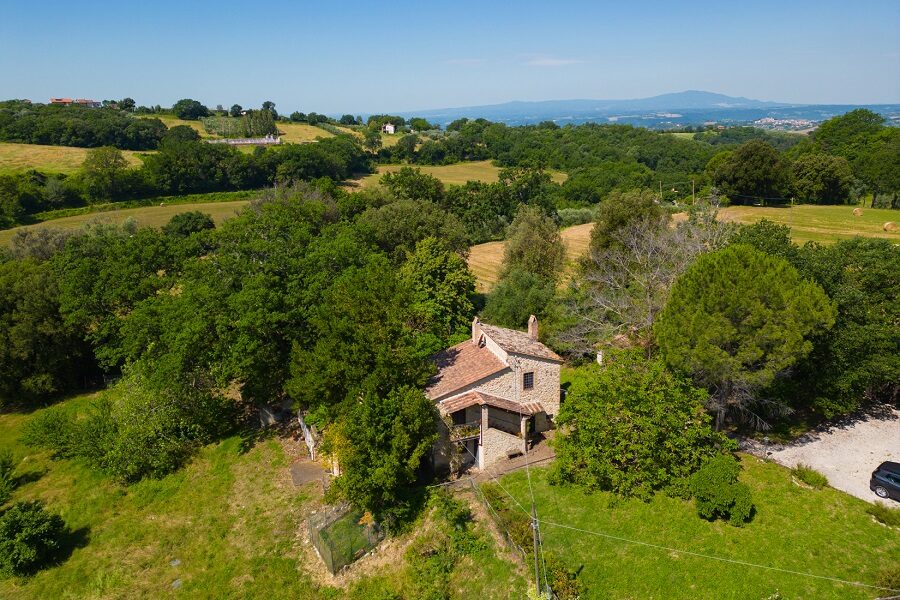 A characteristic stone farmhouse with authentic flavor which, nestled among the green countryside, offers an enchanting view of the village of Calvi dell'Umbria and the Umbrian-Lazio hilly profile: we present Casale Della Luna.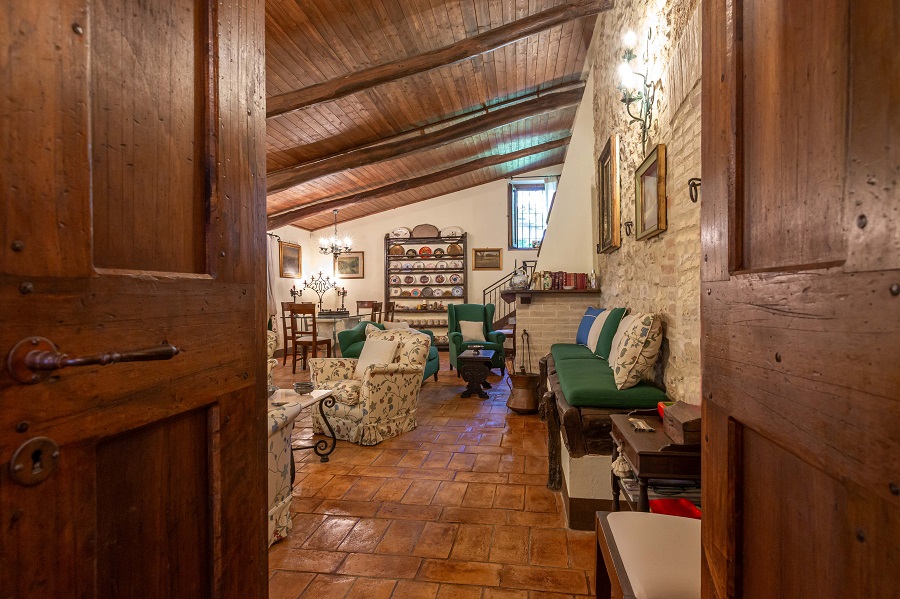 With its exposed local stone walls, wooden and tile ceilings, handmade terracotta flooring and chestnut wood window frames, this property recalls a style inspired by the mountains, in which wood is the absolute protagonist, to warm the environment and give a nice feeling of comfort.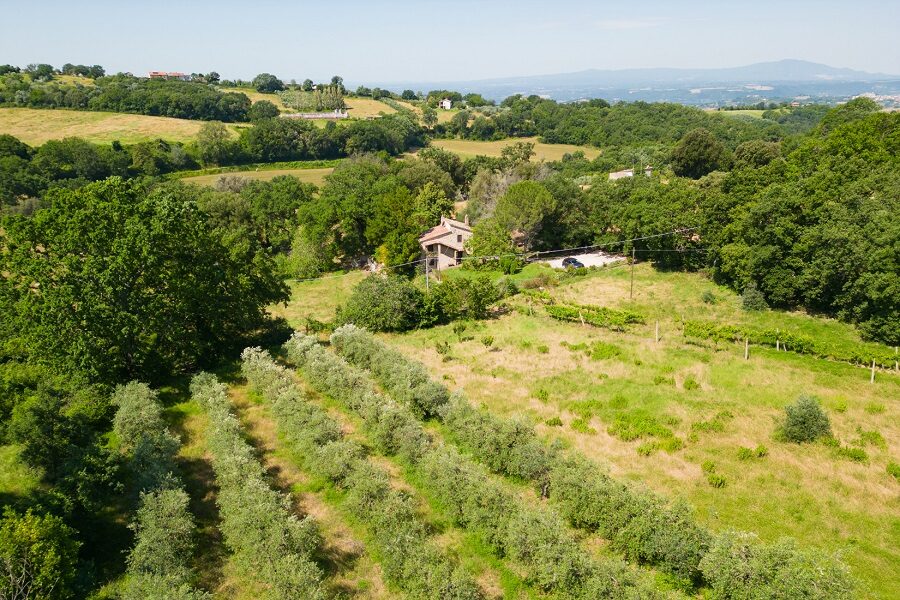 Absorbed in the lush and peaceful countryside, Casale Della Luna is embellished with a large park of around one hectare where you can build your own swimming pool.
Furthermore, this enchanting property offers a producing olive grove and a small vineyard, a comfortable brick oven with barbeque and delightful shaded corners surrounded by greenery.
CASALE COLLEVERDE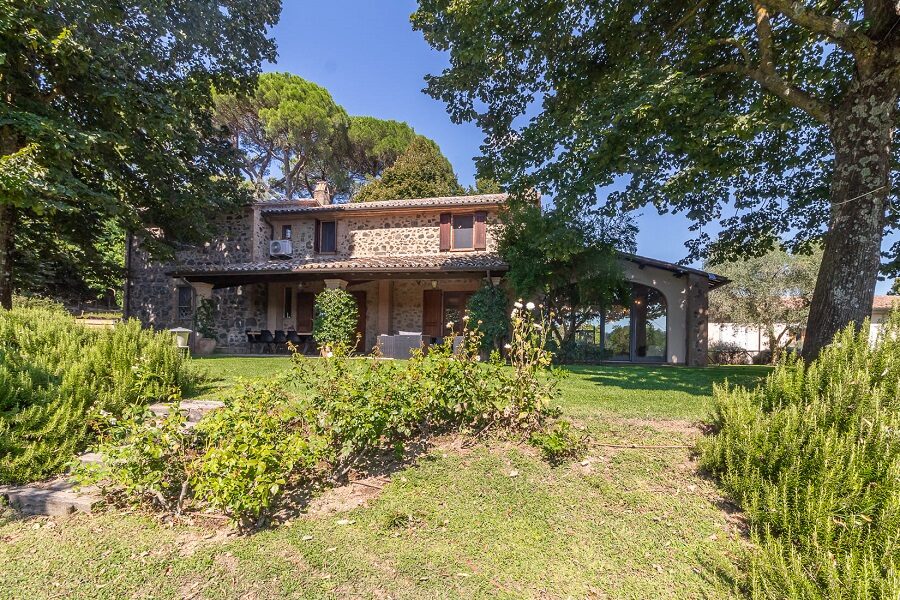 Casale Colleverde is an exclusive property with modern inspired details, composed of a charming manor house, three independent apartments and an accessible and illuminated cave; all surrounded by a thriving garden of over one hectare, just 7 kilometers from Orvieto.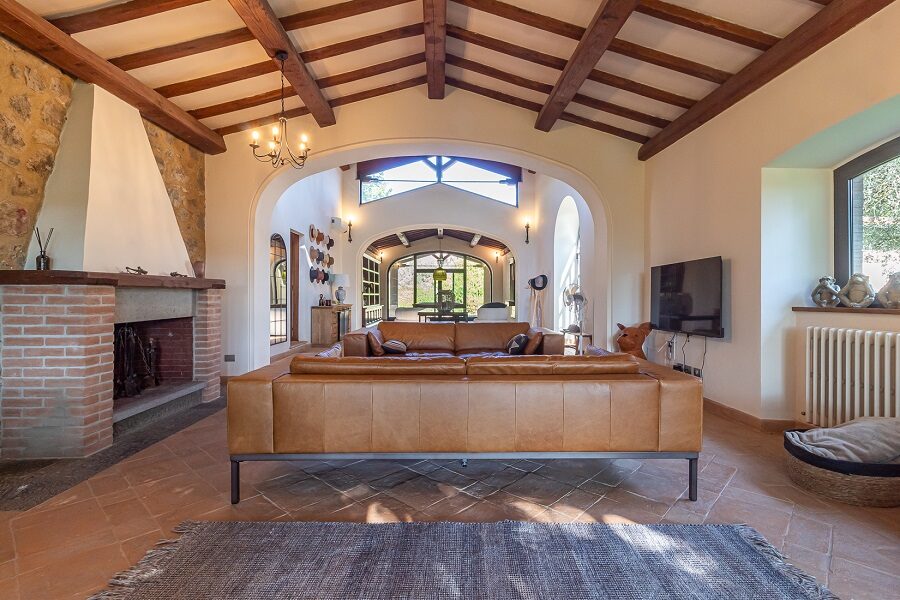 The bright living room with fireplace in the main farmhouse has a great impact, where traditional materials, such as terracotta from Castel Viscardo and wood, form the backdrop for furnishings with basic, modern lines, with a color palette that invites relaxation.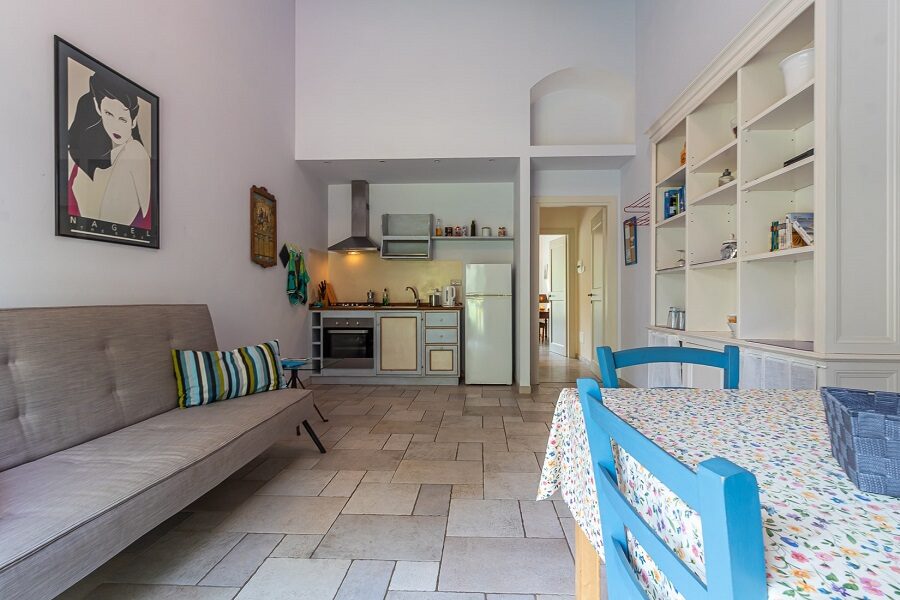 Next to the main residence, three independent apartments have recently been built: high ceilings, details and contemporary-style finishes come together in a mix of great personality.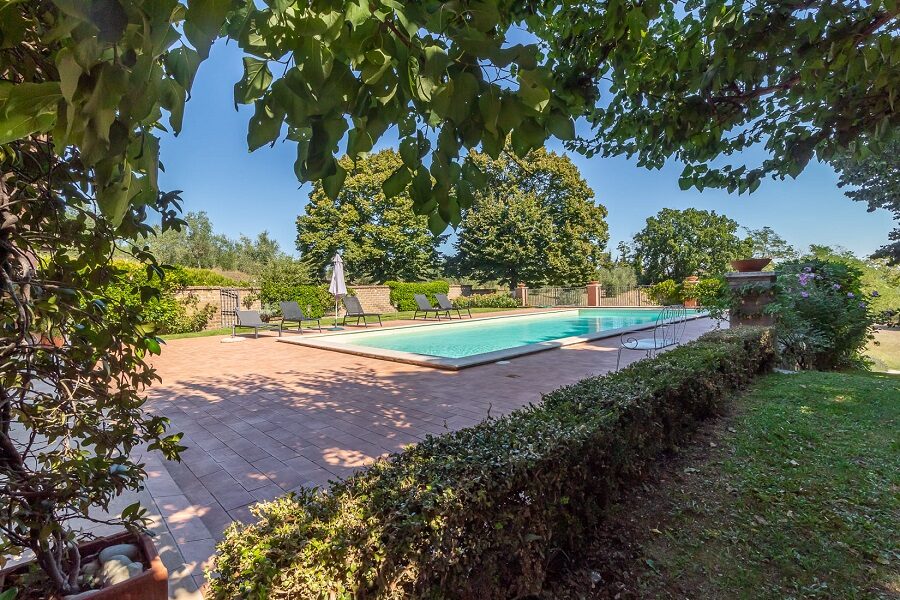 Outside, Casale Colleverde surprises you with its fantastic outdoor spaces: over a hectare of land with 120 olive trees in production, as well as a splendid garden with multiple aromatic plants, centuries-old lime trees, fruit trees, shrubs and hedges. Here, surrounded by flowers and scented essences, is the beautiful salt water swimming pool and ceramic solarium.
Discover these and many other exclusive proposals from the Great Estate group, to experience the magic of the area between Umbria and Lazio
If you're dreaming of a prestigious stay in this magnificent area, choose Great Stays, a tour operator dedicated to luxury and eco-sustainable tourist rentals in Central Italy: visit our website.
We also recommend reading: