Do you remember how the article about the sale of "Antica Chiesa" has ended? Despite this very hard moment, Great Estate is still proving to be a winner. Indeed, it closed also the sale of an amazing villa on the hills around the Trasimeno Lake: "Villa Smeraldo".
Last April, 28th – and in compliance with all the current safety rules – the final deed of sale of the amazing "Villa Smeraldo" has been signed too. This is a stunning home located on the rolling hills around the Trasimeno Lake – Umbria – and purchased by a German couple.
So, despite the current difficulties, Coronavirus did not stop our incredible Team!
Completely renovated, this villa perfectly mixes the traditional local materials as stone, wood, and cotto to modernity.
"Villa Smeraldo" represents the symbol of the quality!
Some finishing and details are really breath-taking: from the modern "Black Infinity" granite kitchen to the beautiful master bedroom. From the highest balcony of the villa it is possible to enjoy a marvelous view. The bathroom is characterized by elegance and style, the shower area has been realized with a pure-gold mosaic, very bright.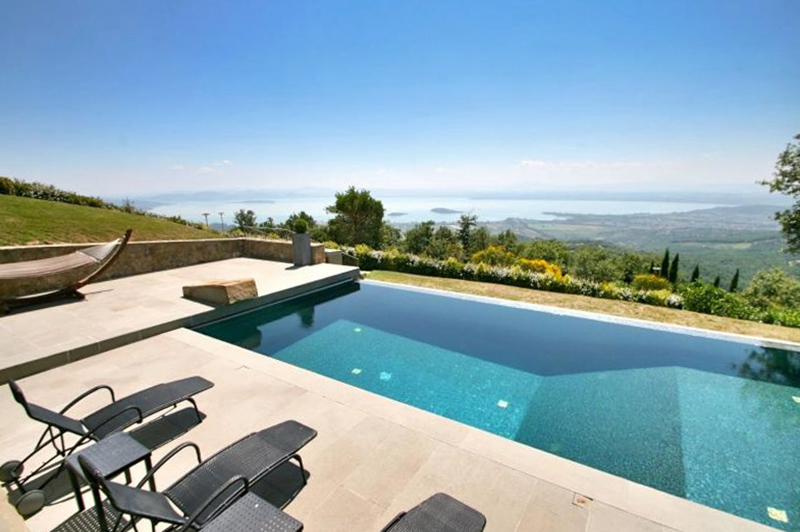 The icing on the cake is its outdoor spaces: surely, the main protagonist is its panoramic swimming pool realized with a mosaic of many metals and that amazes for its unique shades that change depending on the light.
In addition, "Villa Smeraldo" boasts also a beautiful heated jacuzzi, perfect to enjoy an outdoor winter relaxing bath too.
The frame of this gem is a 2.500 sqm fenced garden, immersed into a wood.
This incredible property overlooking the Trasimeno Lake has become the new home of a German couple on April, 28th 2020. Both the sellers and buyers were managed by Riccardo Luculli and Nadia Aron (Italia Immobilien), the persons in charge of the GE German market.
Despite the COVID-19 emergency, its difficulties and uncertainties, this sale – and NOT JUST THIS ONE – is a source of pride for the whole Great Estate Network.
We are convinced that our professionalism and fairness, together with the use of modern IT tools, can bring us to reach important objectives, right as the sale of "Villa Smeraldo".
Keep reading our Magazine: soon the interviews with Riccardo Luculli and Nadia Aron and about this extraordinary sale will be online.