Among the sales officialised by Great Estate during December 2020 is the splendid "Podere Casetta", purchased by a couple from Milan managed by our Caterina Caloni.
We picked up her impressions
"Podere Casetta" is located between Tuscany and Lazio. At just 15 minutes from the famous spring bath of San Casciano Dei Bagni, this charming property is surrounded by the beauty of the landscape: its location is private and very panoramic, close to the famous Val D'Orcia and the towns of Montalcino, Pienza and Radicofani.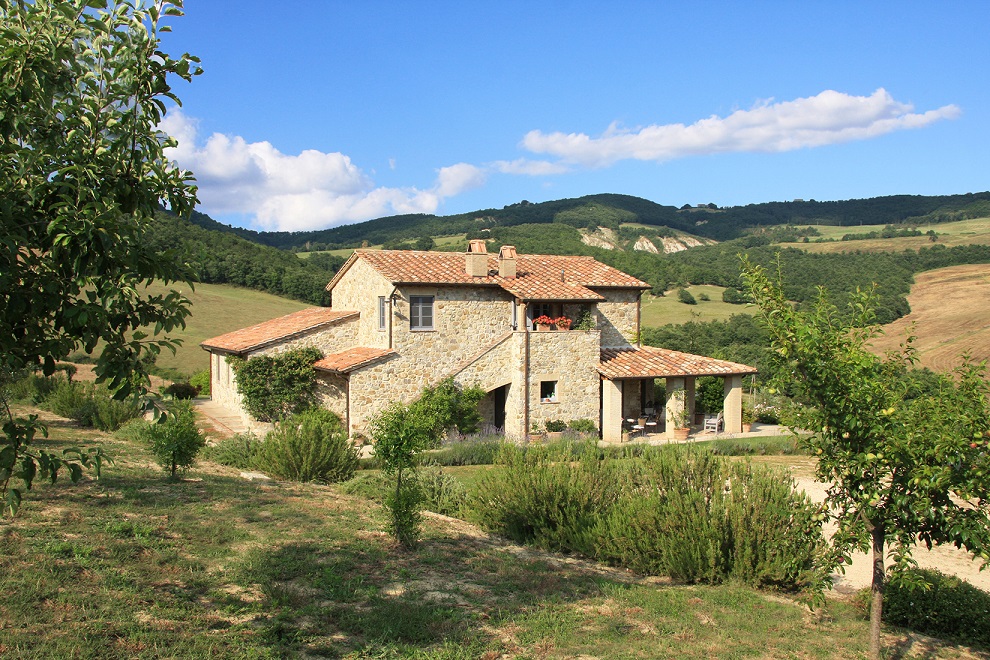 The main house of "Podere Casetta" is the magnificent result of a careful renovation that has preserved the original style of the pre-existing ancient ruin. All around, a fantastic and well-kept park, with a beautiful olive grove and a lovely swimming pool (click here to discover the property).
This charming property officially became the country residence of a couple from Milan on 29 December last.
The negotiations for its sale involved the two consultants G.E. Giacomo Buonavita, who managed the vendors, and Caterina Caloni, who instead dealt with the buyers.
We met up with Caterina to get her impressions of her recent success.
The clients who bought Podere Casetta are a couple from Milan, Maria Paola and Adriano. They own a flat in the city centre.
They first contacted us in the middle of the lockdown, in March 2020, via our website: they wanted more information about "Podere Casetta".
After that, we were in constant contact and I suggested other properties that might be of interest to them.
In May, once the regional borders reopened, we promptly arranged to view "Podere Casetta".
I would like to underline that the visit in May was the first and only visit to the farm: in fact, they definitely liked it right away, as it was perfectly in line with their expectations!
In this respect, Great Estate's property presentation services, in particular, the drone video and the professional photoshoot, were crucial:
when my clients visited 'Podere Casetta' in person, they found it to be a perfect match for the property they had previously seen in the photos and video.
So I would like to express my compliments to Ludovico Pinzi, our expert dronist, and Silvia Piovanello, our photographer: two great professionals that many envy us!
The day after visiting 'Podere Casetta', I guided Maria Paola and Adriano to visit the other properties proposed to them during the lockdown.
After that, they returned to Milan and, within a few days, informed me that they wanted to submit a purchase proposal for "Podere Casetta".
"Podere Casetta represented exactly their ideal
their ideal property, the one they were looking for.
In particular, they were impressed by its location and the surrounding context. In fact, the farmhouse is set in a particularly secluded area; moreover, it is surrounded by an undoubtedly enchanting landscape!
Maria Paola and Adriano spent the Christmas holidays at 'Podere Casetta' with great enthusiasm!
They intend to move permanently to their country home as soon as they are able!
As far as the negotiation process was concerned, there were a few minor discrepancies in the course of the negotiations, but these were quickly and successfully resolved. In addition, we had to wait until my clients were able to obtain a mortgage.
As they are people who are very attentive to every aspect and every detail, it was necessary to draw up and correct the proposal several times.
In this respect, I would like to thank my colleague Giacomo Buonavita, who managed the vendors.
My clients praised his professionalism: his role and his work were impeccable as always!
I am particularly pleased with this sale!
I dealt with people who were very serious and determined about the property they wanted to buy.
They realised their "real estate dream" on time and on a budget!
Their criteria have been fulfilled!
Caterina Caloni