Purchasing a home is emotional! Ilaria Peparaio, Great Estate consultant and owner of Eletta Home Staging, network partner, tells us about Anne and Gregor's experience.
LOOKING FOR THE PERFECT HOME
Anne and Gregor are an Anglo-American couple in love with Italy and its traditions. They were looking for a property in a historic centre between Umbria and Tuscany, but without any precise idea of it. They only knew they wanted something traditional and unique.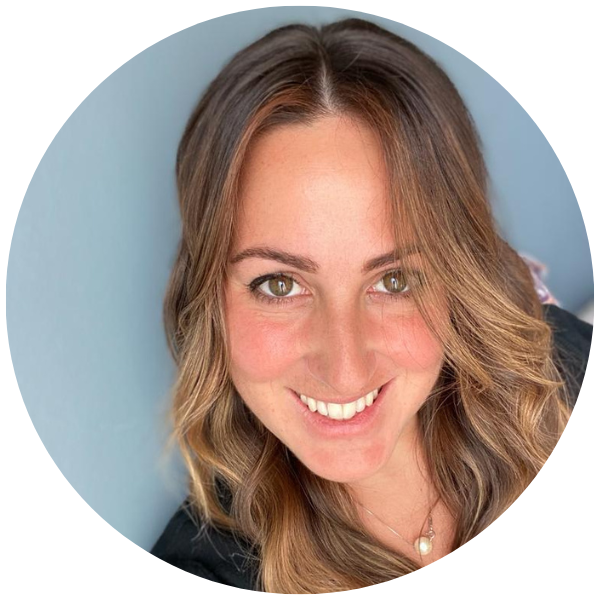 For this research they trusted Great Estate, commissioning my colleague Alice Ceccomoro to come up with a selection of properties based on certain parameters: a "styled" home in a historical centre with a small external space and with a maximus budget of about 250.000,00 euros.
After having visited 10 different properties within a radius of 80 km in three days, they arrived at "Casa Glam".
LOVE AT FIRST SIGHT
In the core of the historic centre of Monteleone D'Orvieto, Terni, Umbria, with its grey-pink façade, this beautiful 120 sqm townhouse welcomed them with its coloured terrace, full of flowers and plants, and the traditional warm colours of a particularly well-maintained historical centre.
The couple entered into the house, the wife was the first. They reached the living area while commenting:
"Wow!
Amazing!".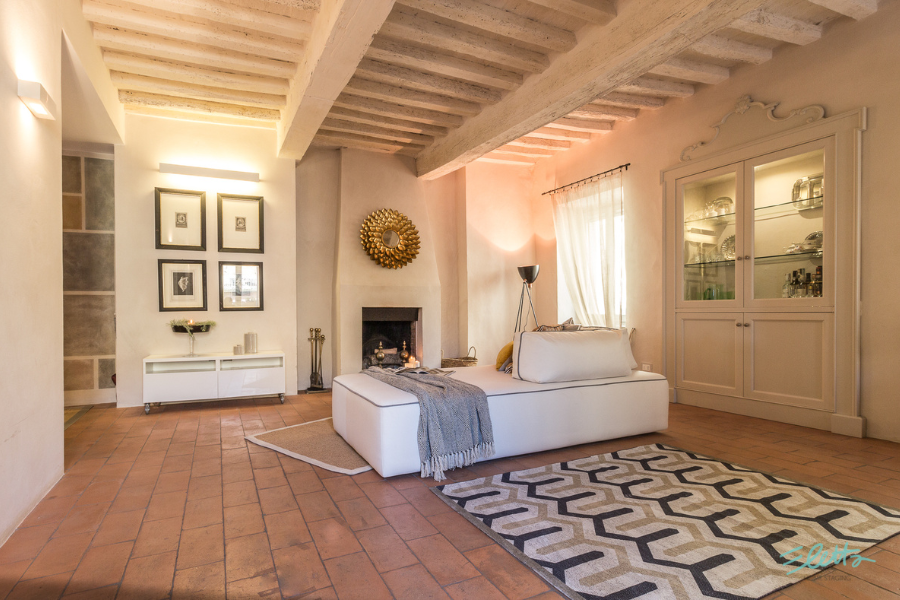 In front of their eyes, a fireplace with some lighten up candles, a mirror with a golden leaves frame and a modern sofa stood.. Welcome to Casa Glam!
But there was a lot to be still discovered: fresh flowers, perfumes, lights on and a warming atmosphere. After 90 seconds, it was love at first sight. Anne and Gregor felt "Casa Glam" as theirs.
HEART HAS CHOSEN
Thanks to the Home Staging and the incentives that, as a marketing tool, it is able to activated in order to make a client fall in love with a property, because the purchasing is.. thrilling! This feeling can not start with an empty shell or a badly presented one: to reach the target, attention, work and passion are needed. Only a home staged house can make a client love it immediately.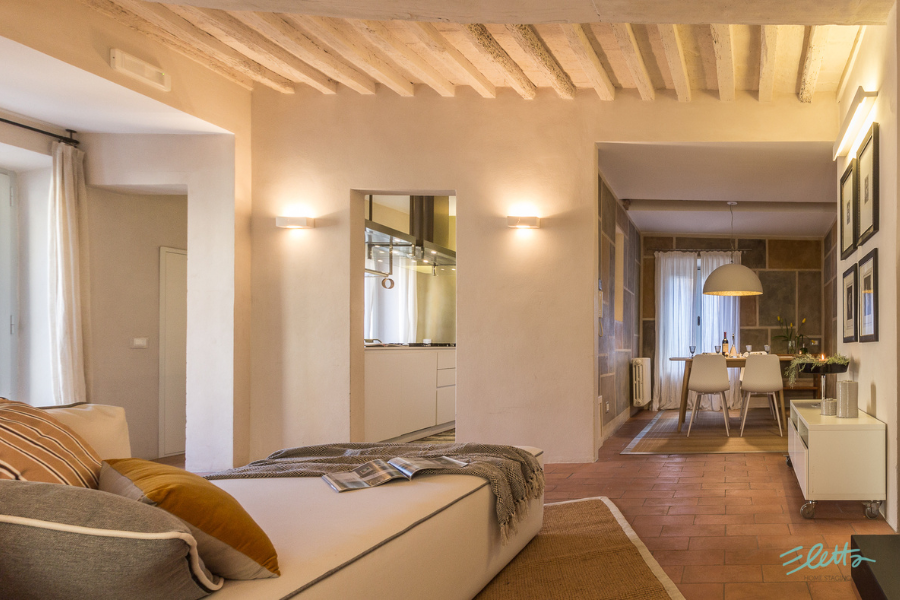 Obviously, "Casa Glam" has other to reveal: near the living area, a modern kitchen and a dining room stand. Going upstairs, the sleeping area is composed of two bedrooms and bathrooms. The taste for the shades, diffused and suffused lightings, colours, patterns and textures wear the rooms as a tailored dress.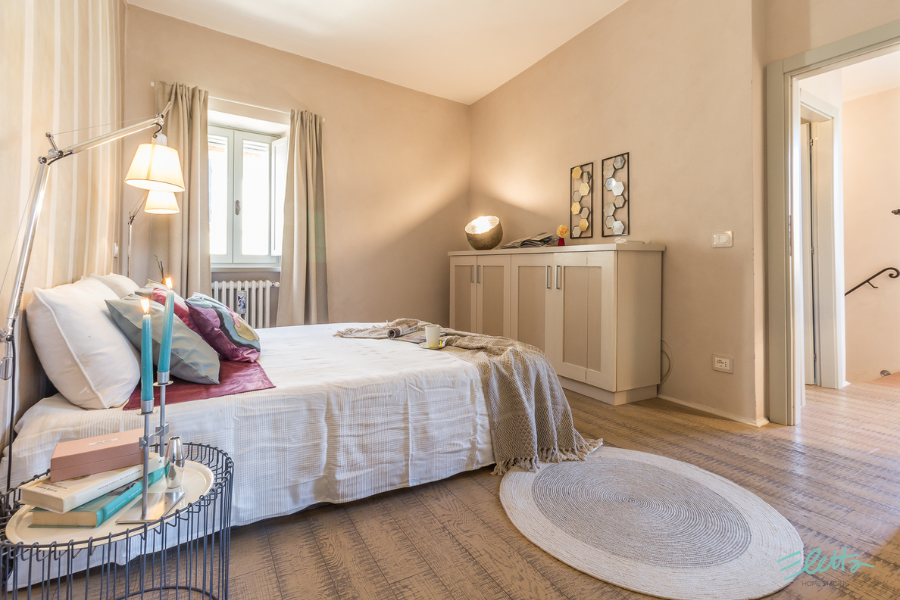 EMOTIONAL DETAILS
The attention to the details denotes passion, competence and professionalism. This is because loving your work is the only way to do it at its best. Eletta Home Staging created and did the "Casa Glam" home staging intervention, betting on the mix between modern and tradition. Whites were lighted up by the golden leaves and the mustard yellow shades, while greys were balanced by the dark and dove-grey nuances details.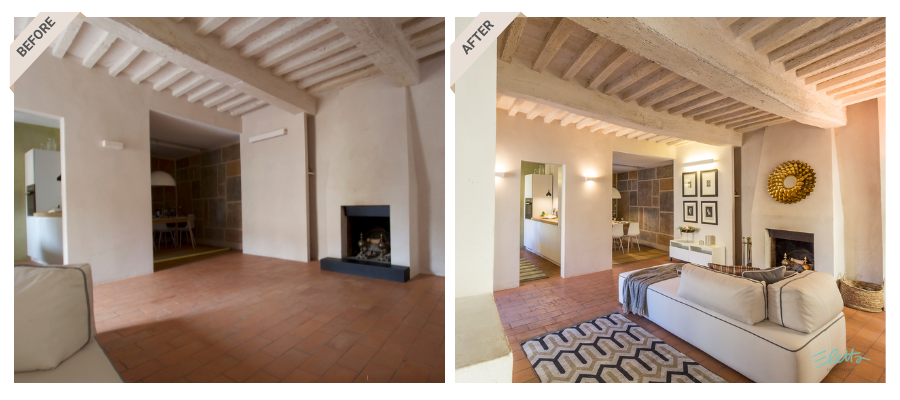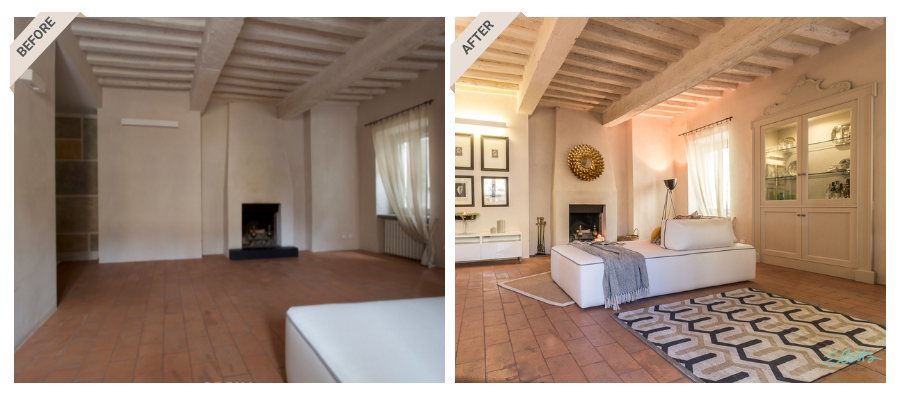 In the sleeping area, colours follow a natural chic mood: mallow, turquoise and sage.
Fresh flowers, candles, suffused lighting and a pleasant perfume has contributed to involve and stimulate all the senses, firing feelings up.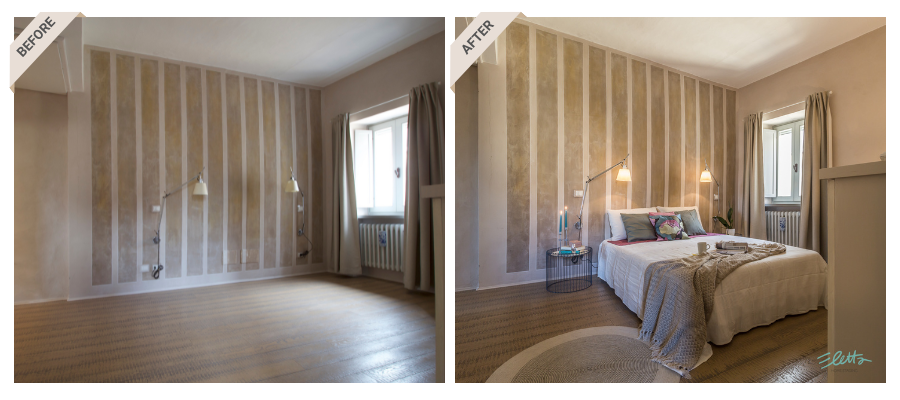 If you want to learn more about our Home Staging services,
consult our website or contact our main office.