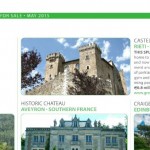 Grazie alla collaborazione con una PR inglese affermata, Lucy Tinkler che sta curando per Great Estate Group una strategia di Public Relation Online a livello internazionale, il Gruppo può garantire una pubblicità qualificata a clienti che intendono sviluppare campagne marketing a livello internazionale. In questo modo si incrementa la visibilità, vengono promosse delle proprietà esclusive presenti nel database del nostro gruppo, e si fortifica la reputazione del brand.
Grazie al grande lavoro di Digital PR e alla sinergia con i più autorevoli portali immobiliari in un solo mese di lavoro gli immobili del Great Estate Group sono usciti su diverse testate cartacee o on line con questi articoli:
Life Travel
Golf life travel may a clubs to hire publication 2015
Luxury Real Estate
The Great Estate Group Announces the Appointment of Ms. Nadia Aron, The New Manager of the German Department
The Great Estate Group Strengthens its Important Working Relationship with the Italian Hauskauf Real Estate Agency
Italy
Country Home – Restored in Castiglione del Lago: CSGE1934- Farmhouse for sale in Umbria € 1,250,000
Villa in Monte Argentario:vsge2551- PRESTIGIOUS VILLA IN TUSCANY FOR SALE – MONTE ARGENTARIO
Telegraph
The world's best castles on sale from £500,000
A prestigious large farmhouse, recently renovated, in the locality of Scalpellino
Mail Online
A castle fit for a king: 12th century Italian fortress used by Napoleon goes on sale, complete with drawbridge, spa and ballroom… but it will set you back £5million
Stefano Petri, CEO di Great Estate già da tempo ha sottolineato l'importanza di produrre contenuti relativi a ciò che accade in azienda, dall'acquisizione alla vendita di un immobile, alle interviste ai clienti: non avere un costante aggiornamento sui contenuti online significa, di fatto rendere l'azienda meno visibile ai nostri clienti e con il lavoro fatto da Lucy Tinkler a livello internazionale, perdere anche delle grandissime possibilità di uscire su giornali di importanza Mondiale come il THE TELEGRAPH.
Great Estate Group si impegna quotidianamente nella promozione online della propria attività su tutto il territorio nazionale e internazionale ottenendo grazie alla costanza e un metodo di lavoro ben collaudato ottimi risultati in termini di visibilità e di Brand Reputation, aspetti fondamentali nell'universo del web 3.0.
Maria Letizia Vigorito