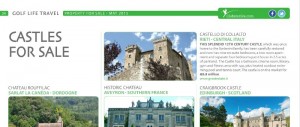 This is thanks to working with, Lucy Tinkler, an established PR consultant, who is responsible for the Great Estate Group's international Public Relation Online strategy. This way, the Group can ensure the highest quality advertising to its clients who want to develop international marketing campaigns. This will increase visibility and promotion in the Group's exclusive property database, which will also strengthen the reputation of its brand.
Thanks to Digital PR and synergy's great work with the most authoritative real estate portals, properties from the Great Estate Group have, in just one month, been publicized in articles in various publications on paper and online, see below:
Life Travel
Golf life travel may a clubs to hire publication 2015
Luxury Real Estate
The Great Estate Group Announces the Appointment of Ms. Nadia Aron, The New Manager of the German Department
The Great Estate Group Strengthens its Important Working Relationship with the Italian Hauskauf Real Estate Agency
Italy
Country Home – Restored in Castiglione del Lago:CSGE1934 -Farmhouse for sale in Umbria € 1,250,000
Villa in Monte Argentario: vsge2551-PRESTIGIOUS VILLA IN TUSCANY FOR SALE -MONTE ARGENTARIO
Telegraph
The world's best castles on sale from £500,000
A prestigious large farmhouse, recently renovated, in the locality of Scalpellino
Mail Online
A castle fit for a king: 12th century Italian fortress used by Napoleon goes on sale, complete with drawbridge, spa and ballroom… but it will set you back £5million
Stefano Petri, the CEO of the Great Estate Group, has long emphasized the importance of publicizing the Group's business news and updates, from a property's acquisition subsequent sale to interviews with clients: Companies who do not have a constant content update online mean that they are less visible to our clients. With the work done on an international level by Lucy Tinkler, they miss the great opportunity of advertising with important international newspapers such as THE TELEGRAPH.
The Great Estate Group is committed to its online promotion of its business activities throughout Italy and internationally thanks to its perseverance and well proven methodology that has seen excellent results in terms of visibility and brand reputation, all important for the internet 3.0.
Edited by Maria Letizia Vigorito and translated by Tanya Starrett