On December, 29th, 2020, "Podere Casetta" was officially sold by GE to a couple from Milan. After the interviews with the GE consultants who dealt with these sales, we are now going to propose to you the one with Mrs. Busacca – the ex-owner of "Podere Casetta".
Welcome, Mrs. Cristiana. Thank you for the time you gave us. On December, 29th 2020, she signed the final deed of sale of her home, "Podere Casetta", sold through the cooperation with Great Estate to a couple from Milan.
First of all, we would like to discover more about you.
Personally, I do not think it is important to tell you anything about my life. Differently, it is very important to let you know the reason why, many years ago, I chose to abandon a city like Rome to move into the countryside:
my incredible love for nature, large spaces and a simplest life.
In my opinion, living in "Podere Casetta" was really important, and represented one of my greatest desires that, for several reasons, I could not realize before.
What did it mean to you living in "Podere Casetta" for about 15 years? Do you remember any particular memory that binds you to the house?
I have a lot of memories of "Podere Casetta", some beautiful, some less: 15 years is really an important amount of time!
Anyway, those years were an experience that, going back in time, I will surely do the same again.
I immediately felt "Podere Casetta" as my place: when, on the top of that hill, I reached that old farmhouse, I felt to be perfectly part of it. "Podere Casetta" represented the place where I was happy and sad: in short, it was my home, which I deeply loved.
"Podere Casetta" is a charming farmhouse, very well renovated. It represented the realization of her dream: creating the farmhouse that she was desiring. Mrs Cristiana, who dealt with the farmhouse project?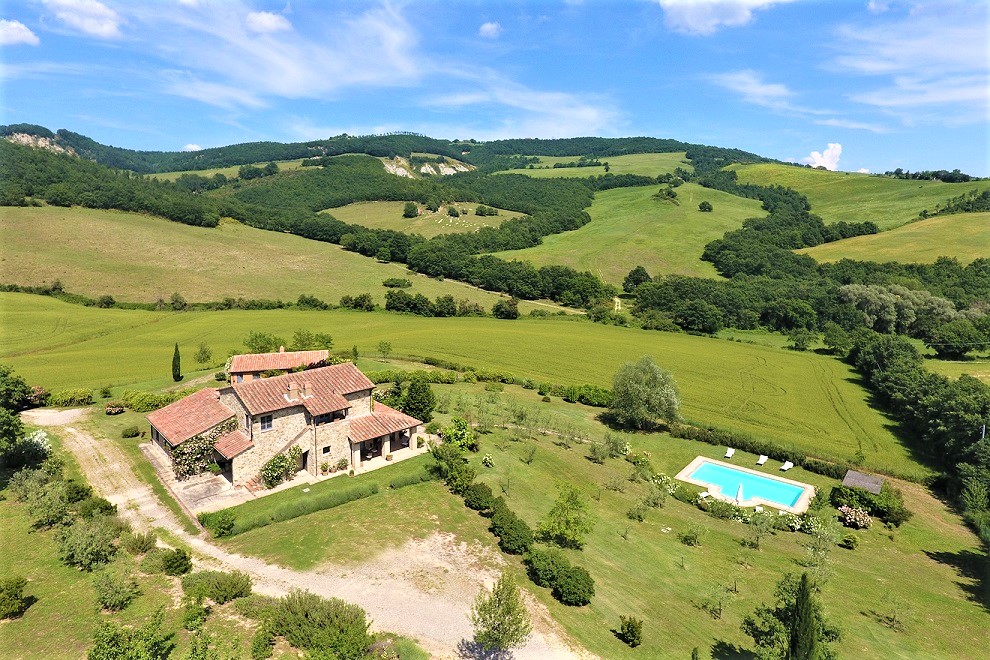 "Podere Casetta" (discover the property here) was completely renovated: indeed, in the beginning, it was a ruin.
It was the house of someone else before me. For this reason, while renovating it, I decided to try to respect its original style: that was a conditio sine qua non. Indeed, I was very clear with the engineer who managed the works:
I did not want to ruin both the location and its history.
Can we ask you why you decided to sell "Podere Casetta"?
Unfortunately, with time passing, my exigences changed, so I had to do it. My boyfriend got sick, so I had to take care of the whole property by myself. Moreover, the attention towards a so beloved and sick person had totally absorbed me… I am no longer so young, and this was too much for me. So, my decision.
Talking now about the cooperation with Great Estate, when did you meet you consultant, Mr. Giacomo Buonavita, for the first time?
I do not remember precisely. Despite this, I want and have to thank him: not just for his professional skills, but also for the attention with which he dedicated himself to solve some problems concerning the work.
We know that "Podere Casetta" remained in the market for some years during which, thanks to Giacomo's suggestions, the asking price was adjusted (through our The Best Price). In light of your experience, do you think that has changed the price of "Podere Casetta" has played a central role in the realization of the sale?


Of course! Giacomo's suggestions were fundamental!
Obviously, for those like me who love their home, no value can be adequate when you have to sell it.
However, Giacomo was able to let me understand the market.
Thanks to this, we could finally reach the sale of "Podere Casetta" in a very short period. Despite all the difficulties caused by Covid-19, we sold it after just six months since the last price adjustment.
What can you tell us about the buyers, Mrs. Maria Paola and Mr. Adriano? Which is your relationship with them?
I am very happy that Maria Paola and Adriano are the people who finally purchased "Podere Casetta": I think they will be able to love it!
Surely, the fact of becoming their new owners during winter and a pandemic is not the best, but precisely for this reason, I thought: "if they are able to appreciate it now, so they are the right ones!".
I am sure that they will enjoy everything of it.
Considering your experience with Giacomo and Great Estate, are you satisfied with it? If – in the future – you will have to sell a property, how would you do it?
Yes! I am very happy of the work done by Great Estate: the one of Giacomo, Stefano Petri and all the professionals I met.
Surely, if in the future I would need a real estate agency I immediately contact you!
Moreover, I would really recommend Great Estate to all those who want to sell their home!
Indeed, I have already do it!
A special thanks to Mrs. Cristina Busacca
Read also: