Today, we are going to propose you our interview with Mr. Kevin Jaffe who, thanks to the amazing work of Mr. Roberto Biggera, has officially become the new owner of the amazing property called "Podere I Caselli".
Welcome, Mr. Jaffe. You have recently become the new owner of "Podere I Caselli", in Murlo, Tuscany. If we may ask: where do you live and what do you do in your life?
In 2019 we relocated from New York City to Zurich, Switzerland. I am an attorney and my wife is a non-practicing attorney who now has the full time job of taking care of our twin children.
Why did you decide to buy a property in Tuscany? Did you already know this Region and the town of Siena?
We fell in love with Tuscany after our first visit here and knew it was a place we wanted to have a permanent holiday home. We have both traveled a lot and there is no place in the world that looks and feels like Tuscany. We knew the region fairly well but knew we wanted to be close to Siena and the Val D'Orcia.
Under what circumstances did you meet and contact the Great Estate group?
I came across Great Estate after reading an article about the Tuscan real estate market in Italy Magazine that featured some advice from a Great Estate agent. After that, I visited the website and liked a number of the listing they were offering and so I reached out by email. Some responded very quickly and the rest is history…
When did you start your search more actively?
Our search started in July 2020 with a few intense days of property visits. We narrowed our search to 2-3 properties before we returned to Switzerland and by Sept. we had a signed purchase offer.
Why did you choose Siena countryside in the end and the area between Murlo and Buonconvento in particular?
We love this area because of the beautiful and unspoiled quintessential Tuscan countryside and views and because of how perfectly centrally located it is.
We were really drawn to the idea that within 30 minutes we could either be in the center of Siena, enjoying the amazing restaurants and shops of this beautiful city, or touring a Brunello vineyard in
Montalcino looking out over the Val D'Dorcia landscape, and within 1 hour we could also be seaside enjoying one of Tuscany's many amazing beaches. Since we also intend to rent out our house, we thought its central location would also make a perfect home base for guests who want to explore all of the amazing sites has to offer.
We know that your trusted consultant of the G.E. was Roberto Biggera. Did Roberto manage a quick and efficient reaction to your requests?
We have bought property before, and done many international property searches with many different agents, and my wife is a US licensed real estate agent, and we can safely safe Roberto is the best agent we have ever worked with.
Buying a property in Tuscany as a foreigner certainly has its unique challenges and the process is more complicated than anything we had experienced.
But Roberto made everything easy for us, from arranging all of the property visits, helping us conduct the necessary due diligence on the property, advising us on pricing and negotiating strategy, arranging the documentation, and referring us to an attorney and notary.
Roberto also did a great job with communication during the entire process, keeping us informed about every step of the process and he was very responsive to the many (many) questions we had along the way.
How many properties have you seen with him?
I think we saw about 10-15 properties with Roberto.
What in the farmhouse "Podere I Caselli" has impressed you so much to decide to buy it? What did and do you like about this property?
IT IS A UNIQUE HOME!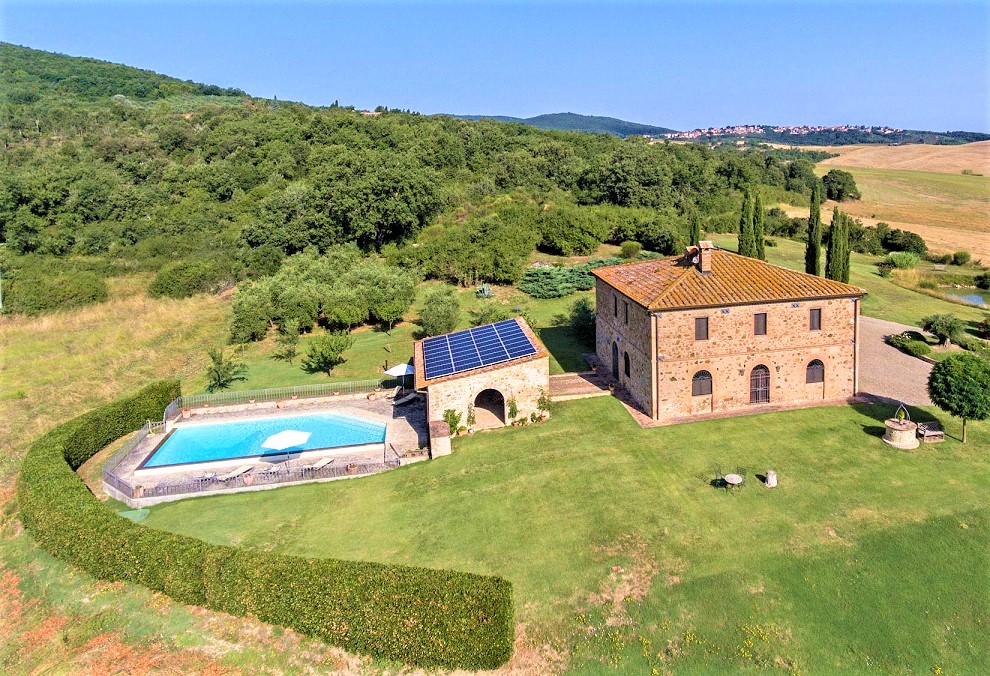 Immediately we were drawn to the view of rolling hills and the natural beauty surrounding the property. It is a magical property that both is 5 minutes from the nearest town but when you are there you feel like it is completely private.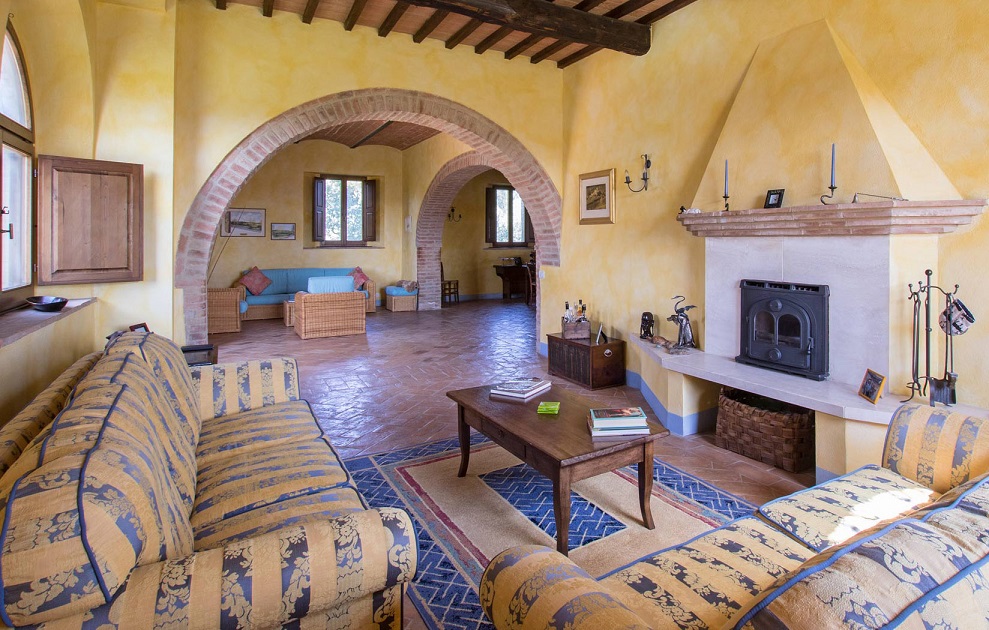 When you drive down the long driveway that weaves through picturesque farmland and arrive at the house, you feel like you have arrived someplace special. In addition, the interior of the house also ticked most of our boxes – the interior has high ceilings and an open layout and has the feel of a Tuscan farmhouse (discover the property here).
The negotiation process was complicated? Did you find any trouble during all the procedure of purchase? Was Great Estate helpful during all the purchase process?
The negotiating process was somewhat complicated by a few factors: First, we were going through the purchasing process in the middle of COVID-19, meaning we as well as the team who was supporting us had to navigate the complexities of lockdowns and other restrictions.
Second, in order to complete the purchase, there were some technical matters that needed to be taken care of with regard to the cadastral records before I felt completely comfortable completing the purchase. Great Estate was a great partner in helping us navigate these issues, making sure we were protected in the contract, and then working with the seller and technical surveyor to make sure everything was completed on time.
In short, they made a process that would have been really complicated for a foreign buyer into something that we could understand and navigate.
For what purpose will you use the house (house to live permanently or vacation home)?
Vacation home and rental property
Did you know some of the historical and medieval towns and villages in the neighbourhood of your property? Like Buonconvento, Montalcino, Murlo, Monteroni? What do you like of this area?
Before purchasing the property, we knew the Montalcino area but not the more immediate towns of Murlo, Buonconvento and Monteroni.
But that said, we were flexible when it came to which town we wanted to live in, as long as we were a relatively short drive to the particular parts of Tuscany we loved. Given our rather extensive wish list and particular vision we had in mind, we knew had to be open to different towns in Tuscany.
In the end, we wound up with the house we dreamed of in a location that we are very with.
In short, can you tell us about your experience with the Great Estate group?
Our experience met and exceeded our expectations, and we are so incredibly satisfied with the level and quality of service that was provided. And the best part is the great level of service did not end once we signed the Property Deed and got the key to the house.
Great Estate has continued to provide much-needed support in getting bills transferred over, helping us find a property insurance agent, acting as a liaison with the plumber and electrician to ensure we know how to properly manage the house.
As a family who has mostly lived in apartment rentals, there is a huge learning curve in owning a 400 sq. meter house on 5 hectares of land (13 acres) and, thankfully, Great Estate and our agent Robert has been there to help us get adjusted.
What do you think about the advertising, communications and media tools that Great Estate use to update and inform his clients? Is there anything that Great Estate could improve about this matter?
I think the website is very good (though I do not like that the website requires me to sign in in order to view listings!) and I also have used GA's YouTube site to see the video tours of the houses, which I wish were more detailed.
The impact of Covid is that clients will expect to be able to do more remotely than ever before, so be able to provide really good videos to make it feel like the client is in the property will be critical.
One other possible idea is to facilitate a network and sense of community among your clients maybe by hosting an apero or something like that as an opportunity for your clients to come together and get to know each and share their experience. It would be great to connect with fellow international buyers who are in the same area as me.
Would you recommend Great Estate to other international customers who, just like you, want to buy a prestigious property in Italy? And if so, for what reasons?
Absolutely and without hesitation for all of the reasons already mentioned.
Not only did they have a terrific inventory of properties to show us (which were vastly better than a competing agency that we also started with), but, in addition, our agent, Roberto, had an excellent understanding of the market which gave us piece of mind that we were not overpaying, and good relationships with sellers' agents which helps make the overall process smoother.
For those international buyers who do not have experience purchasing a property in Italy (like us), I would strongly recommend using a full-service agency like Great Estate with agents who speak their language well (good communication is so critical) and that can manage the whole process for their clients.
Read also: