A gorgeous farmhouse in the province of Arezzo which includes in itself the charm and characteristics of the most authentic Tuscan style.
In the southern area of the Casentino valley, a few kilometers away from Capolona and the amazing Abbazia di Campoleone, which was built at the end of 10th century by the marquise Ugo di Toscana and nowadays considered as one of the most beautiful in the whole province, "Casale Magalotto" stands. This ancient dwelling dates back to 1600 and, for centuries, it was one of the annexed properties to the Abbey itself. "Casale Malagotto" is the perfect home for those who want to buy a great and spacious farmhouse, where it's possible to spend pleasant moments both with family and friends. Provided with six bedrooms and a cinema room, "Casale Magalotto" perfectly represents the typical Tuscan architectonic style. Traditional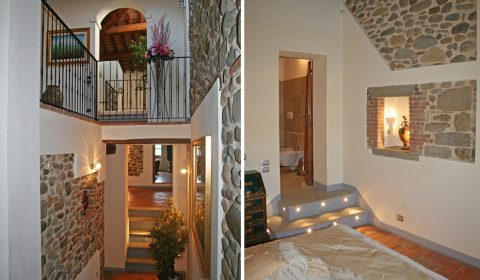 elements, like ancient cotto floors, wooden beams and terracotta tiles for the ceilings, brick arches and terracotta vaults, dominate the entire house.
The large living room with a travertine fireplace is essential and elegant; the kitchen is extremely functional and spacious; the dining room is very particular and boasts a red quilted-leather wet bar.
"Casale Magalotto" comes from an accurate renovation in which the majority of elements and original materials of the structure have been preserved. The result is a fascinating and traditional Tuscan home, with prestigious and well-finished details, as the ancient cotto and the light durmast floors, the stone steps, as well as a precise lighting system that allows all the rooms to turn particularly bright, warm and welcoming in every moment.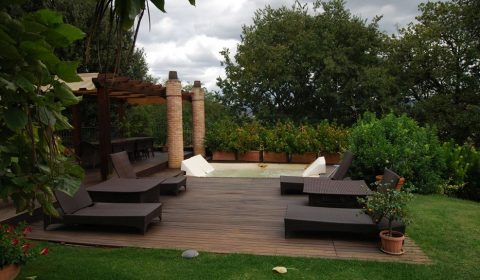 Outside the farmhouse, the luxuriant and green garden, well maintained and rich in fruit trees; here we can discover a piece of paradise: a perfect area both to enjoy your meals in the open air and to spend some of your time in a total relax. It's equipped with a gazebo and a Jacuzzi, able to host 12 people.The whole in a very panoramic position and, at the same time, near to the main services.
Discover "Casale Magalotto" and all the Great Estate prestigious properties in Tuscany by visiting our website or contacting our head office.