"It has been the first time for me when I saw a person so moved and happy about the sale of her property". Those are the words of the GE consultant Suzanne Van Ravenstein who, during the sale of "L'Amuleto", surrounded by the countryside of Trasimeno, dealt with the buyers. Her tale.
The new owners of "L'Amuleto" contacted us in May 2020. They noticed two properties on the GE website by asking so more information to our head office. So, our back-office sent me this request, and I contacted them immediately.
They are a couple who is currently living in Switzerland: Thomasso was born in Germany (with Italian parents), while Frédéric in France. Both speak very good Italian.
They were looking for a property near Rieti because Thomasso's mother live there.
In the complex, we visited five properties together. I would like to underline that – during their research – clients undersigned about three purchase offers for three different properties. Obviously, the first were not accepted by the vendors: "Pratoleva" in Montefiascone, "Podere Le Grazie" in Orte, and then "L'Amuleto" in the countryside of the Trasimeno Lake. This last offer was accepted by the vendors.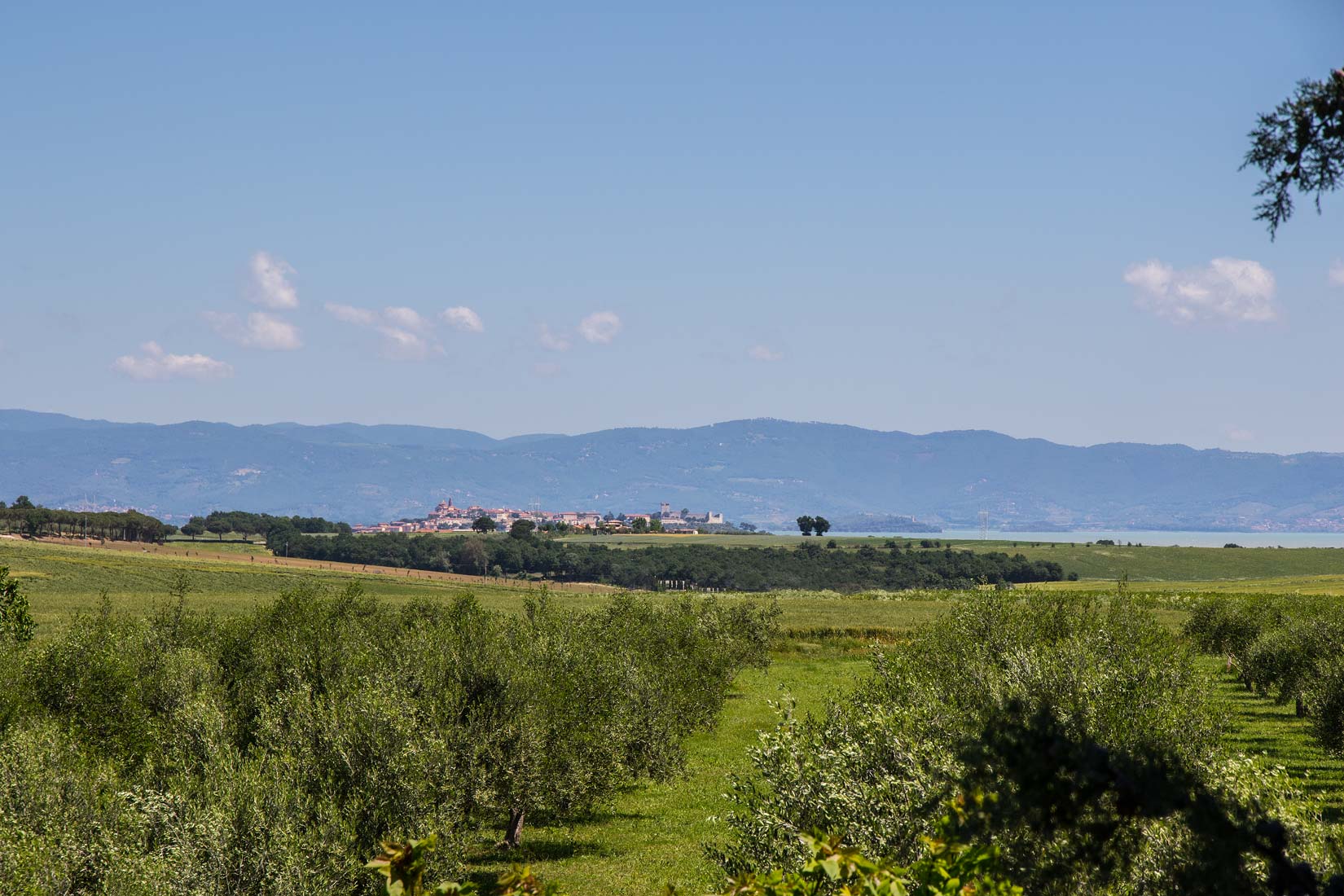 I can affirm that, among the qualities that Frédéric and Thomasso appreciated "L'Amuleto" the most, its surroundings and the view on the lake are the main. They literally fell in love with it. Indeed, I remember that, during the first visit, they said:
"It seems to be in Tuscany!"
Moreover, this property perfectly matches their logistic needs. Indeed, "L'Amuleto" stands near the streets connecting Switzerland with Rieti. So, a really comfortable location to reach the town of Thomasso's mom.
Frédéric and Thomasso will use this property as their holiday home. In the future, after their retainment, they wish to permanently move to Umbria in their farmhouse (discover it here).
Talking about the negotiation, I have to affirm it was really short. Indeed, as probably my colleague Alberto Zarro – a professional from our partner agency Rolling Hills and the vendor's consultant – would have already told you, the owner – who had recently lost her husband – has immediately accepted my clients' offer.
It has been the first time for me when I saw a person so moved and happy about the sale of her property.
Thanks to the consultancy of Top Italian Mortgage – in particular to the one of Mrs. Tomassetti – the buyers asked for a little mortgage and obtained it in a very short time.
To conclude, I can affirm that – in my opinion – it was a really beautiful sale: my clients were really proactive and with clear ideas. This allowed them to take their decisions in short.
Indeed, as I have already told you, they presented three purchase offers in less than four months. In the end, they purchased "L'Amuleto".
I am happy both for Frédéric and Thomasso and the vendor: she decided to purchase a new home by choosing, once again, Great Estate! But this is another story!
Read also: