International and Italian buyers are increasingly looking for a dream property in the magnificent areas surrounding Monte Argentario, so much so that the total value of sales made in the last half year exceeds 11 million euros. The Great Estate Network explains the reasons for this recent real estate boom
The Argentario is a rare and beautiful Tuscan promontory, with its enchanting sea, hidden beaches and breathtaking views. Monte Argentario and the gem-village of Porto Santo Stefano have been at the center of a recent boom in millionaire requests and sales in the last six months.

A study recently conducted by the Great Estate Network looks carefully at the sales made between March and September 2021. Dr. Elisa Biglia, Property Consultant and Manager of the Great Estate office in Porto Santo Stefano, shares:
We saw a sharp increase in requests immediately after the lockdown period and especially in the last 6 months––the number of potential buyers has grown again. The foreign clientele comes mainly from Northern Europe (Germany, Sweden, Norway, England), even if between August and September the Americans were very actively seeking properties. Foreigners are looking for independent/stand-alone properties that are already completely renovated or with very little work to be done, to avoid a long distance renovation.
A total of nine sales were made from March to September 2021, for a total sale value of 11,865,000 euro. Properties were priced from 400,000 to over 3 million euro.
Looking more closely at the purchasing trends in the Argentario area and its surroundings–over a designated period of time–other interesting data also emerged.
In particular the nationality of the buyers.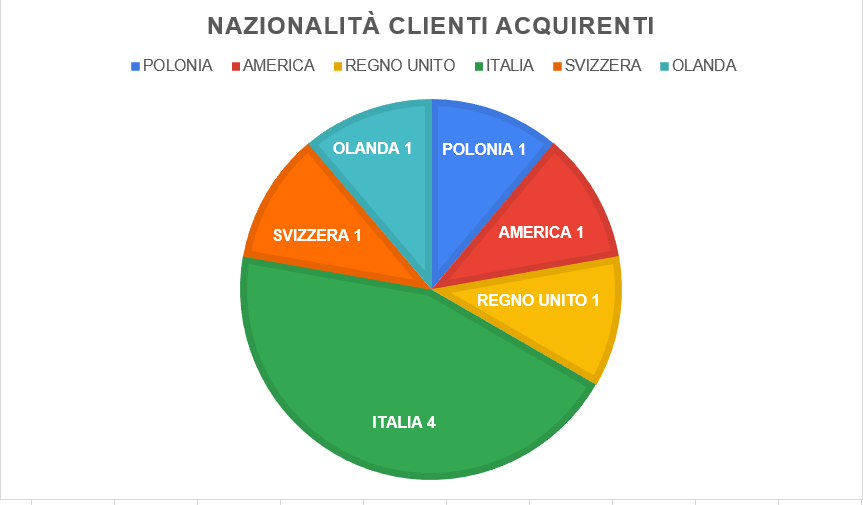 Out of a total of nine buyers, four were Italian and the other five buyers came from The Netherlands, Switzerland, Germany, Poland and the United States.






In response to these findings, Elisa Biglia comments:
We have noticed a significant increase in interest from foreigners, whose budget generally starts at 1,000,000 / 1,500,000 euro. But there is also an increase in Italians with a slightly lower budget (from 500.00 to 1,000,000 euro), who are buying houses on the coast or in neighboring areas. Some of the foreign buyers are leaving cities such as New York and London, to come live in Italy.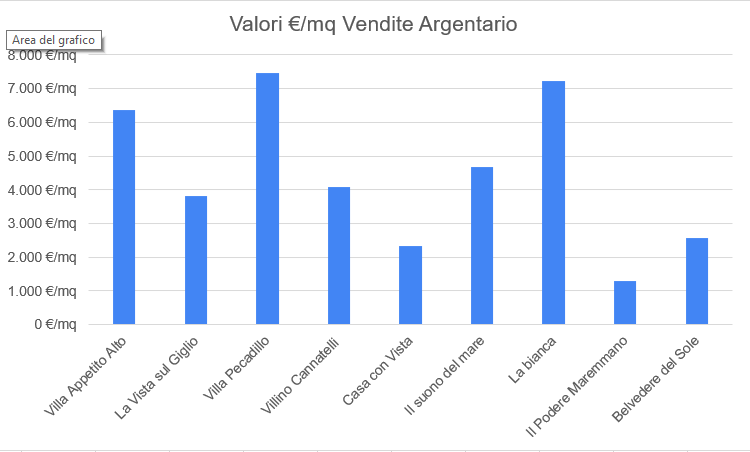 It's also interesting to note that the value ​​per square meter of the properties sold by the Great Estate Network are within a range that goes from a minimum value of €1,306 per square meter to a maximum value of € 7,475 per square meter.




Analyzing the research data on sales in the Monte Argentario area, an average difference in the prices provided by the Property Value department of G.E. and the actual asking price of properties is about 1.66%.
This figure confirms the effectiveness and reliability of The Best Price tool as a highly performing and greatly reliable valuation tool–specifically for the high-end property segment.
Tuscany, and in particular the Argentario peninsula, proves to be a popular destination for those who, like you, want to buy a dream property close to the outstanding and stunning beaches of Porto Santo Stefano or the surrounding hills.
Discover our proposals here

!
If, on the other hand, you own a high end villa or property in this area and have decided to sell it,

contact us

now to get the best advice.