Family Huizinga purchased the amazing villa to live some relaxing and pleasant moments immersed into the Lazio countryside. They are going to tell us something about their experience with our group.
Good morning Mr. Huizinga, what can you tell us about yourself? What is your job?
Good morning, my family and I come from Netherlands. Our is an almost frenetic life: both Jolanda, my wife, and I are two entrepreneurs. My company produces and sells medical systems to hospitals and hospices. My wife, instead, is the owner of a company dealing with the production and sale of hunting clothing and accessories, which is precisely why it has been created. Indeed, hunting has always been our favourite hobby: if you are able to transform your favourite hobby into your job, you are usually very good at it.
We contacted Great Estate through the international portal Huisesnaanbod.nl. The efficiency and professionalism they proved during the follow-up phase gave us the right trust to go on in our research.
Did you already know our country and culture? Why did you decide to purchase in Italy and, in particular, in Lazio?
Personally, even if our is a great country, I think that world is not just Netherland. In the past, I went to Italy to purchase some medical devices: the hospitality and traditional Italian life style amazed me and made me feel good in your country.
Before choosing "Casa Gialla", did you have visited other properties?
"Casa Gialla" represented the first and unique property we had visited: indeed, thanks to its perfect photo shooting and location, we immediately understood that it could have been the right one for us. For this reason, we decided to visit it: the first time my wife and Fleur, my daughter, and the second one Fleur and I.
Can you describe us the feelings or impressions you had during the first visit to the property? Do you have any anecdote to tell?
My wife and daughter fell in love with it immediately. They appreciated its location, the landscape and ex-owner's warming welcoming. She explained us how the house project was created, the choice made and the passion put in place for their realization. We liked it a lot! Moreover, we would like to cultivate a vegetable garden and to have a small plot of land where hosting some barnyard animals: "Casa Gialla" offers this possibility too.
Why did you finally decide to purchase it?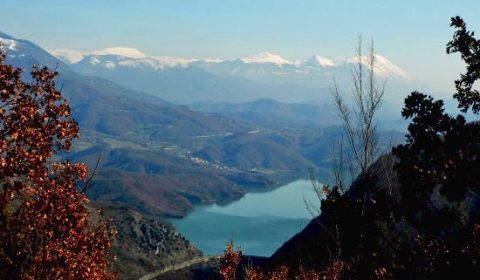 The atmosphere around the property, the external spaces and, above all, its incredible view.
Are you going to renovate "Casa Gialla"? Do you already know how?
Its ex-owner built it with passion and love. So, we want first live it as it is. Then, during the time, we will maybe do some modifications to the building in order to make it more eco-friendly.
Were there any problem during the negotiation? Did Great Estate supported you?
Unfortunately, we currently do not speak Italian. So, we started with a disadvantage. In Italy, is a little complex to open a bank account or do a light and gas agreement.. for this reason, some bureaucratic problems had emerged and caused the deferment of the deed of sale.
However, we had the luck to delegate all the bureaucratic procedures to Suzanne Van Ravenstein. This allowed us to positively conclude our adventure. I want to underline how Suzanne's consultancy and assistance were fundamental both during and after the purchasing: we really appreciated her work.
What do you think about the services offered by our group? What do you think about "Casa Gialla" photo shooting?
The property photo presentation on the GE website was excellent. Indeed, we decided to purchase it thanks to this circumstance too.
To conclude, would you suggest Great Estate to other international clients who want to purchase a prestigious property in Italy?
Absolutely, because: thanks to your professionalism you are able to support the client in every moment, making him/her know and appreciate both the Italian real estate market and life style. We loved it!