Would you like to discover the experience of Mrs. Abby Ewen, the new owner of the beautiful farmhouse known as "Il Relax"? So, read her interview.
Good morning Mrs. Ewen, congratulations on your recent purchase! Would you like to tell us something about yourself? Where do you come from? What is your job?
I am from England, about 35 miles east of London
Why did you decide to purchase a home in Umbria and, to be more specific, near the historic hamlet of Monteleone D'Orvieto? Did you already know this area? What do you like the most about it?
I started looking nearly 18 months ago, but initially in Tuscany.  Although it was beautiful there, I felt that there were too many people and that in the summer there would be too many tourists! So, then I started looking in Umbria and fell in love with the area. I love the fact that there are so many beautiful old hilltop towns.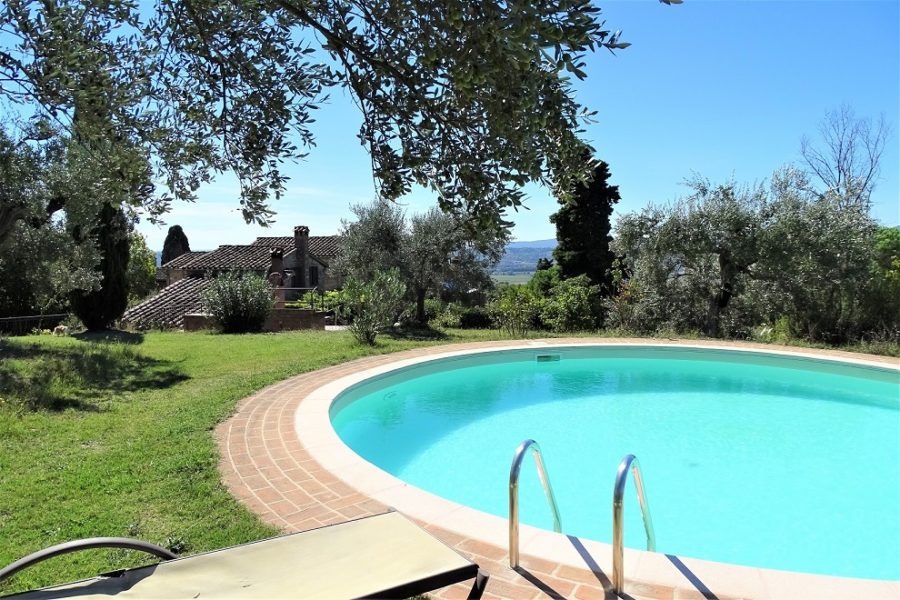 The views from the house are fantastic. It is quiet and was just what I imagined when I started looking. It will be a holiday home for a few years, and then who knows… (discover the property here)!
How did you meet your GE trusted agent, Alice Ceccomoro? 
I spent the day with Alice early last year and we looked at quite a few houses together. Her knowledge of the local area is so useful.
For your research, why did you decide to entrust yourselves to Alice? What do you think about your professional experience with our real estate consultant? 
Alice always has a very positive attitude. We had some difficult planning issues to sort out, but she always made me feel confident that we would be able to sort them out.
Do you remember your first visit to the property? What were your first impressions about it?  
My first thoughts were really about the location and the garden, although the house is lovely too. The fact that it already had a swimming pool was an extra bonus too.
The second time I viewed the property, all the wildflowers were in bloom underneath the olive trees, which looked so beautiful.  It is just the right size too – not too big for me to manage.  Although it is quiet and remote, it is in a hamlet where there are a few other houses, so it is not solitary.
Talking now about the negotiation process, we know that there was a long waiting time before the final deed of sale. How did you experience it? 
Waiting for all the planning issues to be resolved was quite frustrating, and it did take a long time. Alice kept me informed at every step of the process so I always knew what was going on.
How would you rate the consultancy you received by Alice and the whole GE Group? 
Excellent and professional. Alice has managed so much of the process for me, sorting out the utilities and finding me workmen to help with the renovations that I have planned.
In short, how would you describe your purchasing experience in Italy and in cooperation with Great Estate?  
Alice and Great Estate made a very difficult process more manageable, and I am very glad that I stuck with it.
I'm very satisfied with Great Estate.
Would you recommend our Group to other international clients who, as you already did, want to purchase a property in Italy? If so, why?  
Absolutely! I would recommend Great Estate. They are so knowledgeable and helpful, going out of their way to help at every stage, particularly if you are still trying to learn the Italian language! 
I think that completing my purchase of the house marks the beginning of my relationship with Alice and Great Estate, rather than the end of it!