Umbria is confirmed not only as the preferred region for summer holidays in 2021, but also as the ideal place to purchase a prestigious property. This is what emerges from the analysis of sales made in the "green heart of Italy" by the Great Estate Network from 1 June 2020 to 1 June 2021.
Do you remember the article of a few days ago dedicated to Umbria, the absolute most clicked region on Google for holidays in Italy?
According to Enit's research office on tourism trends, holiday searches by region on Google see 'the green heart of Italy" in first place with the highest score. But … there is much more!
An analysis carried out by the Great Estate Network on the Umbrian real estate market shows a general increase in purchase requests. This is what emerges from a study regarding the sales made in Umbria by our Network from 1 June 2020 to 1 June 2021.
During this period, Great Estate Group announced 41 sales of properties in Umbria, 30 of which were in the province of Perugia (73%) and 11 (27%) in Terni.
A detailed analysis of the data shows that 15% of the sales concerned the municipality of Todi, followed by Città della Pieve (12%), Castiglione del Lago (10%), Magione, Baschi and Parrano (7%). The other Umbrian municipalities follow closely behind: Gubbio, Perugia and Lisciano Niccone (5%), Bevagna, Città di Castello, Monte Castello di Vibio, Panicale, Passignano sul Trasimeno, Umbertide, Acquasparta, Nardi, Orvieto, Otricoli and San Venanzo (2%).
There is no doubt about the most sought-after type of property: it is certainly the classic Umbrian farmhouse, chosen by 85% of buyers, followed by the prestige flat and the one in the historic centre (5%), to conclude with the multi-family villa and the prestige villa (2%).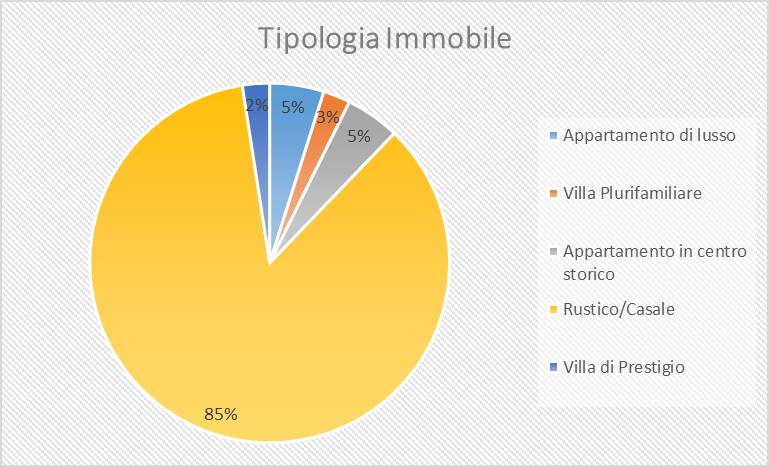 In terms of price ranges, 45% of sales involved properties up to EUR 500,000, 50% involved properties between EUR 500,000 and EUR 1 million, and the remaining 5% involved properties between EUR 1 and 3 million.
Lastly, the analysis of the Network's sales in Umbria from 1 June 2020 to 1 June 2021 looks at the nationality of the buyers, which shows that 27% of them are Italian. In second place are the British and Germans (both with 17%), followed by Belgians (12%), Argentines, Australians, Dutch and Americans (5%). Finally, there are customers from Switzerland, Singapore, and Israel (2%).
"These data are the result of a detailed analysis carried out by the Network for the usual monitoring and they are really interesting: in fact, they represent the numerical correspondence of what we, as a group, have already experienced in the field, that is a definite increase in requests to purchase prestigious properties in Umbria"
explains Stefano Petri, CEO of the Great Estate Network, who adds:
"the health emergency on the one hand has heightened the need for nature, greenery and villages, and on the other has changed the way people look for and buy. This is demonstrated by the 20 sales made "virtually" in the first six months of 2021, 50% of which related to properties located in Umbria".
Petri goes on to say that:
"The data analysed over the last 12 months is a source of great pride for our entire group.

In March last year, when the COVID came into our lives, we had a moment of great fear and uncertainty. However, as we have always done at Great Estate, we have been committed to turning a very difficult time into an opportunity. This is how the Virtual Tours project came about, conceived and structured by our group as one of the few ways to keep our buyers falling in love with our wonderful properties.

It was very difficult to believe in what at the time seemed more like madness than a solution, but in the end our tenacity, our ability to look beyond the obstacle and, above all, the beauty of our properties, combined with the strength and credibility of our brand, created the explosive mix that allowed us to create new opportunities both for us and for our clients, buyers and sellers.

The former, were able to continue dreaming of their property in Italy from all over the world, at a time when we were all 'closed' at home, both physically and mentally.
The latter were able to benefit from and count on an organisation like ours, which turned a moment of total deadlock into one of great promotional activity.

As CEO of the group I am really proud of the great work that has been done: the only reason why we are here today to celebrate results that only a year ago were not only unthinkable, but also crazy to imagine …

I have the pleasure of thanking all the professionals in our group: around 70 professionals of the highest calibre who were more committed than ever at a time when everything could have gone wrong and who, thanks to great teamwork, were able not only to resist but also to implement their results.

I also want to thank the many vendors who have believed in our group and who have supported some of the large investments we have had to make in order to implement these very interesting and powerful initiatives.

Finally, I would like to thank the many buyers who have purchased fantastic properties by "visiting" them online only, and demonstrating enormous trust in our group, trust that we have respected and returned in all the virtual sales made.

One year on, we can say that 100% of customers who purchased properties through virtual tours were delighted when they were able to see them physically.
READ ALSO: