The amazing interview to the new owners of "White Apartment" in Cetona is going on. The "lucky" discover of Great Estate and the incredible cooperation with Alice Ceccomoro.
I was fortunate in my research to find the Great Estate web site on December 30, 2018. After reading all the information contained on the website and doing some independent background on the company, I decided that signing up to be a client was the best decision for us for our house hunt.
Knowing that the real estate business entirely different in Italy from the United States – there is no MLS to check comps or recent sales etc and that Agents are not always willing to work with other agents from various agencies, we decided to place our trust and our future in the hands of Great Estate.
We knew that it would cost us a fee but, after a careful and diligent analysis of what precisely we would be getting for the money, it was a common sense decision to place ourselves in their competent hands to assist us through the process and the cost was considered money well spent in ensuring everything was done smoothly and legally.
After reaching out to Great Estate on their web site and signing up for the My Agent Service, I was told that I would soon be contacted by an English speaking Agent that would represent me. By January 2nd, I had received an introductory email, made arrangements for a personal phone conversation to address any questions or concerns, set up WhatsApp for no cost back and forth text communication, and had begun to exchange emails and develop a list of properties for us to consider with our fabulous Agent Alice!
Here is our original list of search criteria that we shared with our Agent Alice:
"1-2 bedrooms, 1-2 bathrooms with a toilet located on the sane level as the Master Bedroom, 1-2 levels preferred with all one level best (we will do multiple levels but not if they are on the higher floors of a building with no lift – I (Eileen) have asthma so too many stairs is not fun for me), Modern or updated finishes in a historical setting, Updated kitchen (with an oven) and updated bath (don't need a tub just a nice shower), a terrace or balcony or located within a historical center where the town would be our outside area, parking at or within walking distance to the property, beams and fireplace would be nice as design features, washer in the unit, tile or wood floors, lots of light!, location in a historical town with good walkability to stores, restaurants, bars, etc., and very important! – My husband is over 2 meters tall so high ceilings and no low areas!
This is our starting off points that are of course flexible according to what we can find. We are more than willing to compromise for the right property. We would like to set an all in budget not to exceed €175,895 including all associated home purchase fees, taxes, etc."
So as you can see we were looking for what we thought of as a unicorn that would be absolutely perfect for us and all under $200,000! Not an easy task to accomplish!
Over the next weeks, Alice worked tirelessly and patiently finding us properties and getting us answers to any questions we might have regarding a specific property. We sent her any we found ourselves and continued to rule in and rule out countless properties. We had to explain to friends that often in Italy the owner would take the kitchen with them when they moved. "You mean the appliances?" they would ask. And we would have to explain no, the whole room – cabinets, sink, appliances, etc! So we were prepared to have to install an entire kitchen if we found the perfect place!
As we moved closer to our arrival on February 20th, Alice had set up viewing appointments for us to see approximately a dozen places. We had narrowed down hundreds of properties to what we thought were the top contenders for us. After arriving in Italy, Alice was in constant contact with us arranging our schedule and taking us to see those on our list. She was incredibly professional and personable at the same time and we came to enjoy our hunt for the perfect place!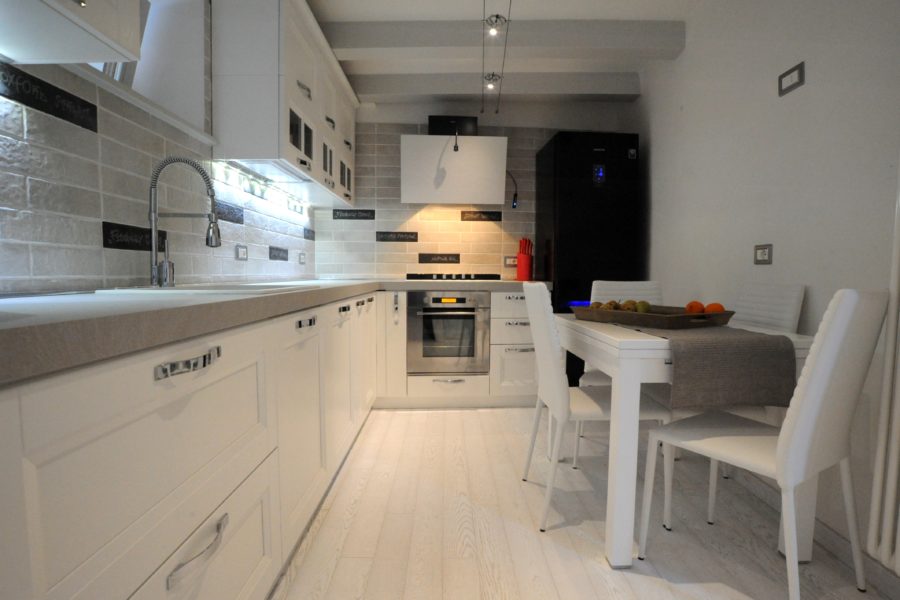 In the end, it was one of the first properties that I had found on the Great Estate web site that had sounded and looked like a great fit for us, the "White Apartment", that we decided to purchase.

It was updated with beautiful fittings and finishes, was located in a gorgeous historical hill town, and through Alice's translation of conversing with the owner Dominga, we learned that she had spent over 2 years renovating and updating the property. This was evident in the care that was given to all the little details in the home.

We could see that not just planning and money went into the renovation, as is evident by the stunning custom kitchen, the bleached solid oak flooring, the special paint finishes on the highlight walls, the beautiful and functional bathroom tile work and gorgeous vanity and sink, and on and on – but a lot of heart as well – and we appreciated every little detail.
We plan on spending time in our new home every few months for the next couple of years and then making Cetona our permanent forever home. While we had not been familiar with Cetona prior to our house hunt, we have now spent time there getting to know the town and already made many friends – both Americans who own property in Cetona and live there full time or on and off and Italian "Cetonese" friends as well.

We specifically told Alice that we were not just looking for the perfect apartment or home, but also for the right town – one that gave us a sense of community and a kind and welcoming environment. Cetona is all that and more!
We love every moment in our beautiful home! Cooking together in the incredible kitchen (that was all included in the purchase of the home thanks to Alice's negotiation skills!), relaxing in the lounge with a good book and a glass of wine, sleeping comfortably in the restful bedroom, doing laundry in the perfect little laundry room with both a washer and a dryer, and peeking out the bathroom window at our favorite view out across the roof tops and on to the beautiful rolling hills!
We can't speak highly enough about Great Estate and Alice Ceccomoro! Anyone from the United States, within Italy, or internationally should look no further in deciding to hire them to help find you the perfect apartment, villa, farmhouse or castle! You could not find a better company or individuals to hold your hand, explain everything in detail, search and view properties with you, be with you through the entire purchase process, and even assist you afterward in setting up all your utilities and giving you shopping advice for furnishings.
The personalized attention that you are given as a buyer (and I'm quite sure as a seller as well!) is beyond any expectation that you may have had at the start of your journey.
Great Estate in general, and Alice Ceccomoro specifically, made what could have been a stressful search into a journey of absolute joy! And we could never thank them all enough!
So Grazie Great Estate!
Eileen and Bill Senke
Related articles: