Peter and Lora Gibbs are the new owners of "La Dimora Nobiliare", an amazing property near Orvieto, purchase on January, 13th. Their interview.
"Fine Art Connoisseur", a magazine addressed to art lovers and collectors, wrote an interesting article about Peter and Lora Gibbs, the new owners of "La Dimora Nobiliare".
Peter and Lora Gibbsresemble many other couples by moving between two primary homes according to the season. What probably makes them unique, however, is the unexpected locations of these homes — Tulsa, Oklahoma, and Sydney, Australia. Both properties are adorned with impressive works of art, though not quite as many Down Under as there once were. Peter grew up in an artistic family: his father was an architect, his mother a formally trained sculptor. Peter pursued engineering and began to collect what he calls "investment art" while working in Sydney.
Last December, Peter, and Nora – together with their friend Royce Myers – visited Art Basel Miami Beach, considered their "art paradise". There they found important sculptures of Javier Marin and Seo Young Deo, perfect for the garden of their Italian home.
Welcome, Peter. Would you like to tell us something about yourself?
I was born in the UK but have lived between Sydney, Australia and Tulsa OK, USA for the past 30 years while managing a software company with operation centres in those two cities. My wife Lora, is from Tulsa and enjoyed our past life of frequent international business travel.
Having retired in 2018 after selling the software business, Lora and I wanted to add a European home to explore the region and be closer to UK based family for part of the year now that our lives have slowed down a little.
How long have you been looking for a property in Italy? Which kind of property were you looking for? Which features should it have had?
Lora and I wanted a classical Italian renovated farmhouse or villa with some land and privacy we could share with other family members and friends. So, it needed to have a minimum of six bedrooms, large pool and we were very much hoping for amazing Italian countryside views as well.
In May 2019 Lora and I recruited the help of my two brothers and a sister from the UK to assist with the property search. Starting with local real estate agents and connections from friends, on-line searches and two trips over six weeks where we all saw twenty-five odd large renovated farmhouse style properties.
Midway through our five-month property search, we became more open to increasing the property budget as that seemed to offer more special and unique places and so the second half of our property searches and visits became more refined and focussed to the larger budget.
In July we did our 3rd house-hunting visit and our 4th in September toward the end of which, we found "La Dimora Nobiliare". This was the 60th property we visited after four trips and 4,000 Klm of road travel.
Why did you decide to purchase a home in Italy and, to be more specific, in Umbria, near the suggestive town of Orvieto? Did you already know this area? What do you like the most about it?
It didn't take us long to decide that Italian culture, its friendly people, beautiful towns and countryside was where we wanted to be. Given our long-haul arrival was most often going to be Rome, we wanted to find a property ideally within a 90-minute drive from FCO.
This initial process helped us refine the types of properties we sought, narrowed our search area to predominantly around the Todi and Orvieto areas in Terni since we loved both of the medieval towns, the central access to regional cities like Siena and Perugia as well as the easy access to Rome and its airport.
For your research, did you entrust yourself to other agencies too?
Yes, we did start with probably half a dozen agencies across a broad range of properties. Later on, and once we had completed a couple of trips, we did reduce this and narrowed our dealing to only a few agencies.
How did you discover the Great Estate Group? How did you meet Suzanne Van Ravenstein, the person who then became your GE trusted consultant?
I believe we found Great Estates on-line and during our first trip where we viewed 13 properties, 3 were Great Estates listings where we met Suzanne for the first time. Subsequent trips saw our dealing with Suzanne more than other agencies and toward the end of the trips Great Estates made up the majority of the properties we assessed.
For your research, why did you decide to entrust yourselves to Suzanne? What do you think about your professional experience with our real estate consultant?
Suzanne was fantastic through our dealings with her. She was very proactive finding additional properties that might have fitted our search requirements and she was tireless on some very busy days where we'd have 8 to 10 properties to visit in a day.
Suzanne was also very good at following specific issues and needs up reliably without having to remind or chase-up.
Let's talk now about the amazing property you recently purchased: "La Dimora Nobiliare". Do you remember your first visit to the property? Which were your first impressions about it?
Yes, we do recall our first visit. Remarkably, Suzanne had recommended we visit the property during our third trip but we were tight on time and I felt from the photos that the property was a little too stylish and formal for our taste.
However, once we actually visited during our fourth trip in September. It was clear our impressions from the brochure and photos were completely unfounded and we loved everything about the villa.
Unlike many of the farmhouse properties we were used to seeing that are quite dark inside, La Dimora Nobiliare (click here to discover it) is totally bright and open, has fantastic views of Orvieto and beautiful gardens surrounding the villa.
Why did you finally decide to purchase "La Dimora Nobiliare"? What did you like about this property the most? 
La Dimora Nobiliare matched our primary requirements having: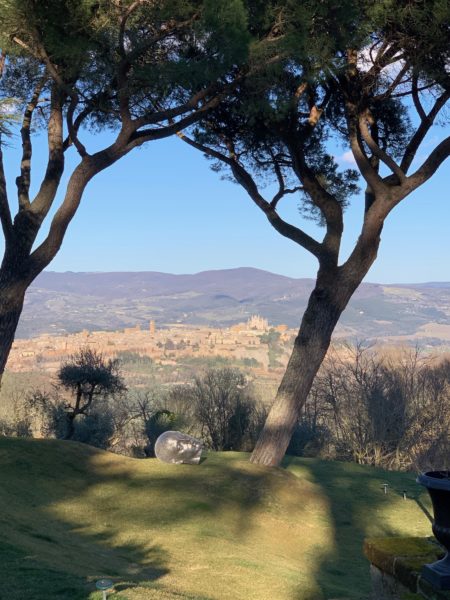 Beautiful, light and comfortable living spaces.
Good number of bedrooms with a further two as guest house renovation underway is completed.
Best views of any property we assessed.
Mature and well-maintained gardens.
90 minutes to Rome's FCO airport
How will you use this property?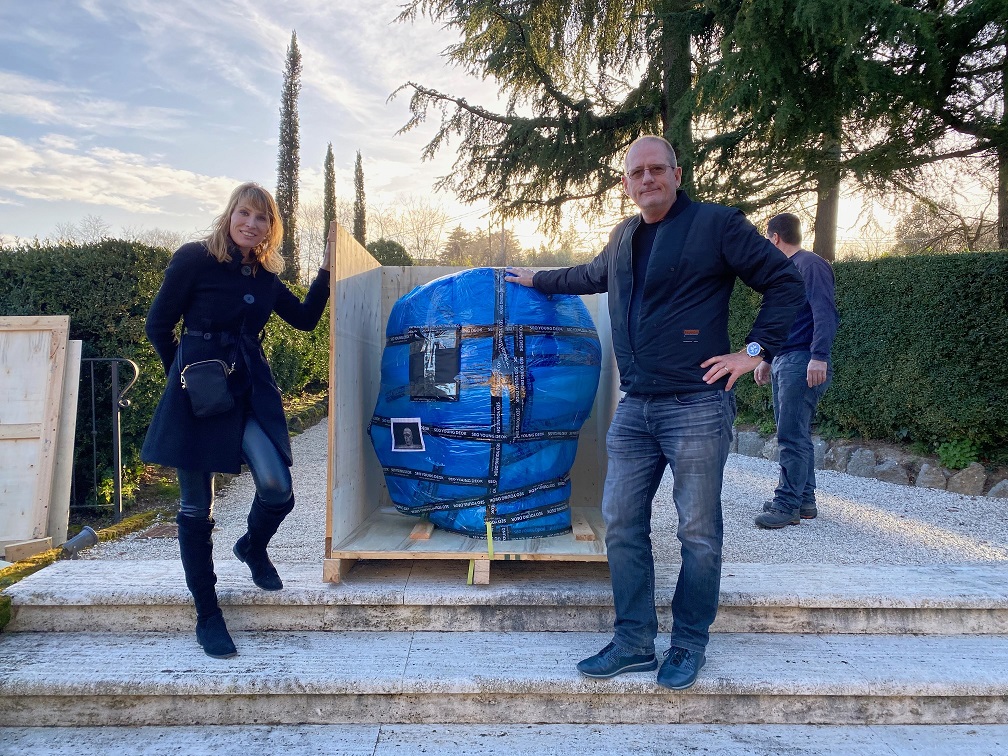 We were lucky enough to retain the young caretaker family who have their own accommodation on the property. They have built and managed the gardens as well as provide full house keeping services so it will be easy for our family and friends to visit and use the property.
Lora and I hope also to spend three to four months a year in Orvieto perhaps across half a dozen visits from where we can explore more of Italy from.
Talking about the negotiation, what can you tell us about it? During the process, did you have to face any difficulty? How would you rate the consultancy that Great Estate offered you?
Yes, the purchase of this property was a very complicated process partly because it was one of my companies that was buying the villa and partly because of the history associated with a 300-year-old property.
Suzanne and the Great Estates team were extremely helpful and accommodating throughout this process and we couldn't have asked for a more helpful partner throughout what turned into a lengthy closing process.
What do you think about Suzanne Van Ravenstein, her assistance, and consultancy?
Fantastic and we owe Suzanne a great debt of gratitude for all she has helped us with from showing us so many properties that we felt totally comfortable in choosing La Dimora Nobiliare to then helping us endure the lengthy purchase process.
She also has been so helpful assisting with our being able to reemploy the caretakers, providing access to local contacts and resources.
In short, how would you describe your purchasing experience in Italy and in cooperation with Great Estate?
Overall, we feel we received excellent value and extraordinary service that we will always be very grateful toward Great Estates and Suzanne for.
On the basis of your experience, do you think that the services and consultancy offered by Great Estate to you and, more in general, to all its international clients are different to the ones of the other agencies to who you collaborated before? If so, why?
Great Estates listened and understood our requirements, most of the others did not. Great Estates were great in arranging complicated logistics that made our days very productive, most other agencies didn't. Great Estates were happy to endure very long like 15-hour days and many hundreds of Klm, others were not.
Would you recommend our Group to other international clients who, as you already did, want to purchase a property in Italy? If so, why?
Most definitely yes, Great Estates makes the process a lot easier than it would otherwise be. They also seem to have more relevant listing than any of the other agencies and I would also suggest their on-line presence, ease of navigation, and the way they present properties is significantly better than most of the other agencies.
Peter Gibbs
Read also: