Last January the stunning property known as "La Dimora Nobiliare" has been sold by Great Estate to an Australian couple. Today, through their consultant's words, Suzanne Van Ravenstein, you will find out more details on the sellers and on the buyers and on their cooperation with our group.
Hello Suzanne and congratulations on this important sale! We know that you, together with Great Estate's CEO Stefano Petri, have managed both sellers' and buyers' interests. Let's start with the first. When and how did you meet them?
I met the owners of "La Dimora Nobiliare", a Dutch couple, way back in 2012, right at the very beginning of my cooperation with Great Estate. We've been introduced by a mutual friend, an architect based in Orvieto. The couple had just finished the renovation of the villa and the villa already was for sale with other agencies: I remember that, in certain periods, seven agencies contemporarily marketed the property.
When the partnership with the sellers began, the main principles on which the Great Estate work method is based, particularly referring to the Best Price and Best Position, were still non-existing. Therefore, after the presentation of my personal valuation of the property, corresponding at about 2,5 million euros (that the sellers have decided not to take), we've agreed on a simple, non-exclusive mandate to sell with asking price 2.950.000 €.
During the long-lasting partnership, the asking price has been reduced from time to time: in 2017 it was 2.600.000 €, and then it got to 2.400.000 at the beginning of 2019: the owners wanted to move to Florence, hence the urgent need to sell.
Moreover, during the years, we've agreed a couple of times to remove the property listing from all the marketing websites because the property has been on the market for quite a long time and this undermined its appeal and the interest of potential buyers.
It is a strategy that has been suggested and used by our group also for other properties that have later been sold (on this matter, you can read the articles on "Il Felceto" and on "Il Giardino Segreto", and also the special article dedicated to this specific technique).
In your opinion, what are the main selling points of the property?
It is a wonderful dwelling with a passionate history behind it. A villa with an exclusive appeal and a breathtaking view on the Orvieto's cathedral: among all the properties I've put for sale it has always been my favorite! Right from the first time I've seen it, I immediately realized it had a special charm. In addition, it is located in a very convenient position, just seven km from Orvieto old town and 8 km from the A1 motorway exit (find out more about the property here).
Many clients have shown their interest in "La Dimora Nobiliare", given its undoubted beauty and all its other features.
Among the buyers, I remember an Italian client of ours in 2015 was seriously interested in the villa, however, a year later he decided to buy a big estate in Tuscany, always through our group.
I also remember a Chinese client particularly involved in the property who hire technicians of her trust to carry out a survey. At the same time, however, she realized that she wanted a property with a vineyard bigger than the one "La Dimora Nobiliare" has.
In conclusion, this property has been really loved by many clients: the former owners did a magnificent renovation on a historical dwelling in terrible conditions.
Let's talk about the buyers instead.
My first contact with the buyers was in May 2019, he wrote me through Green Acres website. he is Mr. Peter Benedict Gibbs, an entrepreneur born in Australia. His company has branches in the US and Australia and he has brothers living in the UK. He wanted a property that could be a base in Europe and he chose Italy.
What kind of property were they looking for? In which areas?
He and his wife Lora were looking for a big size house that could host their whole family (and therefore big spaces and at least 6 bedrooms). We've seen several estates all around Umbria and Tuscany, from Todi area to the Trasimeno Lake, to southern Tuscany to Tuscan seaside.
However, there was one criterion that was mandatory to fulfill: to be close to Fiumicino international airport.
"La Dimora Nobiliare" was perfect for them: its location allows to reach Rome airport in about one hour and a half drive. This feature the Villa has, and its being an amaing residence, perfectly renovated with a wonderful view on Orvieto's cathedral, reached the hearts of the buyers.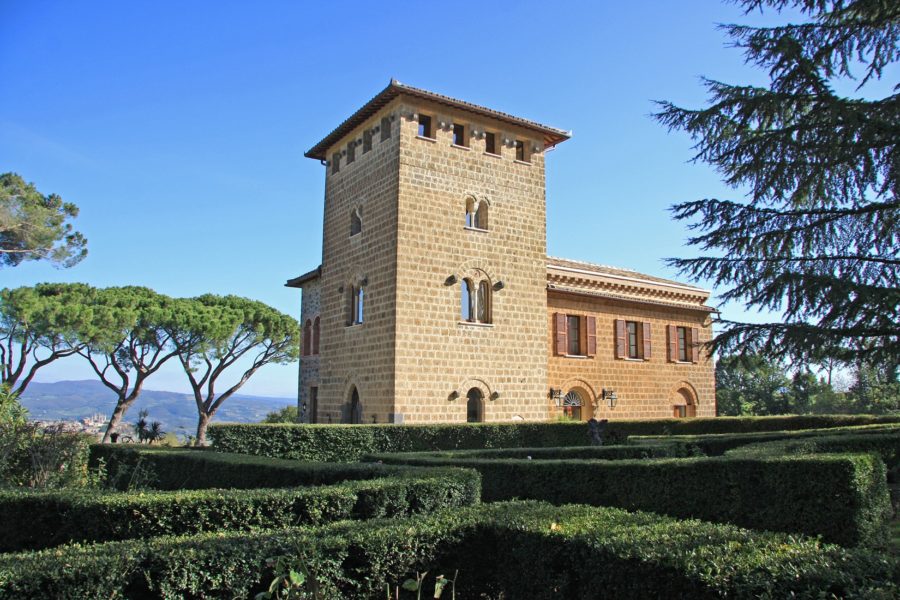 "La Dimora Nobiliare" will be the new European base for Lora and Peter Gibbs and a house for their big family to spend holidays in Italy.
Read also: