Our consultant Roberto Biggera is going to tell us about the sale of "La Vista Su Todi e Montecastello": "a new, great experience that I shared with the CEO of Great Estate, Stefano Petri".
THE CLIENTS AND THE SEARCH OF THEIR IDEAL PROPERTY IN ITALY
The new owners of "La Vista Su Todi E Montecastello" are Mr. and Mrs. Boadle, a couple from the UK. They contacted us for the first time in September 2020 through our website (greatestate.it).
They were looking for a traditional stone farmhouse, with charm and character, 4-5 bedrooms, a garden with a swimming pool, and a great panoramic view. Their preferred areas were mainly Umbria and southern Tuscany.
I remember that together we visited about 9 properties, spreading all the visits over three separate days.
Of all the properties that Mr. and Mrs. Boadle visited, their choice to purchase fell on "La Vista Su Todi e Montecastello" because it had everything they were looking for!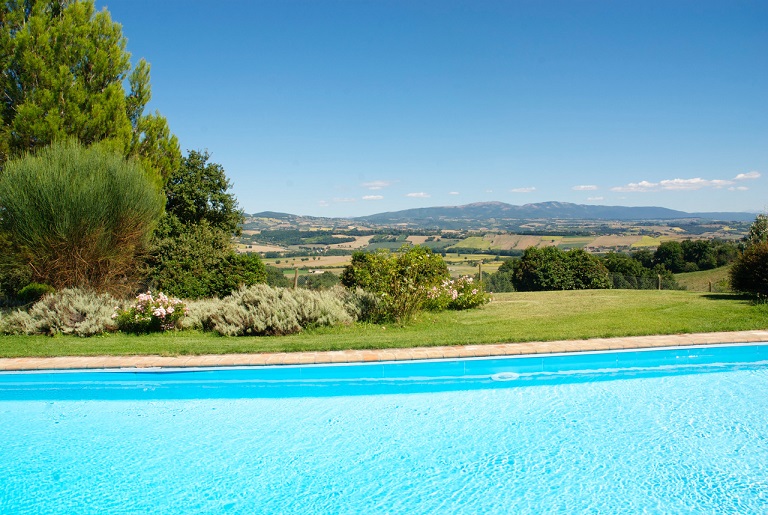 A magnificent view of the surrounding hills, a beautiful garden, a farmhouse with a traditional style but with a strong personality and a very special charm, equipped with a spacious and bright living area on the ground floor, as well as 4-5 bedrooms in the main farmhouse and a separate annex. Finally, a beautiful swimming pool located in the most panoramic point of the garden.
As Mrs. Boadle travels a lot in Italy for work reasons, she will move her residence to Umbria, to "La Vista Su Todi e Montecastello".
THE NEGOTIATION
The negotiation was a great new experience that I shared with the CEO of our Group, Stefano Petri.
As he himself said in his interview, the vendors, following his advice, promptly had a very detailed property due diligence drawn up by one of their trusted technician.
Thus, when the time to start negotiation came, all the possible difficulties related to those ever so thorny aspects had already been clarified to the buyers.
This step was crucial, as we were then able to set up a very straightforward negotiation, in which the only obstacle to overcome was the economic part.
In fact, after a short but intensive negotiation, we managed to get the parties to come to a mutually rewarding agreement, thus achieving a fantastic result, to the satisfaction of both buyers and sellers.
With particular reference to my clients, Julia and Simon Boadle, I remember with great pleasure and satisfaction a sentence from them, referring to the purchase of their Italian dream house:
In all honesty, we can say that Great Estate was the only enjoyable home purchase we have made since we got married almost 40 years ago! For that, we are enormously grateful!
These words confirm, once again, that buying a house with GE can be a pleasant and stress-free experience!
However, it is very important to underline that all of this is only possible thanks to the enormous effort and the huge amount of work carried out to verify, in a painstaking and continuous way, every single aspect of the sale (technical, legal, material, psychological, etc…), from the first visit until the notarial deed, in order to prevent and solve in advance any potentially "delicate" aspect of the negotiation, likely to generate frictions or criticalities.
Once again, we did a fantastic job in order to succeed in making the purchase of a house in Italy an experience that the Mr. and Mrs. Boadle even described as enjoyable!
READ ALSO: