Do you remember the sale of the amazing farmhouse "Santa Maria Nuova"? It has been purchased in June 2020 by Sabina Rigamonti and Uwe Pregizer, an Italian-German couple managed by Nadia Aron and Riccardo Luculli, the persons in charge of the GE German market. Today, we are going to propose to you our interview with Mrs Sabina.
Welcome, Sabina, and congratulations on your recent purchase of "Santa Maria Nuova". Would you like to tell us something about your husband and yourself?
Hello everybody, we are Sabina and Uwe.

I come from an area near Lake Como: Lecco. My husband comes from Tübingen, Germany. I lived there for about 30 years: indeed, he owned a joiner's workshop, while I a hair salon in that city.
Why did you decide to purchase a property in Italy and, to be more specific, in Umbria, between the Trasimeno Lake and Città della Pieve? Did you already know the area? What do you like the most about it?
Once I turned 18, I moved to Florence for two years because of my work. By living there, I had the occasion of visiting many areas, including Umbria.

And I have to admit that I literally left my heart in Umbria!

Years later, I shared with Uwe the travels of my past. Then, with the occasion of a wedding in Chiusi, we decided that – soon or later – we would have moved into "your" areas!

To be honest, we hoped to make this dream come true more soon than later. However, we had to wait.
How long did your research last? What kind of property were you looking for? Did you entrust yourself to other agencies too?
Sincerely, our research was really short: it took us about two months. Our aim was to find a property where to permanently move, as well as to enter into the real estate rental market.

In the beginning, in addition to Great Estate, we used also other agencies but, in a very short time, we were able to identify the agency with which we would really want to cooperate.
How did you discover Great Estate? How did you meet Nadia Aron, the managing director of "Italia Immobilien" as well as the person in charge of the GE German market?
During our online research, we found Italia Immobilien website. We met then Nadia and Riccardo who – right from the very first moment – really supported us in our search!

Given that Uwe has recently started to learn Italian, it was very useful – especially for him – to have had the possibility of using his native language for our purchasing in Italy. This was possible thanks to Nadia – she is German too – and Riccardo, who perfectly speaks German.
Why did you decide to entrust yourself to Nadia for you research? What do you think about your personal experience with our consultant?
After our first contact with Nadia, we immediately understood that she was the right person to which entrust ourselves. If we should estimate – on a scale of 1 to 10 – the quality of the consultancy received, professionalism and helpfulness… we should give Nadia a great 20!
Let's talk now about the property you purchase, "Santa Maria Nuova": do you remember your first property visit at the house? Which were your feelings?
It was a very cold, grey, and foggy day of February. Despite this, I remember that – as soon as we got to the farmhouse – I thought:
"if I have fallen in love with this place today, with this atmosphere, I can only imagine what could it be in summer and sunny day…"
So… the first impressions were simply incredible!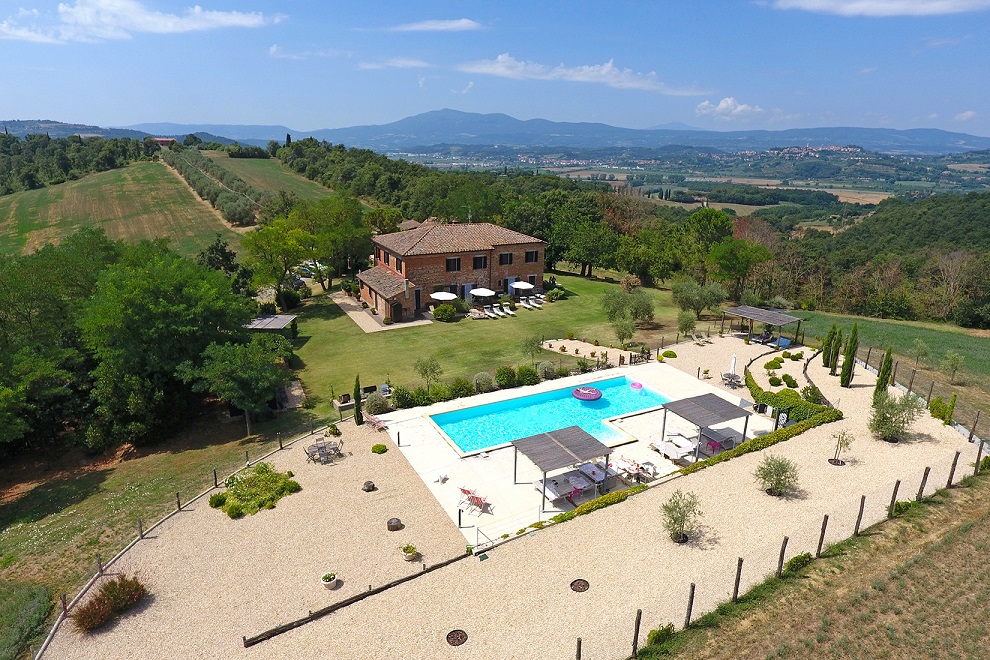 Then, Mr. Stefano Petri – the vendors' consultant and the GE CEO – had perfectly shoved us the whole property, by making us so completely enjoy it.

It was not just me, but Uwe too! We wanted to live in that paradise!
What did you like the most about it?
Its charming landscape, the view you can enjoy from it, its swimming pool and location. There you can find incredible privacy and relax, but you are not too isolated. Moreover, the farmhouse already has all the features we desired: an ideal place where to perfectly combine our daily life and a touristic accommodation with the awareness – in this second case – to have the possibility of satisfying the exigencies of our guests (click here to discover the property).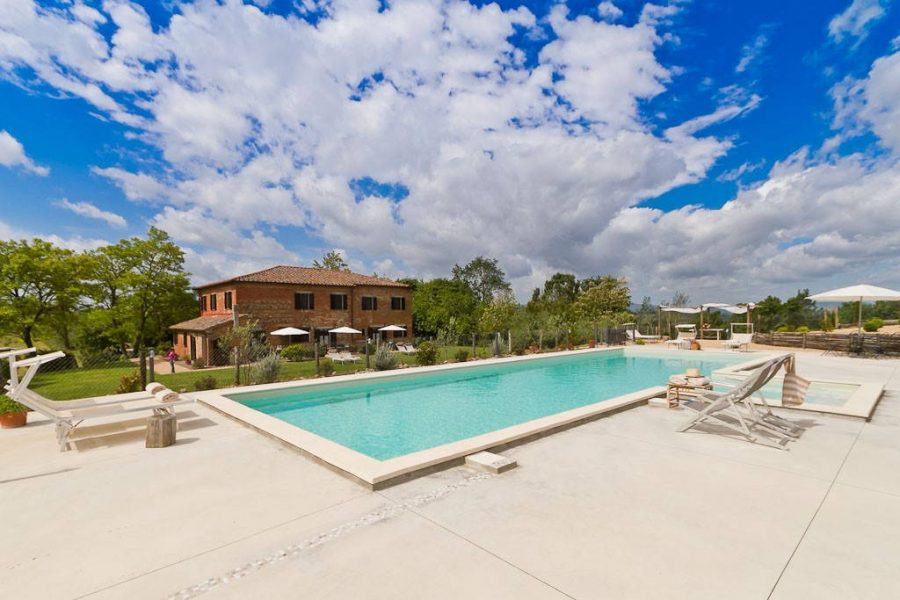 Talking about the negotiation, what can you tell us about it?
During the negotiation, we did not find any particular problem. The only difficulty was caused by the lockdown, so we could not be physically present there. However, in this case, Nadia and Riccardo have supported us in a really exceptional way.
How would you consider the consultancy Nadia and the whole GE Group offered you?
What can we say?

Thanks to the whole Team!

You were simply amazing, starting with Nadia and Riccardo, their consultancy, cordiality, professionalism, and constant helpfulness.

And again Stefano. Thanks to him – after our first visit to the property – we could understand that the one of purchasing "Santa Maria Nuova" would have been the right decision for us because we would have been supported by trusted people and consultants.

A special thanks go to Mrs Anna Marchettini who – with a huge cordiality and patience – has and keeps following us in order to solve all a series of activities like the ones concerning the utilities change: really ideal assistance!
In short… how would you describe your purchasing experience with Great Estate?
We consider our experience with your team like a true experience to be absolutely lived.
To conclude Sabina, would you recommend our Group to other international clients who are willing to purchase a property in Italy? If so, why?
Sure! In addition to professionalism, there is also another quality we consider to be fundamental for those who do a job like yours: humanity! Great Estate really has it!

It is precisely because of all of this that we would deeply recommend Great Estate to all those people who are willing to purchase in Italy.

As it is said:

"sensations are the ones that allow us to understand if we are on the right way"

In this case, our way brought us home, to our "Santa Maria Nuova". Thank you!
Sabina Rigamonti and Uwe Pregizer