Suzanne's latest venture was the sale of Casale San Giorgio in Todi (read our article here): we introduce you to Suzanne Van Ravenstein. Thanks to her and all the Great Estate staff support (read here our interview with Carla Caselli), a Belgian couple is now the new owner of this amazing residence.
Hi Suzanne, thank you for your time.
Let's talk about the sale of Casale San Giorgio in Todi. How did you get to know the buyers?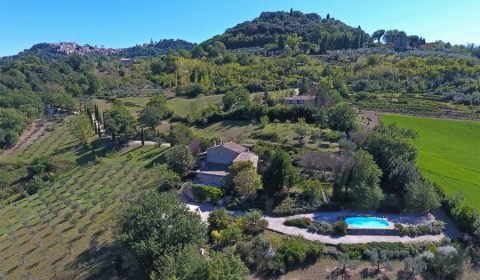 I met Mess.rs Severijns through one of the international portals used by Great Estate for its listings: the Dutch huisenaanbod.nl. On the other hand, they discovered Great Estate by reading the "Wonen en Kopen in Italie" – "living and purchasing in Italy" – magazine, which recommends us for the purchasing of prestigious properties.
Why did Mr&Mrs Severijns purchase the farmhouse? Are they going to move to Italy?
No, I do not think so. Both their jobs demand their presence in Belgium. I think they will use the farmhouse as their holiday estate.
What do you think they liked the most about Casale San Giorgio?
The incredible beauty of the building and its perfect state of repair: the farmhouse was ready to be lived already. The clients appreciated its style too: indeed, they decided to purchase also the entire furniture.
Was it a complex negotiation?
Not really. Clients already had their ideas very clear so, together with our trusted architect, Federico Peparaio, we managed the whole. Even if some urbanistic discrepancies had emerged, the sellers' trusted surveyor was able to solve them immediately. So, the buyers could finally purchase the farmhouse by demonstrating their satisfaction towards the assistance of Great Estate too.
Do you consider the GE services efficient? What do you think about the "My Agent" service?
Thanks to "My Agent", my colleagues and I were able to put in place a great teamwork and, in order to offer an excellent service, to contact as many sellers as possible. Through "My Agent", the buyer can enjoy an important advantage: giving the task of identify the right property for him/her to one agency only, who commits itself to do the necessary market researches. Having a unique consultant allows a client to simplify his/her research. I have to admit that the buyers I managed till today had always have clear ideas about the properties they were looking for, having also, sometimes, autonomously created a list of houses to visit. In this cases, "My Agent" becomes fundamental (discover it here)!
Regarding our team, the "My Agent" service gives the possibility to the Group to involve all the resources we have.
If you are looking for your dream home in Italy, entrust yourself to Great Estate too! Please consult our website or call our head office. Our team will provide you with all the information you need.
Related articles: