In occasion of the new Luxury Real Estate Observatory, LuxForSale – one of the main national real estate portals for the sale of luxury properties – interviewed the CEO of Great Estate, Stefano Petri.
Welcome, Stefano. How important is the luxury real estate market for the business of your Group?
Great Estate is a real-estate-agency network, 100% focused on the luxury market segment. In our opinion, luxury means Italian lifestyle.
For this reason, we even consider "luxury" a 100 sqm apartment in an amazing historic centre, sellable at values contained up to € 300.000. If you click here, you will see an example. Moreover, "luxury" is also a charming villa overlooking the Orvieto cliff, as the one we sold, last January, to an Australian client (click here to discover the property).
How much time does Great Estate address to the luxury sector?
The answer to this question is already implied in the previous one: our Group focuses the 120% of its time, knowledges and investments on the luxury sector.
In percentage terms, considering your turnover, how many negotiations with values of more than € 500.000 do you usually deal with?
For many years now, the GE head office has been reaching real-estate-intermediation revenues that go over the million of euros and, taking into account all the branches of the network, we go beyond three million. Among these, more than 90% comes from negotiations for properties with values over 500.000 euros.
Why did Great Estate decide to specifically address itself to the luxury properties market?
We love beauty!
In a market that, since 2010, has been objectively suffering a crisis, we are proud to cooperate with sellers and buyers able to understand how many investments, knowledges, experiences and IT tools are needed to reach the best results possible.
For over 10 years now, our revenue has experienced a constant growth. This is precisely the reason why we were able to set a method, a structure and a series of processes up, which we have then turned into some really cutting-edge IT tools. In this way, we allowed us to fight this difficult period, as we allow our clients to reach important results.
I always have the pleasure to think that we did not choose the market segment of our agency: the natural consequence of our organization and methodology, as well as our principles, positioned us into the luxury sector.
Which are the main needs of luxury properties buyers and sellers?
Professionalism, knowledges, cutting-edge IT tools and a positive and respectful approach towards every single part of the market.
Our sellers ask us to obtain the highest visibility possible in the World. In addition to quantity, they also ask us for quality. So, they request important tools as professional photo shooting, 360° internal videos, drone videos, an attractive and intuitive website, and a power positioning of their property. We also offer live-streaming virtual property-visits that may be attended, comfortably from their home, by all those clients who find themselves very far from here. And this is just the part you can see.
Behind this, there is the ability to identify the most probable market value of a luxury property through our THE BEST PRICE system. The possibility to discover the better positioning for your property is offered by our THE BEST POSITION tool, while THE BEST REDEMPTION allows you to be daily updated on the results of all those activities put in place for your home, as well as all the possible rooms of improvement.
This could already be sufficient to understand both the vendors' needs and how forward-looking Great Estate has proved to be while creating some cutting-edge IT tools that support every decisional action of the sellers.
It is also true that the business solutions offered by the Group are many: a team composed of more than 70 professionals – many of who native speakers – that know how to perfectly manage international clients, the creation of preventive due diligence, Home Staging services, legal and fiscal consultancies and a lot more. Here you have many of the responses offered by our Group to its vendors.
Talking about the buyers, we can surely support the huge compromise we put in place for the sellers. This already represents the 70% of our work: our buyers are aware of the fact that our real estate portfolio is absolutely verified and known in detail. This allows us to set linear and easy visits and negotiations up.
Moreover, through the My Agent service, a national or international client will have the possibility to be supported by a specialist – even by a native speaker – who will be next to him/her for the whole investment process and who will use all those IT tools above mentioned as a further backing for his/her work.
Stefano, according to your experience, where do the luxury properties potential buyers come from?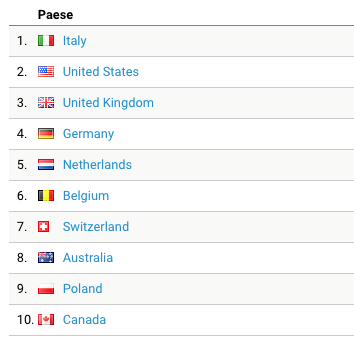 We are accustomed to talk with numbers. This is our website top-ten rank: you should consider that, during 2019, we had over 3 million visits with more than 300.000 single-users who love to surf our main website.
In addition to those nationalities, during the last three years, a true "boom" of clients coming from Israel and, more in general, from all the East Countries has taken place. All together, these people represent the 95% of the clients who really purchase a second home in the countryside or by the sea in Italy.
To date, our Group is not present in big cities. This is one of our next goals: to have a structured presence in important cities like Rome, Florence, Milan, Venice, and many others. We want to prospect some investment solutions to a clientele – among which Asiatic or Middle Eastern too –  who still prefers investing in the cities more than in the countryside, mountain or by the sea.
In our website, we created a special section addressed to the properties we sold. There you will be able to see a selection of them, as well as the nationality of their buyers.
To conclude, I would like to tell you good news! During these last two years, we have been assisting to a rapprochement of the Italian clientele to the luxury market. This data gives us hope because every one of us – I, for one – in addition to warmly welcome every kind of client, would be very happy if our beauties may be keep loved, maintained and improved also by our conational.
This is one of my hugest hopes: that the market may finally find a real recovery thanks to the Italian clientele restarting to invest in second homes in Italy.
STEFANO PETRI