Today we are going to tell you a story of some years ago: a story that proves how working in a solid team and following a structured working methodology allows the achievement of important objectives and great satisfactions. This is the story of the sale of "Villa Albertella", purchased by a British-American couple – Rachel and Mark Makepeace – in 2016.
In 2016, Great Estate sold a stunning property located in Cetona: "Villa Albertella". This sale was managed by the splendid teamwork of our two real estate consultants Chiara Pompili – who dealt with the buyers – and Ilaria Peparaio – who, instead, dealt with the vendor. They told us about this extraordinary sale.
Rachel and Mark Makepeace
Chiara tells:
I met Mess.rs Makepeace or better – since we are friends now – Mark and Rachel during the first property visit we made together at a beautiful property in the countryside near Trequanda (SI). They were looking for a villa or farmhouse in Italy – especially in Tuscany or Umbria – that should have had some precise prestigious features and they contacted us precisely because of the important visibility of our brand.
Even if the one in Trequanda was a very valid option, my clients – because of many reasons – were convinced that this was not the right one for them. However, that was precisely the moment when a special feeling among us started.
During the next weeks, we met several times to visit other interesting solutions until they completely fell in love with the area of Cetona. To be more specific, with a villa: "Villa Belvedere".
I pleasantly remember that brunch we had with the owners of the villa and right at their garden. Everything was perfect: it was a splendid day, good weather, a summer meal with fresh products coming from the vegetable garden of the owners, a great chat while eating. Mark and Rachel thought that this would have been their place.
So, they come back to London with the intention of signing an offer. Because of a series of exigencies they had, this offer could not have been done before August (we were in June).
Meanwhile, something happened and turned all the tables. Other international clients managed by my colleague Roberto Biggera visited "Villa Belvedere" and completely fell in love with it. They made an offer immediately, while the owners accepted it. So, thanks to our Group, they were the lucky clients who purchased that property.
Honestly, I would have preferred to communicate to Mark and Rachel everything but this, very bad news for them. Indeed, when I told them that "Villa Belvedere" had been purchased by other clients, they were extremely sorry.
However, the worst thing was that, during the following days and weeks, they convinced themselves about something: "Villa Belvedere" would have been the one for them; that one, no others.
HOW DID YOU SOLVE THE SITUATION?
Fortunately, in Great Estate we have always worked as a unique team. This feature of us – together with years of experiences – brought us to concrete action: we had (as often happens) the intuition of doing the right thing.
In this case, the right thing to do was looking for another charming property in the same area as Villa Belvedere. Impossible?
After a meeting with my colleague Ilaria Peparaio, we decide to take our car and take a drive in the area in order to scour it out.
And so, we finally discover "Villa Albertella". We found ourselves in front of an amazing cypresses-lined driveway: the prelude to a property that could only be amazing.
What to do? It was not on the market, we did not know the owners, and, above all, we did not know if they would have listened to us. A really hard situation, but we wanted to try.
Ilaria specifies:
As Chiara has already said, after having scoured the whole area near "Villa Belvedere" and discovered so "Villa Albertella", this was the only one I thought ideal for Mess.rs Makepeace.
So, through some connections – among which surveyor Juri Frullano – with local partners of us, I contacted the owner. A few days later, she phoned me back in order to arrange a meeting to get to know both Great Estate and me.
I remember that we met at the office we had – at that time – in Fabro. In this way, the owner could verify the concreteness of the research we were doing for Mess.rs Makepeace. For this reason, she agreed for a specific assignment for sale, valid for Mess.rs Makepeace only. The paper would have been signed when Chiara would have had the possibility of visiting the property in order to understand if it could be the right one for her clients.
After having sent to the owner the assignment for sale agreed, I also remember that she led me through the villa for a first general visit.
I was simply amazed: an incredible position, finishing, the attention to the details, a magnificent park with chamming views on Cetona, and its surroundings. So… really breath-taking!
At that point, the only thing left was to contact Chiara and schedule the visit with her.
Chiara continues:
Ilaria, a person who – as you probably would have already understood – owns great colloquial and empathic abilities, was able to put herself in contact with the owners and set the first meeting up. The second meeting was held at the property, and, at that time, we were together. On that occasion, I met both the vendors and the property for the first time.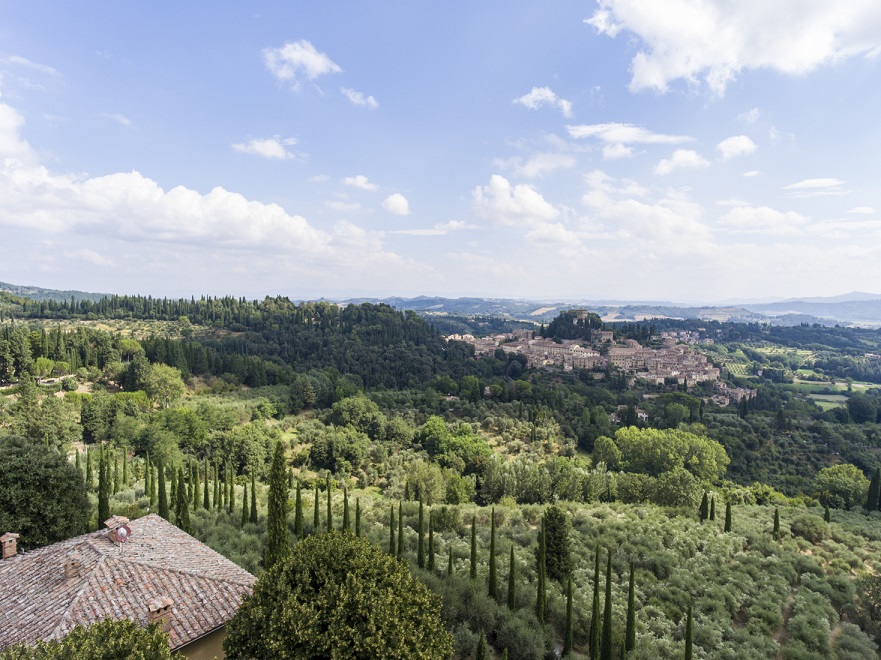 The more we went through the house, the most I was convincing myself that "Villa Albertella" was really the right choice for Mark and Rachel: it was perfect for them! Its added value was the breath-taking panoramic view: UNIQUE.
I remember very well that, at a certain moment, the vendor told us to be very curious about our phone call and request. Indeed, in the past, she already has had a similar experience with a property she had in Sardinia: being she a fatalistic, she decided to give herself a second chance. However, conditions were very strict: "Villa Albertella" was not on the market and it would have not been ever. It should have been a "one-shot" opportunity with Mess.rs Makepeace only. If it would not have worked, it would have been a final farewell.
The atmosphere was tense, but we look forward to showing the property to Mark and Rachel: I knew that it was their place!
So, the day we went to the house, Mark and Rachel confirmed all my perceptions. The property was ideal for them: the main villa, guesthouses, swimming pool, park… so… everything!
The icing on the cake was surely represented by the fact of having been able to find all of this thanks to the synergy between Ilaria and I, right in Cetona. It was in the same area of "Villa Belvedere", but with something more: a higher charm and a unique panorama.
TO CONCLUDE:
I remember that period as a mix of unique feelings. Mark and Rachel's research of a property in Italy revealed itself to be a true "path". In the middle of the starting and the ending, there was a real experience that we lived 360° together.
As always, everything has started from the meeting with the clients, which is obviously the first step. On that occasion, something particular started immediately.
A strong relationship based on trust and mutual respect. I sincerely believe that this has represented that extra gear to reach our desired and shared final goal: finding their ideal property in our beautiful country.
I deeply admire these two people, so authentic, able to prove themselves unique for many aspects. I am happy and honoured for their friendship. During the time, we collected together many memories and the sincerest desire that there will be many others for the future.
Anyway, the greatest gift is the fact that Mark and Rachel are so intensively enjoying the villa.
Indeed, despite the important working commitments around the world, Cetona is always part of their agenda.
This, years after, is really the confirmation that "Villa Albertella" was the right property for them, the same they are calling HOME today.
Finally, moving toward a more professional point of view, I want to underline how this sale has proved the power of our group.
From my careful and constant managing of the buyers to the incredible work done by Italia. It was not just the accurate research of a property to the clients as an alternative to "Villa Belvedere" – that, precisely for this reason, should have had some specific characteristics – but also the fact of being able to communicate in a so efficient way with the vendor, convincing so her about the seriousness, professionalism, and concreteness of Great Estate.
IT WAS PRECISELY THE SYNERGY AMONG OUR SKILLS AND PROFESSIONALISM, AS WELL AS ALL THE ORGANIZATION OF THE GROUP, THAT MADE MARK AND RACHEL'S DREAM COME TRUE.
Keep reading our Magazine: the interviews with Mark and Rachel Makepeace will be online soon.