Our Smart Currency Exchange contact person, Diana Bellew, sums up our cooperation after an year together.
After a year of group promoting, Diana Bellew is really enthusiastic.
The figures:
Great Estate introduced us 50 clients. We, as Smart Currency, identified 116 potential buyers for the group. So, some very interesting figures, especially for the vendors, who will be able to enjoy of our international work results.
Events:
In 2017 there were two large Overseas Home Fairs: the first one in London, while the second in Manchester. This was a great occasion to be personally present in UK. Indeed, thanks to the GE and Elisa Biglia's support, those brought numerous contacts.
Diana "my visit to your network":
It was a really travelled year for Diana. Indeed, in order to meet and get to know us, she took a tour of our network.
I started the tour of your agencies, and it has been really interesting to see your work in situ. In June, I was in Umbria and Tuscany. I met Ilaria in Fabro, Stefano in San Martino and, after having visited Federico and Paolo – Umbria Domus, I reached, though some amazing hilly streets, Filippo in Spoleto (more than two hour by car…Oooops).
I continued my tour into the Tuscan coast. I went to Elisa, in Porto Santo Stefano, where I eat some incredible orecchiette.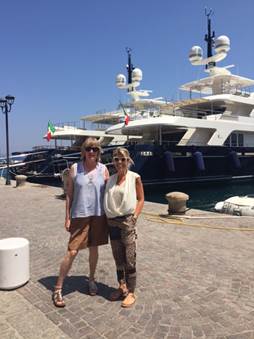 Then, I saw Antonio and Mary in San Vincenzo: we realized some interesting videos to explain the Smart services, we had a lot of fun. Finally, I reached Andrea Monti in Acqui Terme. Piedmont was a real surprise for me, and I hope to be able to promote this region to our clients well. 
My meeting with Luca at MAXXI, Rome, has been very pleasant too. I hope to go visit him in Sardinia before the summer end.
Apulia, Marche and Sicily are scheduled for the next future.
Discover your working environment is very useful for me. My objective is to make as efficient and successful our cooperation as possible.
Great Estate is enthusiastic about this cooperation with Smart Currency Exchange too. We are sure to offer and efficient and productive service to our clients who, in this way, will obtain the highest assistance possible for the foreign currency exchange in Italy, as well as from Italy to abroad.
Smart Currency Exchange Ltd – London – UK