On 19 February, an American couple purchased through Great Estate "Le Mura Di Porsenna", an enchanting portion of a farmhouse located near Chiusi (Si), a fascinating town of ancient Etruscan origins. Our consultant, Mrs. Chiara Pompili, managed Mrs. Bonnie and Mr. Darin: the tale of her experience.
Last February, Great Estate Group celebrated the sale of the property known as "Le Mura Di Porsenna", located about three kilometres from the historic centre of the city of Chiusi.
This is a lovely portion of a farmhouse, complete with a guest house, skilfully restored, and surrounded by a large, lush garden.
A property with a historical flavour: in fact, the wall that delimits it was built in the place where the ancient Etruscan walls of some catacombs originally stood, some elements of which have been preserved and enhanced. But not only …
The magnificent panoramic view that can be admired from the garden of "Le Mura Di Porsenna" embraces the two historic towers of medieval origin that still mark the border between Umbria and Tuscany: "Beccati questo" and "Beccati quello".
This charming property with a historical flavour was bought on 19 February by an American couple, managed by our consultant Chiara Pompili.
Chiara told us the details of her success.
Bonnie and her husband Darin first contacted us in late summer 2019. She is originally from Iran, while Darin was born in New York. They came to Great Estate through our website: they were visiting it with keen interest as they were looking for their ideal property in Italy.

They had made the decision to come and live in Italy several years ago: they had bought their first house in Abruzzo, where they lived until very recently. Their aim was to move to central Italy, mostly between Umbria and Tuscany, but without having a specific location of preference.

One of the first properties they contacted us about was a very nice apartment located in the historic centre of Cetona (no longer on the market today); however, it did not suit their needs: they were planning to start a B&B or tourist rental business, reserving part of the property for their own residence.

Over time we have kept in close contact, exchanging several emails, through which we have been able to select, discard, and consider multiple properties. Among these, just before the lockdown in March 2020, we viewed one located near Città Della Pieve.

After that, the Covid-19 emergency and the resulting restrictions forced us to "stop" for a few months, but without depriving us of the desire to find the ideal property.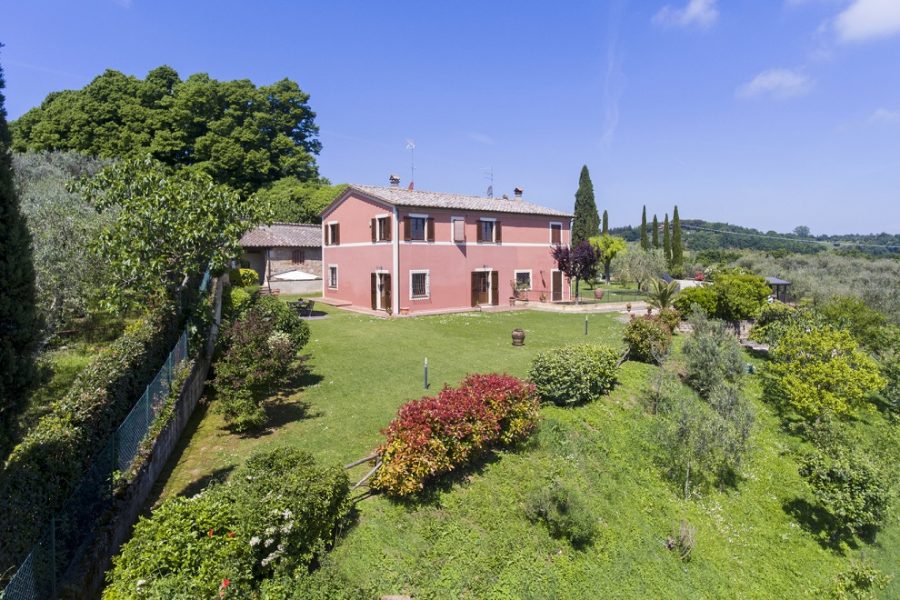 In fact, in June last year, just after the reopening, we finally met up again to carry out two visits: at a property in the vicinity of Ficulle and "LE MURA DI PORSENNA", near Chiusi: two very interesting properties, each with their own characteristics, which could really make their wishes come true.
I believe, and indeed I am convinced, that for my clients "Le Mura Di Porsenna" was love at first sight!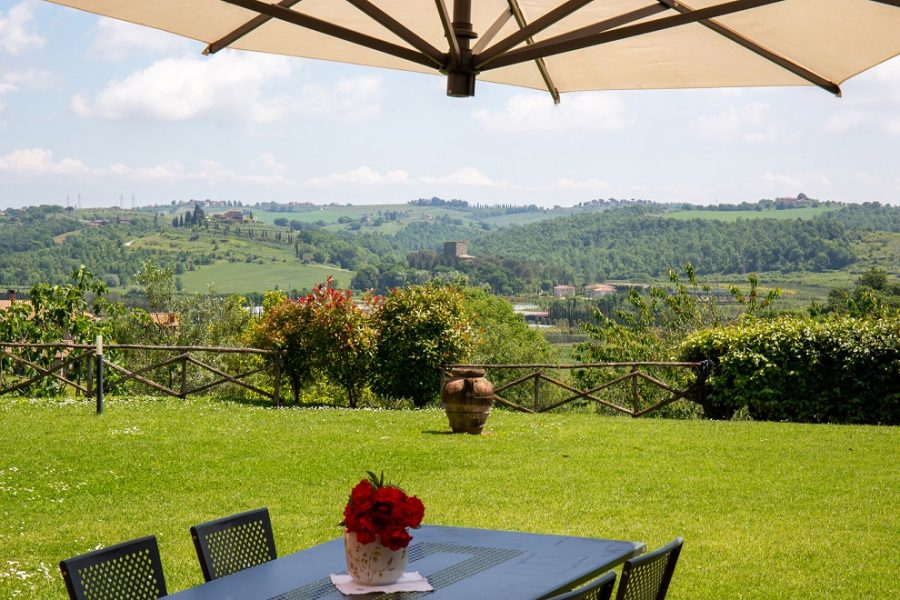 Certainly, the property has objectively interesting characteristics, such as strategic location, beautiful view, impeccable renovation, presence of 3 rooms in the main house, an annex, private park of about 3,000 sqm, and proximity to the centre and all services (all reachable with a walk).
However, in addition to this, as soon as I entered the property I also noticed that something in their eyes had changed, sensing the feeling they were having at that moment and, to be honest, I fully agreed with them!
At that moment I also realised that we were in front of "Their Home".
"Le Mura Di Porsenna" will become their first residence in our beautiful country and, for now, they will only use it for that purpose.
Every negotiation, even the "simplest", always implies a lot of commitment on the part of everyone, various issues to be investigated, doubts to be resolved, and dedicated customer service, which I would dare to define as almost "maniacal", which continues until after the sale …

Well, I would say that the negotiation for the sale of "Le Mura Di Porsenna" was perfectly in line with all this, but without the emergence of particular problems that could complicate the situation.

The only aspect that influenced the protracted delay was certainly the search for the most suitable bank for the clients' needs: in fact, they wanted to buy the property with a mortgage and therefore the purchase proposal they submitted was bound to its release.

However, even at this juncture, I tried to support Bonnie and Darin as best I could.
So much so that in the end we found the ideal local bank which, despite technical delays due to the national health situation, decided to grant the loan as we all wanted.
And so it was that last February the clients were finally able to sign the notarial deed, to the great joy of both them and the sellers.
Personally, I feel very satisfied with the path we have taken, and I am also happy that Chiusi now has new "inhabitants" who, I am convinced, will unconditionally love both the town and everything that surrounds it…
Yes, OK … Being a "chiusina" myself, I may be a bit biased, but … I'm convinced of it anyway!
READ ALSO: