Today, right in the core of the southern Tuscany, we are going to the discovery of a fairy-tale place: The Castle of Fighine.
The Castle of Fighine is located in a strategic position: on a crest between the Paglia and the Chiana valleys and near San Casciano Dei Bagni, Tuscany (click here to read our article about it). This property is mentioned for the first time in history in a decree of 1266. Through this document, Emperor Frederick II gave the castle to the viscount of Campiglia. After having been part of the Republic of Siena, the castle was enlarged and its walls were enforced. Works were stopped in 1451 because of the papal troop's settlement. 12 years later, Pope Pio II gave The Castle back to Siena. Finally, through the annexing of Siena to the Grand Duchy of Tuscany, the estate became part of the properties of Grand Duke Cosimo Dei Medici.
The Castle of Fighine has always been important for the area of San Casciano: within the historical archive of this Municipality, the castle has always been compared to Orvieto.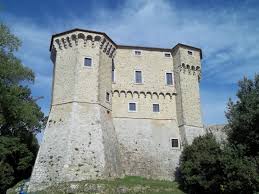 Its current structure still maintains its original quadrangular shape with three angular towers: the square one – which is also the highest one – is called "Old Tower". The castle is characterized by some impressive defence walls interrupted by small round towers that – even if partially ruined – still enclose the hamlet.
Today, it is still possible to visit the ancient hamlet: by walking through the walls, you will cross the many alleys bringing to the St. Michael the Archangel church. Here, some works of the schools of Orvieto and Florence stand: the paintings of St. Michael the Archangel (Bonichi di Lucignagno – 1750) and the one portraying one of the castle's ex-owners kneeled while donating the other small church, Santa Maria delle Grazie.
The Hamlet of Fighine has currently became a private property. During the last 15 years, it has been renovated several times. Part of the property is used as a luxury touristic accommodation. Here, while overlooking the southern Tuscany, it will be also possible to taste the specialities of a famous Michelin-star-chef. So, this could be an ideal place where to spend your holidays or romantic dinners, as well as the perfect starting point to go to the discovery of the amazing Tuscan countryside.
Related articles: