April, 2017: Great Estate closed the sale of a beautiful apartment in the historic centre of Città Della Pieve.
"Il Sogno Di Città Della Pieve": this is the name of the amazing apartment sold last April by Great Estate.
Ms. Lucia Verdi is the current ex-owner of the property. We met her some months ago because of the sale of another Ms. Verdi property: a villa in Tuoro Sul Trasimeno, sold by Great Estate (read here the interview) too.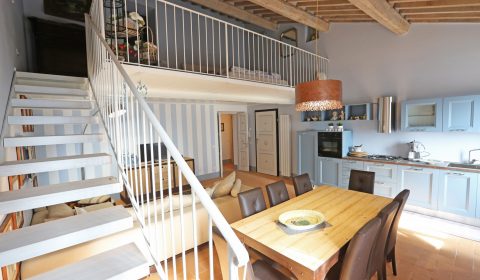 She had personally dealt with the apartment renovation, which ended in 2017. The work quality can be immediately seen by entering into the residence: a jewel set among the alleys of Città Della Pieve, where cotto floors and bright pastel shades catch your attention. From the living room, a beautiful staircase brings you to the romantic mezzanine bedroom. The panoramic views on the town streets and valley are amazing too.
Last April, "Il Sogno Di Città Della Pieve" (discover here the property) has become the new home of a Belgian couple who, after a "flash" negotiation of about two days, is the new owner of the apartment. This has become possible because of Great Estate cooperation: the real estate agents Stefano Petri and Giacomo Buonavita were the people who personally made that happened.
In the next few weeks, we will meet them to discover their opinions about this sale.. stay tuned!
Read also: