Do you remember the sale of the charming property known as "Tramonto A Parrano"? Today we offer you our interview with Hans and Yvonne Rebel, the new owners.
– Good morning Mr. and Mrs. Rebel. Congratulations on your recent purchase of the property known as "Tramonto A Parrano". Would you like to tell us something about yourselves?
I, Hans, am a freelance advertising technician and Yvonne is a freelance graphic designer. We are both from Munich.
– How long have you been looking for a property in Italy?
We had the idea of buying a property in Italy about two years ago. However, it was only in September 2020, during a holiday in Umbria with some friends, that our search became concrete: we identified three properties of interest on the Great Estate website and, within a few days, we organised the relevant inspections.
The second property we viewed was "Tramonto A Parrano': we fell in love immediately!
A beautiful country house with fantastic views, swimming pool, lots of olive trees and above all plenty of space for our families and friends.
"Tramonto A Parrano" was everything we wanted!
Our search was over!
– Why did you choose to purchase a property in Italy, and particularly in the countryside surrounding the village of Parrano, in Umbria?
We have always come to Italy, so the property to be purchased absolutely had to be in Italy!
We chose Umbria and Parrano for several reasons. First of all, Umbria is a simply extraordinary region and Parrano a charming village that has everything we need and like.
Also, these areas are easily accessible for us coming from Monaco.
Finally, the fact that dear friends of ours have already been living in Parrano for a few years (the German couple who bought "L'Oasi Del Poggitello" in 2018, also with Great Estate), played a key role in our decision.
– Under what circumstances did you meet Nadia Aron, the person in charge of the German market for the Great Estate Network, and your trusted professional?
Nadia was recommended to us by our friends Sonja and Andreas who, just a few years ago and in Parrano, bought a property with your group: Nadia was their real estate consultant, and our friends were very satisfied with her work.
– Thanks to Nadia, you were able to buy your farmhouse in Umbria. What can you tell us about the assistance you received from your consultant? Did you feel adequately supported throughout the whole process?
Yes, always! It is impossible for us to imagine a better support, both during and after the property purchase! In addition, Nadia is incredibly nice!
– Now let's talk about the magnificent property you have purchased, "Tramonto A Parrano". What were your feelings when you saw it for the first time?
Our first visit to the property was scheduled for midday, but the owner was forced to delay due to a breakdown of his car. Initially, we were very sceptical: the farmhouse was completely closed and did not make a good impression. So, we decided to come back for a second visit in the late afternoon… just in time for the sunset!
And it was precisely that sunset that affected us deeply: during that second visit we were overwhelmed by the incredible panoramic view from the property and the beauty of the farmhouse.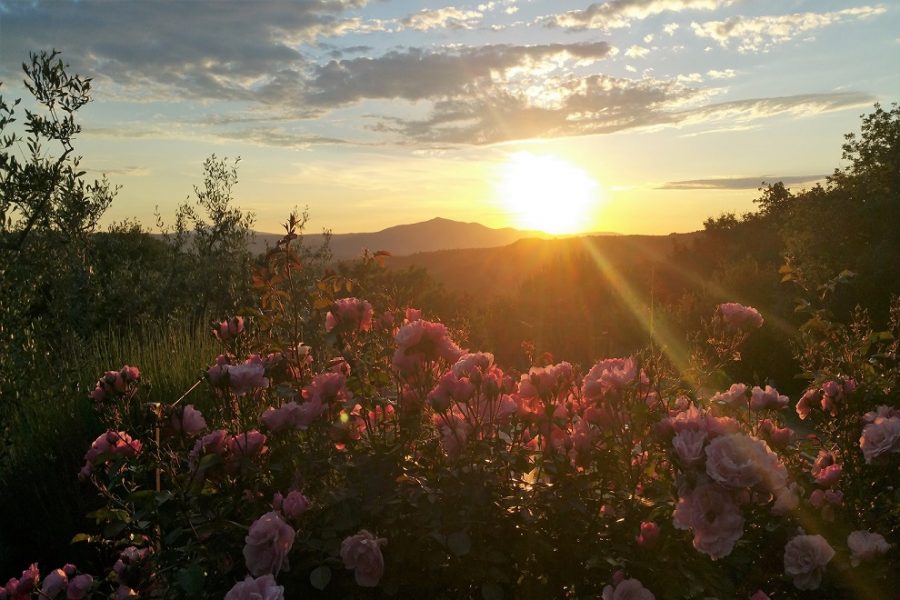 – What features of the property do you like the most?
Certainly its location and the magnificent panorama it offers! Also, the possibility of having various large spaces available for our family and friends to use.
– How will you use your new home in the near future?
Since both my wife and I are still working, we will try to do this as much as possible from Italy with the help of modern technology, even though we will still have to spend most of the year in Munich.
In addition, our country estate will also become a meeting place for our families and friends.
– Would you briefly tell us how the negotiation for the purchase of "Tramonto A Parrano" was?
We decided to buy "Tramonto A Parrano" the very evening we visited it for the second time and presented our purchase proposal. Subsequently, the negotiation went smoothly and without complications.
– Did you get to know the former owners of your new country house?
We met the previous owners during the visit to the property but did not have the opportunity to see them again afterwards.
– In conclusion, would you recommend other international clients to invest in Italy with the support of Nadia and, in general, of the Great Estate Group?
We can't imagine a better property consultant than Nadia.
So … ABSOLUTELY YES!
Read also: