As you may have read last week, the property known as "Tramonto A Parrano" was recently purchased by a couple from Germany managed by Nadia Aron, the person in charge of the GE German market and owner of Italia Immobilien.
In this article, Nadia tells us about her experience.
HANS AND YVONNE
Hans and Yvonne are the new owners of "Il Tramonto Su Parrano". They are dear friends of Sonja and Andreas, the German couple who, in 2018, bought, again with Great Estate (and again with myself and my colleague Valter Luciani), "L'Oasi del Poggitello" (to find out more click here): I still have a very good relationship with them and we keep in constant contact.
Just like Sonja and Andreas and the majority of our current German buyers, Hans and Yvonne also come from Munich.
Yvonne has already lived in Italy with her family, and our country has always remained in her heart.
THE SEARCH FOR THE IDEAL PROPERTY
Hans and Yvonne were looking for a distinctive property with an authentic feel, with spacious interiors, that could accommodate their large family.
They mainly focused on the area of Parrano and San Venanzo, in the province of Terni, an area they got to know well during their holidays with Sonja and Andreas. Obviously, they wanted to buy a property that would allow them to be close to their friends.
Together we have seen 3 properties … or rather, to be precise, just one. Having already fixed an appointment with another client that I couldn't reschedule, during the first day of visits my clients viewed two of the three properties they were interested in with my colleague Valter Luciani, the consultant of the sellers of both. Then, on the second day, we organised a lunch with Yvonne, Hans, Sonja, and Andreas at a restaurant in San Venanzo, the village where the third property to be viewed was located.
The next day, Hans and Yvonne returned to Germany and informed me of their interest in buying "Tramonto Su Parrano". Moreover, as I didn't know the property personally, they asked me to go and see it together with Andreas and my partner Riccardo Luculli, so that we could "discover" it in more detail and let them know our opinion.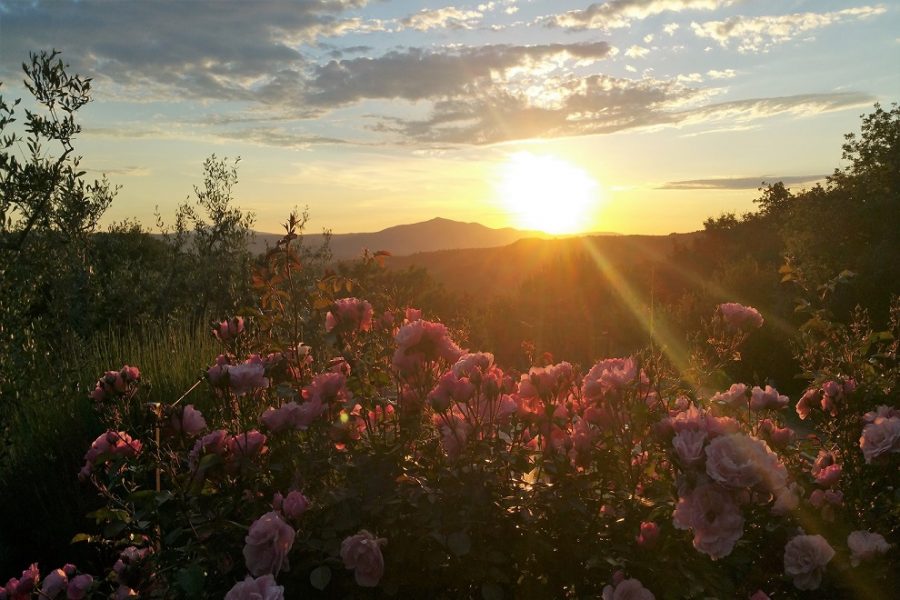 In the end, Hans and Yvonne chose "Tramonto Su Parrano" because this property not only meets all their needs (it is located in the same municipality as their friend's property, it offers plenty of space for family and friends thanks to the presence of a main house, an annex for guests, a large plot of land, but not too large for a second house, as well as a lot of privacy despite not being isolated), but also because it is immersed in absolute peace and quiet (a quality that particularly impressed them) and, above all, because it offers a magnificent panoramic view: a view that immediately made them dream of their new life in Italy.
Here I would like to tell you an anecdote: Hans and Yvonne wanted to visit the property twice during the same day: once in the morning and once in the late afternoon, at sunset.
For now "Tramonto Su Parrano" will be the house where they will spend their holidays and some "long" weekends. Then … we'll see!
THE NEGOTIATION
As far as the negotiation is concerned, it went smoothly. Obviously, the restrictions imposed by the COVID-19 did not allow the buyers to take physical possession of the house before the deed was signed, nor to be present on the day it was signed: in fact, the deed took place in the presence of the sellers, Valter, Notary Migliori, and his secretary, who acted as the buyers' attorney.
However, knowing how sorry Yvonne and Hans were for their absence, we arranged with notary Migliori to sign the deed by videoconference, which was also attended by Yvonne and Hans from their home in Munich, and Riccardo and I from our car in Berlin, where we were at the time.
SATISFACTION AND PRIDE
As with almost all the sales I have made, this one of "Tramonto Su Parrano" has given me great satisfaction! Hans and Yvonne gave us several compliments which made us feel proud and satisfied.
For example, after the signing of the preliminary contract, Hans told me that in Germany he had never been able to buy a property in such a "relaxed" way, without worries and complications as with us in Italy!
Another anecdote that particularly moved us was Yvonne's tears of joy after signing the notarial deed.
Last but not least, a few weeks ago we were delighted to receive a phone call from Hans and Yvonne informing us that they had finally arrived at their new property and had found their own little paradise!
READ ALSO: