The passionate tale of the new owners of "Il Re Della Valle", a property located in the countryside of Todi: their love for this Umbrian town and the incredible assistance of their trusted consultant Roberto Biggera.
We are Lies and Hans-Peter, and we recently bought a house near Todi through Great Estate Immobiliare. Lies lives in Singapore, working as a management consultant, while Hans-Peter is a banker living in Luxembourg.
We have loved Italy for a long time, and we've holidayed there for years.
Tuscany has been a long-time favorite of ours, and we had been looking at houses in the Chianti region for a while. But we could never really find what we were looking for.
Then we decided to have a look at Todi, Umbria. We know the Todi area from our holidays, and we love it for the amazing views, and the laidback lifestyle. The people are incredibly nice, and the wine and food are fantastic.
Todi has all the beauty of Chianti, but without the crowds, and it feels a lot more authentic.
Todi itself is charming, with some wonderful restaurants and lots of events and festivals year-round, and there are some other gorgeous hilltop villages in the area. Orvieto is a favourite, as is Assisi – and both are a mere 45 mins from Todi. And of course, the beautiful city of Perugia that's right around the corner.
While searching for properties online around Todi, we ventured upon Great Estate, who seemed to have the largest amount of suitable properties in the area. So, we made an appointment with Great Estate to visit a few villas over a weekend in May.
Roberto Biggera was our GE consultant. Roberto was incredibly professional and attentive from the moment we met him. He navigated the region like the back of his hand, and also personally knew each of the owners of the properties we visited.
Roberto would turn out to be the most incredible help we could ever have imagined.
In the end, we visited only 3 properties, which we had carefully pre-selected with Roberto. The first two were absolutely lovely, but we weren't 100% sold on the views. And then we came to Re Della Valle…Offering an almost 240-degree panorama over the valley, Re Della Valle really lives up to its name. It's situated on a hilltop just 10 minutes from Todi, and has one of the nicest views we've ever experienced. The house itself is very pretty, but the big wow is the gorgeous garden, which has been lovingly tended for years (discover the property here).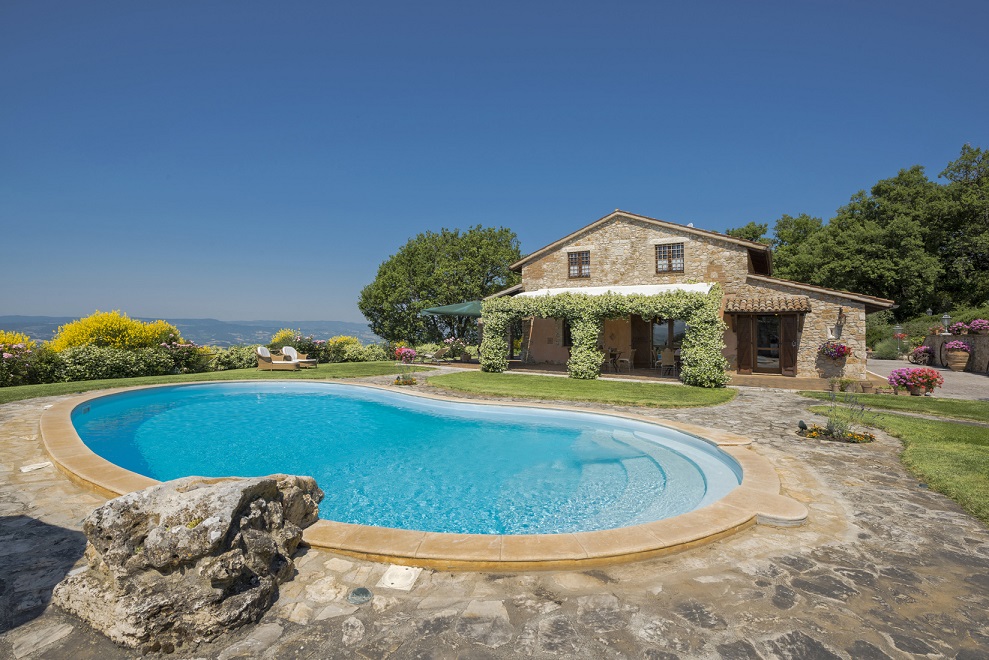 As Roberto drove us up the driveway, lined by olive trees, the house with its garden and panorama slowly revealed itself. And we instantly fell in love. A true 'colpo di fulmine'. We decided we wanted to buy it then and there. And a few days later, we notified Roberto of our intentions, and put our offer in. It was a very – very – quick sale.
Over the weeks and months that followed the negotiation and administrative process started. We had not been looking forward to this, due to some of the horror stories that surround property purchase in Italy: complicated legislation, hidden issues with the property, ambiguous procedures, etc.
But the process we experienced from start to finish could not have been more different. In short – it was a breeze. And it was Roberto who made all the difference.
Roberto took care of EVERY detail of the process; he anticipated issues before they could arise, checked and double-checked every document before we received it, was remarkably creative in the negotiation process (which benefited both ourselves and the sellers), managed all involved parties with skill (like notaries, land authorities, etc), and patiently answered the daily list of questions we fired at him. He helped us find the right mechanics, gardeners, furniture and paint stores, and even organised transportation for our furniture deliveries.
We cannot begin to explain what a difference Roberto made in our experience of buying the house, and we are forever indebted.
Thanks to Roberto and the Great Estate group, purchasing our property was unexpectedly easy.
And that meant that we could focus on the things we actually enjoyed doing – refurbishing, furnishing, planning for the future. We've just finished painting the inside of the house, and are now working with local craftsmen to help us decorate it.
Over the holidays, we'll be staying there with a group of friends, and our New Year's dinner has already been booked at a fabulous little restaurant in Todi's historical center.
We're so excited!
For all these reasons, we emphatically recommend Great Estate to all international customers interested in buying in Italy.
Looking forward to welcome you to the neighbourhood!
Lies and Hans-Peter
Read also: