Roberto Biggera recounts "his" sale of "Podere Poggio Agli Incisi", as a consultant to buyer clients: a long search for the ideal property culminating in a very satisfactory quick sale.
The new owners of "Podere Poggio Agli Incisi" are an Italian couple, Giovanna and Fabio: she is a successful film and theatre producer, he is a lawyer and entrepreneur. They have travelled a lot in their lives, dividing their time mainly between Rome and Milan. In recent years they have lived in Liguria, in Sori sul Mare.

They contacted Great Estate in July 2020: they were looking for a beautiful country property located in an area rich in green and unspoilt areas, but close to historic centres and towns of historical/artistic interest and relevance. Ideally, let's say between Tuscany, Umbria and the upper Lazio area.

Giovanna and Fabio's ideal property had to have some particular characteristics: a beautiful but easily usable country house, with ample interior space, a beautiful garden, two outbuildings separate from the main house, with privacy but uncomplicated access.
All this made our search a very attractive challenge, in respect of which both I, as their real estate agent, and they, as clients, exchanged a mutual promise: TOGETHER, WE WOULD FIND THE RIGHT PROPERTY!
In the end, after looking at about twenty, we did… that property was "Podere Poggio Agli Incisi"!
Unlike the search, the negotiation for his purchase was very quick and fast!
Because of the way it happened, I felt like I was stepping back in time to the pre-crisis period of 2008!
In fact, everything went very quickly and smoothly, thanks both to Fabio and Giovanna's decision to buy this property and to the fact that the owner had all the documents in order to make a quick sale.
As you will be aware, we bought this property back in 2016 and, at that time, it was the subject of full due diligence. Then, in the years to come, the owner had taken care of all the regular paperwork for the additional work.

I have to admit that, in relation to any property that was potentially interesting to them, Giovanna and Fabio's attitude was always very positive. Being a lawyer and long-time entrepreneur, Fabio never let himself be frightened by possible problems with the properties, always suggesting possible solutions to overcome them.
In this case it was even easier, as everything was really in place, leading to what is known as a 'flash sale', made official just 45 days after the acceptance of the purchase proposal!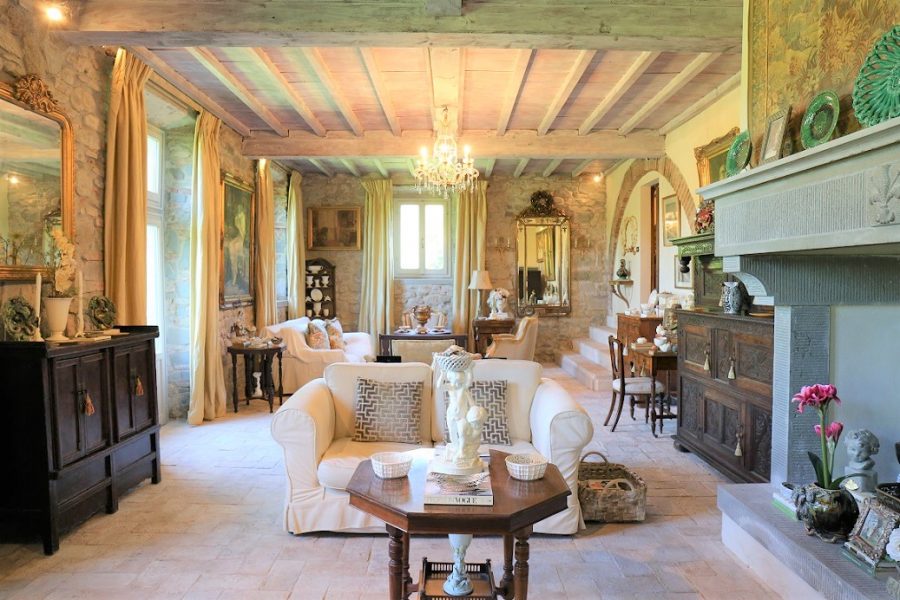 This is how Fabio and Giovanna came to acquire the perfect property for their needs, one that encompasses all the features they were looking for and which had been so difficult to find on the market for a long time.
A magnificent country property complete with a spacious main house, a large and well-kept garden, two outbuildings, a beautiful swimming pool, and plenty of privacy, set in a location with a truly unspoilt and special charm, surrounded by the green hills of Reggello. For them, "Podere Poggio Agli Incisi" will become their main house, therefore their new residence.
Read also:
I am really happy and satisfied with this sale!
Fabio, Giovanna and I have come a long way together, which has lasted practically a year, made up of great professionalism, respect, mutual esteem and, little by little, a great friendship, which was born and has developed over these 12 months and the long days spent together, both viewing properties and talking on the phone or in video calls.
As always, it was a pleasure to work with Giacomo, who was meticulous in his acquisitions.
As is almost always the case in the best sales, the quickest and smoothest ones, what made the difference was the complete urban and cadastral conformity and regularity of the property documents. For this, I thank again the owner and Giacomo for the careful preliminary examination. As always, it was a pleasure to work with Giacomo, who was meticulous in his acquisitions.
My strong and very dispassionate advice to all sellers is that they should always have their property inspected by a professional engineer before putting it up for sale, so that, above all, any problems relating to town planning (which are always the most difficult and time-consuming to resolve) are clarified and possibly already resolved before they are put on the market.
This condition can really facilitate negotiations and allow you to achieve RECORD sales, just like this one from "Podere Poggio Agli Incisi!"