Last July, Great Estate sold again the beautiful "Podere Poggio Agli Incisi", in the province of Florence. The interview with our consultant Giacomo Buonavita who, in 2016 as well as in 2021, has managed the same clients, before as buyers and this year as sellers.
"Podere Poggio Agli Incisi" is a magnificent property nestled in the rolling Tuscan hills of the Reggello countryside, about half an hour from Florence.
Our group had already sold this fascinating property in 2016.
Giacomo Buonavita was the consultant who managed both the selling and the buying side. The latter, in 2021, once again chose to rely on Great Estate to resell "Podere Poggio Agli Incisi".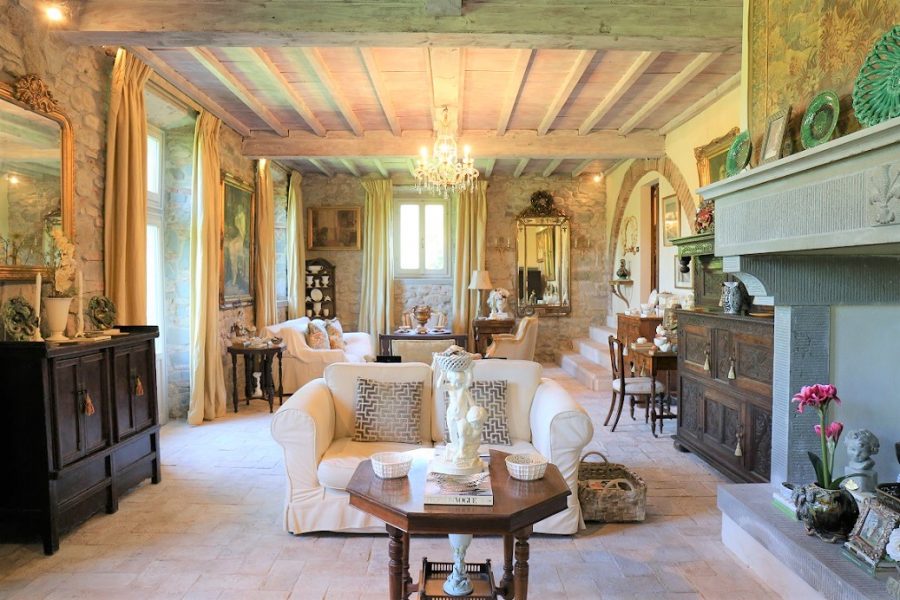 "Poggio Agli Incisi" is a property that, as soon as you cross the threshold of the main farmhouse, leaves you astonished by the beauty of its interiors, embellished by splendid living rooms and elegant bathrooms: the surprising result of a careful renovation, carried out in 2016, which has paid particular attention to detail.
This is immediately apparent from the wonderful ceilings, partly in exposed beams and terracotta tiles and partly entirely in wood, to the characteristic floors in handmade local terracotta and antique parquet.
Outside, the farm is surrounded by a lush park with a swimming pool, pool house, and solarium, as well as about ten hectares of land including a beautiful olive grove with about 600 trees.
Thanks to our consultants Giacomo Buonavita and Roberto Biggera, this property was sold very quickly last summer: the negotiation was concluded just 15 days after the owners had made the assignment official, without there even being time to advertise the property!
And so, since 19 July, "Podere Poggio Agli Incisi" has had new owners: a couple of Italian clients about whom Roberto Biggera, their trusted consultant, will speak in another article soon to be published online.
Instead, today we offer you an interview with Giacomo Buonavita, the G.E. consultant who managed the sellers of "Podere Poggio Agli Incisi" who, in 2016, had bought it always relying on Great Estate and Giacomo himself.
– Welcome back Giacomo. Would you like to tell us about the circumstances under which you met your sales clients and the history of your collaboration?
Of course! The sellers of the property known as "Podere Poggio Agli Incisi" are Italian.
I met them five years ago when they bought this property with the collaboration of Great Estate: during all this time, "Poggio Agli Incisi" has been their fixed abode.
I remember that, already from that first experience of buying and selling, our collaboration was excellent.
We have always been in complete harmony, and our relationship has been marked by a mutual availability and punctuality that, just last summer and five years later, have allowed us to successfully complete the resale phase of the property.
– Was the property already for sale with other agencies?
No: the vendors put themselves entirely in our hands, entrusting us with an exclusive assignment and sharing an international marketing plan.
– What do you think are the main qualities of "Podere Poggio Agli Incisi"?
The property has a lot to offer: large living areas, which are very well finished, excellent privacy, a beautiful green park that forms the backdrop, immersed in a particularly pleasant and natural context located close to the Prato Magno district. In addition, "Podere Poggio Agli Incisi" is only 30 minutes from the city of Florence and a short distance from the main roads.
– Excellent Giacomo. What can you tell us about the valuation of the property? 
Also on this occasion, our valuation software The Best Price gave us an economic projection of the value of "Podere Poggio Agli Incisi" decidedly in line with market values, which was also confirmed by the selling party.
I would like to emphasise that this factor also contributed to the rapidity of the sale: the negotiation was concluded only 15 days after the official announcement of the sale, so that there was not even time to start advertising the property!
In fact, immediately after the first visit we closed the deal without encountering any technical or bureaucratic problems, as we were already very familiar with the property thanks to our previous sales experience five years earlier.
– In conclusion, Giacomo, what are your general thoughts on this recent success of yours?
I am very pleased with this sale because, in just two weeks, we were able to position the property on the market and it was particularly gratifying for us to have helped satisfy the parties so quickly.
For me, the sale of 'Podere Poggio Agli Incisi' was a fantastic experience, not only professionally but also personally, as I shared it with very nice, friendly, and helpful people.