On November, 6th 2020, Great Estate celebrated the sale of "Rosso Mattone", a portion of a farmhouse located in the countryside near Castiglione Del Lago. It has been purchased by an English couple. Hariet Nijhuis, the GE consultant who managed the buyers, is going to tell us her impressions about it.
The buyers of the property named "Rosso Mattone" are a couple living in France, Mrs. Kaja and Mr, Sheperd. They contacted me on May, 14th 2020 during the lockdown and after their subscribing to our website. At that time, we were interested in another property.
In June, when I contacted them in order to urge them, they said to me that they received an offer for their home in France. For this reason, they would have come to Italy very soon. They wanted to purchase a home near Trasimeno Lake, where they already owned a small property.
That was their preferred area: they were looking for a house to use as main residence and that may allow Mrs. Kaja to keep on with her business as she did in France: organizing holidays and sewing courses (patchwork).
We started planning some visits at several properties.
We visited five, but all too small or not in the location they wanted.
Later, while searching our website, the clients noticed "Rosso Mattone", so I organized the visit.
It was love at first sight: they even asked me to hide the keys of the house!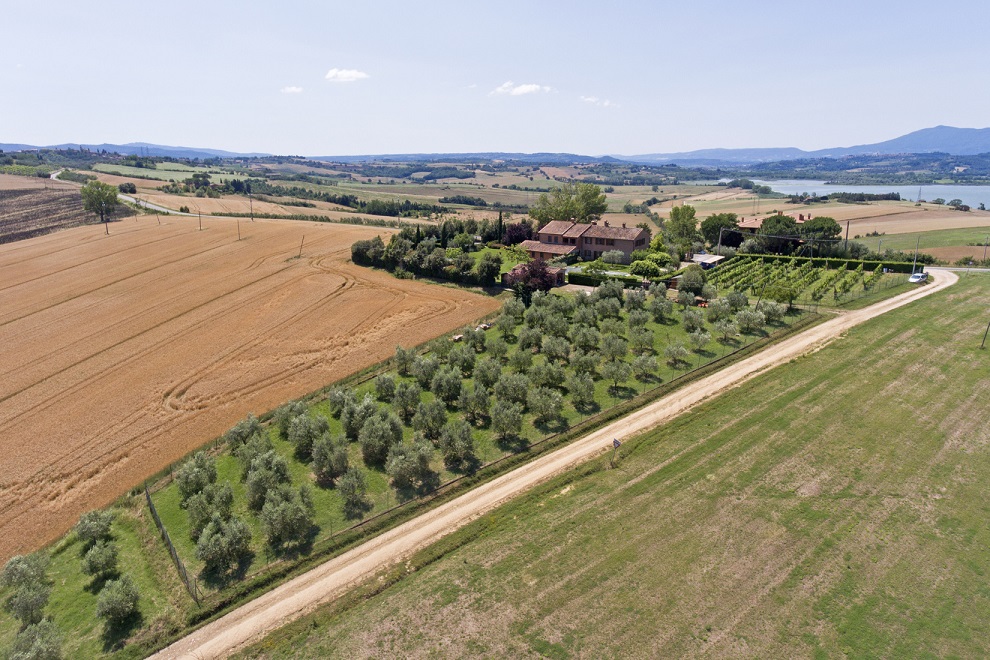 Now, I have to make a comment.
As you can see from the property tab, "Rosso Mattone" represents a portion of a large farmhouse. This property could have been sold with two different modalities.
The first one was "Rosso Mattone": the sale of a portion with a swimming pool and about 2.000 sqm of land, including a small vineyard; the possibility of purchasing further 2000 sqm with an olive grove and more habitable surface.
Because of a mistake of us, "Rosso Mattone" was initially advertised as a portion with 4000 sqm of land including both a vineyard and an olive grove.
My clients fell in love with this property, but they based their opinion on wrong information: they thought that the property included 4000 sqm of land.
When we realized the error, we immediately spoke to them: we explained to them that the olive grove was not included so, if they wanted to have it, they would have to pay a higher price than the one on the property tab.
This situation has bothered my clients, causing so their "estrangement" to the idea of purchasing "Rosso Mattone".
Indeed, they soon focused themselves into another property, their initial "second choice", managed by another agency.
However – luckily for us – the negotiation did not work, so my clients "came back" to Great Estate and "Rosso Mattone" by presenting an offer.
Once we received it, some technical-urbanistic discrepancies have emerged from the property papers.
In the end, despite this, and thanks to the commitment, knowledge, and professionalism of the GE CEO, Mr. Stefano Petri, the vendors' consultant, everything was solved.
In this way, we were able to sign the sale of "Rosso Mattone" and make its news owners happy!
The new owners will move into their new home: a charming property loved by both the clients and their doggies!
For this reason, I am decisively happy and satisfied with the objective reached. Indeed, it was not easy to find the right property for Mr. Sheperd and Mrs. Kaja: the one able to satisfy all their needs.
In addition to my personal satisfaction, you may have understood the difficulty of this negotiation!
In this regard, I want to underline what my colleagues have already said in our previous articles: the importance of a property due diligence.
Indeed, if a due diligence would have been made right after the signing of the assignment for sale, I am sure that we could also have avoided some problems during the negotiation. Those problems have undermined the negotiation itself.
So…dear vendors, please, follow our suggestions!
If you are willing to sell your property quickly and with profit, we suggest you entrust yourself to Great Estate. We also invite you to ask your trusted specialist for a property due diligence, so as to guarantee its saleability.