Today we'd like to share a recent interview with the new owner of the beautiful property known as "La Vista Sulla Val D'Orcia", Viola Vaccarino.
– Welcome Viola. Would you like to tell us something about yourself?
I was born in Sicily, I lived in Milan and then later moved to the United States. I studied medicine in Milan and then I got a doctorate in epidemiology at Yale University in the States.  I am a University Professor and my focus is on cardiovascular research. Since the year 2000, I have lived and worked in Atlanta.
– Why did you decide to purchase a property in Italy, specifically in Tuscany?
My husband and I plan to retire in a few years, and we have decided to move to Italy. For it's returning home while for him, as an American, it will be a new experience! Among the various options, Central Italy was at the top of my preference list, especially for ease of travel (both to and from abroad). A few years ago we took a sightseeing tour in the villages of Southern Tuscany and we fell in love with the variety and beauty of the landscape, the historical richness and the preservation of the territory. I would say it wasn't very hard to get my husband to focus on this area!
– How did you find out about the Great Estate Group?
Initially, I heard about them from my sister, who was also looking for houses in the area. 
Great Estate has a strong presence in the real estate market in Southern Tuscany and Umbria, and your site soon became the reference point for our search for houses in the countryside.
– How did you come to trust Valter Luciani, your local agent?
Valter was my first contact at Great Estate.
I immediately appreciated his professionalism and courtesy. Valter was always available to answer all of our questions and easily reachable by phone, even outside office hours. He always went out of his way to answer questions, solve problems, or organize subsequent visits–all while maintaining a nice, optimistic, friendly attitude, and always highly professional.
We couldn't have received better treatment!
– Valter told us that his knowledge of "La Vista Sulla Val D'Orcia" dates back to about 5 years ago!
Do you remember the first property visit? What sensations did you feel?
Yes, I remember it very well.
After visiting several other farmhouses with my sister, I felt this property was clearly unique to me compared to all the others …
First and foremost for the breathtaking views and surrounding landscapes… this is the feeling I felt when I saw it for the first time!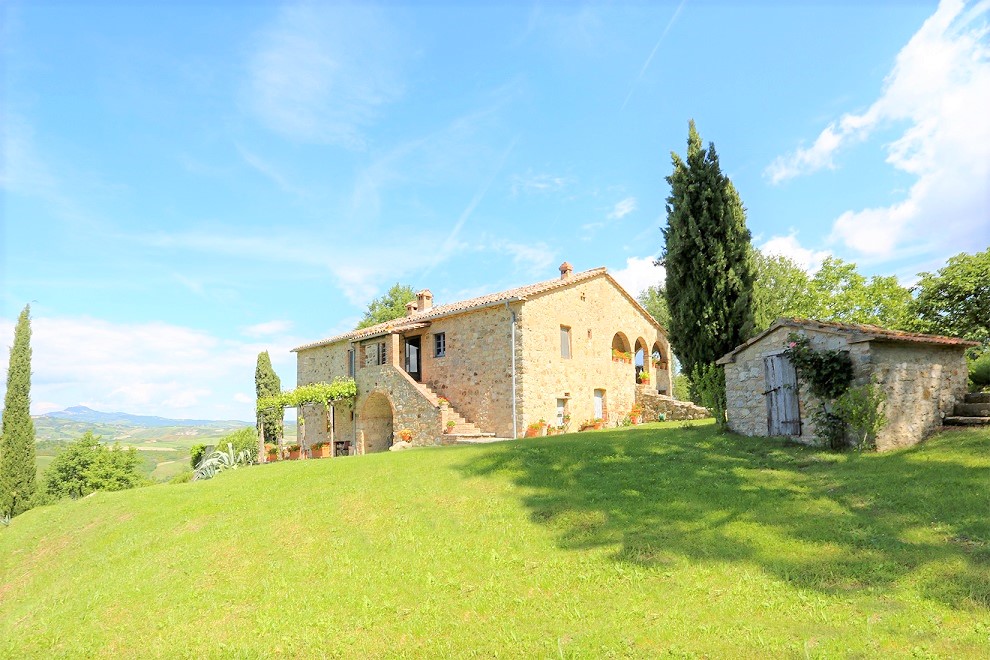 Furthermore, the farmhouse itself revealed very unusual characteristics, having kept the charm of the old Tuscan farmhouse almost intact.
– Why did you decide to buy "La Vista Sulla Val D'Orcia"?  
For a number of reasons: as mentioned, the unique landscape, with the countryside almost unchanged over the centuries and well protected by Tuscan legislation, as well as the farmhouse, which has preserved its fascinating historical characteristics; then the area surrounding the characteristic village of San Casciano dei Bagni, well preserved and not too crowded; proximity to Val D'Orcia and to neighbouring areas, with the many, beautiful historical centres within easy reach (we are in Tuscany, in the province of Siena, but also on the border with Umbria and Lazio); finally, the proximity to larger towns that offer useful services, such as Chiusi and Città della Pieve, as well as to Rome, just 2 hours away by train or car.
-So as we mentioned, in 2021 you were able to see your new magnificent farmhouse from a distance, thanks to a series of video calls with Valter. What is your opinion of Great Estate Virtual Visits?
Being in the USA, and therefore at a considerable distance, having access to videos of the property proved to be a huge help. We had various video calls with Valter and he also sent us video clips of each room and of the outside areas. After 5 years, this was very useful for us to revisit the condition of the property, allowing us to close the sale much faster.
It is however true that even though I was familiar with "La Vista Sulla Val D'Orcia" I went back in person with my husband before we closed on the house. The virtual visit techniques are very useful and important in the initial stages of the process, although personally, I don't think they can entirely replace the in-person visits.
– In short, how would you describe your experience with Great Estate?
I would say very satisfied!!
My husband and I were really satisfied with the assistance that Valter (read his interview) offered us before, during and after the sale, and for the help we also received from his colleagues at Great Estate.
– Finally, and in light of your experience, would you recommend Great Estate to other international clients who, like you, have decided to purchase a prestigious property in Italy? And if so, for what reasons?
Without a doubt! And, I did it!
More importantly for the professionalism and kindness of your real estate agents and your expertise in this gorgeous part of Italy!
READ ALSO: