Today, we are going to propose to you the touching tale of Mr. Carlo and Mrs. Beatrice, the ex-owners of "Podere Monteverde": to the discovery of that ancient ruin with a charming view to the cooperation with Suzanne Van Ravenstein for its sale.
It was 1992, my husband and I were living in Narni. We really loved that town, and we never thought to leave but…life changes. Carlo accepted to work as GP in Otricoli, so we decided to move to the countryside.
We started visiting many houses, but none of these caught our attention till when we identified a ruin in the middle of nowhere.
We found the owner, who, given the fact that there was no road to reach it, suggested us not to visit the house. However, we did not give up. With a brush cutter and a sickle, we entered a bramble wood, curious about what we could find at the end of this.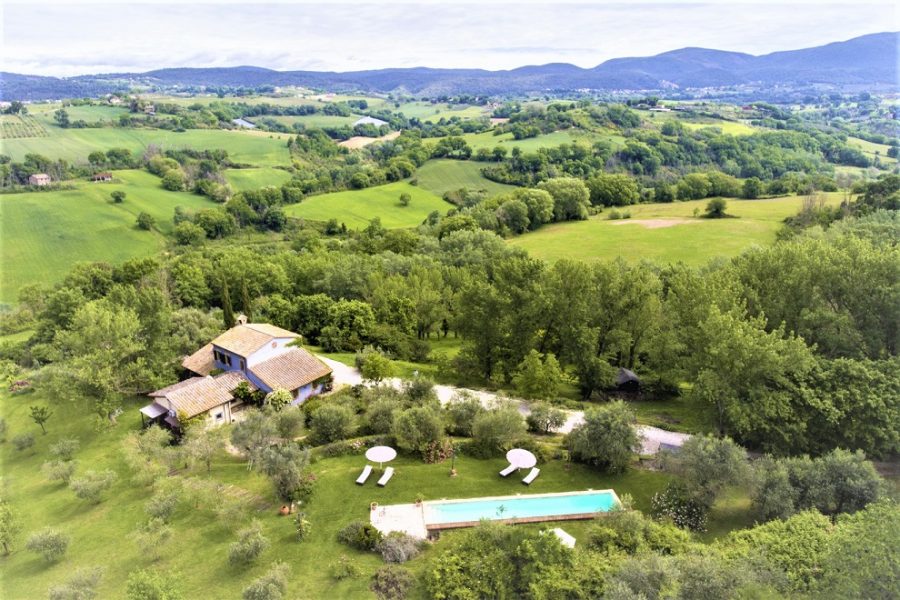 Once opened a passage and reached the ruin, we completely fell in love: the view was simply amazing.
Unfortunately, but also luckily, my husband and I have always acted on instinct by following our hearts. Right at that moment, while looking into each other eyes, we decided that this would have been the place for our new home.
So, in January 1993, we started the renovation. It held about a year. Once ended the most important works, we personally deal with the remaining: from the painting to the floors, and the building of a masonry kitchen.
So, "Podere Monteverde" grew up with us and our children, and we have always improved it in order to match our exigences (discover it here).
I remember that, when we invited some guests at home for the first time, they have always told us at first that they felt to be at home: sure, it depended also on our presence… but "Podere Selvolina" ("Podere Monteverde") played is role as well.
Leave it was surely very hard for us but, right as happened in 1992… life changes, and so your needs.
While reading a furnishing magazine, we noticed that Great Estate was looking for farmhouses for sale in Umbria. So, we decided to contact you. At the end of spring 2019, Suzanne came to visit us.
We created a great feeling from the very first moment: Suzanne is very funny and self-confident.
So, we decided to sell our home only through Great Estate. To be honest, we were sure that it would have passed more time before Great Estate could identify a client for our home!
Instead, in about a year, we were able to sell our home!
Confused, but happy, we decided to accept the purchase offer that the German buyers presented us. The price offered was quite the same as what we were asking.
During the negotiation, Suzanne supported us in an exceptional way!
This moment was very delicate for us. Because of the pandemic, we did not know if the buyers could have come to Italy or when… I remember that we phoned and emailed Suzanne constantly.
Despite this, she was always very helpful and, in the end, everything went well.
If we have to sell another property? We surely ask Great Estate!
Carlo and Beatrice