We interviewed Mr. Jean Wilmotte and his partner, Mrs. Fabienne, the current owners of the amazing "Il Tramonto Sul Lago" villa, Isola Maggiore – Trasimeno Lake.
Welcome Mr. Jean, Mrs. Fabienne. Thank you for your time. Would you like to tell us something about yourselves? What are your occupations?
We dedicate ourselves to our own personal hobbies. Fabienne's one is gardening: she really has the so called "green thumb" and transformed our garden into a true small Eden. As for me, photography is my passion since 2011. Indeed, in that year, I started dealing with a blog about the Isola Maggiore. In 2017, my B/W photos were exhibited at the Island Museum. Moreover, both Fabienne and our daughter Stéphanie are very involved with the Isola Maggiore Pro-Loco activities.
How long have you been living here?
For over 10 years!
How did you discover Umbria and the Trasimeno Lake for the very first time?
We knew several Italian regions already, but we were not been in Umbria before that time.
If we may ask, when and why did you decide to move into Italy?
As a psychiatrist, I met a lot, too much people who, in the moment they retired, fell into depression. Fabienne and I wanted to see this new phase of our lives, the retirement, as if it were our second rebirth: a new country, a new language, a completely different atmosphere. This project, through our registration to many Italian courses, took place in 2002.
One question arises spontaneously: why did you choose the Isola Maggiore island?
To be honest, we wanted to live near an Italian lake. We had already visited different lakes in the north of the country but, by checking the on-line real estate proposals, we finally found this property in Isola Maggiore out. It immediately seemed us a magical place and, the next Monday, we landed in Rome to visit it.
What does living in a so special place and this Trasimeno island mean for you?
They mean living a dream daily.. something which goes over all the hopes and expectations we had.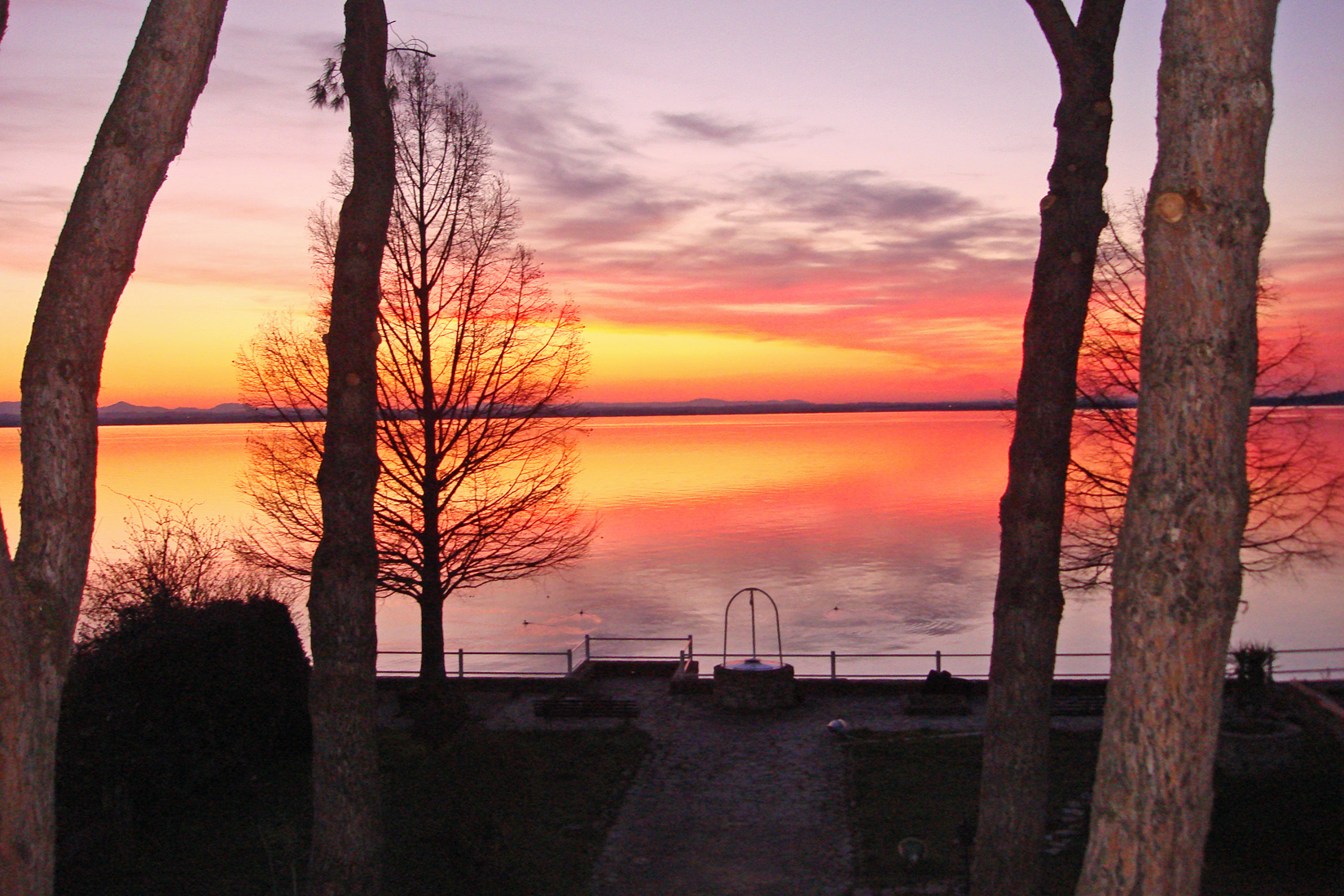 Let's talk now about the amazing "Il Tramonto Sul Lago" villa (click here to discover the property). When did you purchase it?
In October 2008.
What made you decide to purchase this property?
Once taken the ferry and arrived at the dock, we crossed the unique street of the island. This is when we first had the impression of being into another world, into another time. Then, the irresistible 180° view of the Trasimeno lake which can been admired from the villa garden convinced us immediately. Indeed, my wife said: "There is no need to keep looking for a home!".
At that time, which were the conditions of the property?
The ex-owners came to the villa very often, so it was in very good conditions. Our first renovation work was making it become an unique property thanks to the creation of a semi-little tower: previously, it was composed of two separated and overlapping houses. Then, we renovated the energy and water systems, as well as the walls painting. Finally, we created a very modern and comfortable kitchen and a bathroom with jacuzzi near our bedroom.
In our opinion, the garden potentialities had not been used completely: for this reason, we decided to cut all the trees down. After this, Fabienne planted an orchard and several flowerbeds. The entrance, automatic gate, garden paths floors have been restored too.
How did you use the property during the time?
During the last 10 years, this was our first home. Its size, charm and position allowed us to proudly welcome many relatives and friends in here. However, to today and given my age and its exigencies, we decided to sell our home.
So, talking about the cooperation with Great Estate, how did you discover the group?
We compared the different on-line proposals. Thereafter, thanks to its many services and great experience, the decision to entrust ourselves to Great Estate arose.
Which were your first impressions about your GE consultant, Giacomo Buonavita?
From our first meetings, we immediately found his analysis very realistic and his action plan adequate.
Which are your personal opinions about the services offered by our group to those who, like you, are going to sell their prestigious property?
Until now, we were able to rate the accuracy and precision of the property brochure on its estimate and national and international GE communication strategy.
In your opinion, which are the strengths and the main features of "Il Tramonto Sul Lago"?
Our villa has all the modern comforts possible and it is ready to move in. Its maintenance state and the garden one are perfect. If you desire, it also possible to purchase all, or just a part, of its furnishings.
We live in a island that enjoys of a public ferry-transport system which connects it with Tuoro Sul Trasimeno, Passignano and Castiglione Del Lago. For this reason, we are never really isolated. Indeed, the villa is equipped with a private dock with outboard boat. Tuoro Sul Trasimento is just three minutes distant. There, we also have a 50 sqm garage. Moreover, from this town, it is possible to take the highway bringing to Peugia (ca. 30 min.), Assisi (ca. 40 min.), Arezzo (ca.75 min.), Florence (ca. 90 min.) and Rome (ca. 2 hours) too. The Perugia airport is at just 40 minutes from Tuoro and it is connected to London, Frankfort and Bruxelles-Charleroi.
In your opinion, who is the ideal buyer for your villa?
Someone able to appreciate a location like this, sensitive to the magic of the water and who is looking for a place where to relax and welcome his/her family or friends.
To conclude, why a potential buyer should decide to purchase your villa? What makes it be special and unique?
Our villa "finds her feet in the water", immersed into the incredible Trasimeno National Park. The Isola Maggiore is one of the few lake islands which is still lived in the whole Europe. Here, no new constructions are allowed. This is precisely its main feature: a great privacy, no pollution – no power-driven vehicles are permitted – and a large walks variety.
To today, a property like this is very rare to find in the entire national territory too.
A really special word of thank goes to Mr. Jean and Mrs. Fabienne
Related articles: