At the end of summer 2021, Great Estate signed the virtual sale of "Villa Stella", an enchanting residence located near Lake Trasimeno, thus realizing the dream of its new owner, Mr. Diopan, very well supported by Nadia Aron, manager of the buyer market of Great Estate as well as owner of the partner agency Italia Immobilien.
Summer 2021 closed for Great Estate with an exciting virtual sale – one of more than 50 made by our group over the past year – the sale of "Villa Stella."



"Villa Stella" is a property with fascinating historical flavor nestled in the hills of Lake Trasimeno and overlooking the valley dominated by the tower of the Castello Di Fiume.
Its new owner is from Germany and with "Villa Stella" he was finally able to fulfill one of his dreams: to create an accommodation business dedicated to families with four-legged friends!
Mr. Diopan decided to purchase his new home shortly after seeing the amateur video made by G.E. consultant Nadia Aron, thus relying on the professionalism and skill of our manager of the German buyer market, as well as owner of the partner agency Italia Immobilien.
Nadia recalls the details of this magnificent sale in this interview.
Welcome Nadia, and many congratulations for the virtual sale of "Villa Stella!" Would you like to tell us about the new owner?
Hello Chiara! The client who purchased "Villa Stella" is named Thomas…now I can call him by name, since we have become true friends! He contacted us in March of 2021 via the GE website, as he was interested in two properties in Umbria.
He is from Reichenbach an der Fils, a municipality located in the Baden -Würtemberg region, about 30 kilometers from the famous city of Stuttgart.
Great! What type of property was he looking for?
A characteristic residence in the Tuscan or Umbrian countryside. It was important for him to find a property that had two buildings and at least 1 hectare of land for his dogs and those of his future guests.
In fact, his desire was to move to Italy and start an accommodation business, such as a B&B or holiday home, dedicated to families with four-legged friends. He takes care of abandoned dogs in kennels and wanted to continue to do so in Italy as well. He is a very generous and selfless person. I was very impressed by the fact that he will offer his house for free to people who cannot afford holidays in Bella Italia!
Very interesting Nadia. That of "Villa Stella" was a virtual sale, so much so that the client saw this property in person only on the day of signing the preliminary. Would you like to tell us how this exciting experience took place?
Sure! Thomas and I spoke often via email and WhatsApp to discuss some properties that he had chosen and that I had proposed to him.
From the beginning, an excellent relationship was created between us: he really trusted me and also Riccardo Luculli – owner of Agenzia Romanas, GE partner – who supported me in providing Thomas with the most specific information relating to the works of restructuring.
Consider that after this first period of knowledge and understanding of his needs, he left the guide of his purchase decision to me, placing true, total trust in my ability to interpret his future needs.
When he came to Italy we looked at 3 properties, and at the end of the visits he asked me to go and see another one that I had proposed to him in the past, but which was outside of his initial budget: "Villa Stella."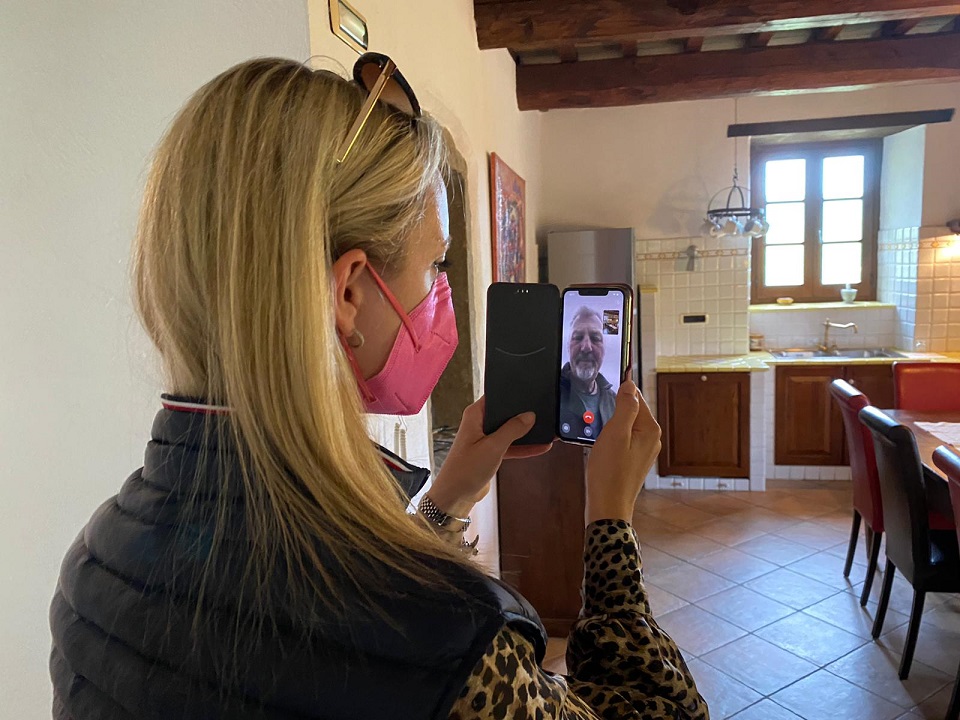 So, the following day I went to see the villa for him and immediately got to work, filming the entire property and then forwarding the video to him.
After about an hour, he called me and asked me:
"… In yours and Riccardo's opinion, is this property better than the others?"
We responded, YES!
Thomas remained silent for a couple of seconds and then said to me:
"I trust your professionalism and your knowledge of the properties and my needs…I'll buy it!"
A truly fantastic sale Nadia!
Yes, and I would also say particular from many points of view: trust, interaction with the client, speed.
The profound knowledge of the client's needs and desires, combined with the sharing of the same needs – since I am German like him – led me to be even more attentive not only to words, but also to the messages "hidden" in the client's expressions: pay attention to words and non-verbal language.
It is because of this that mutual trust is generated between client and professional, which leads to the right choice of the property to purchase and therefore, to the most important aspect of the whole process: customer satisfaction.
As I have said many times, I work for customer satisfaction, not for one more sale.
During the sale of "Villa Stella" I knew that I had taken on a great responsibility – and also a risk – in choosing it as a home from Thomas. However, when I noticed his delight in seeing his new property, I realized that I was able to help him in the fulfillment of his greatest desire.
Thomas was so satisfied with his new and "easy" – virtual – mode with which the whole purchasing process took place, that he has already put us in contact with other clients, as well as advertising us in various ways.
Furthermore, as I said, I no longer consider him as simply a customer, but as a dear friend.