We interviewed Mr. Erlemeier, the new owner of "Borgonuovo" and one of the protagonists of what we called "the perfect sale" … remember?
Welcome Mr. Erlemeier. If we may ask, where do you come from, and which are your jobs?
Welcome also from my side. I am from Germany, living with my family in Munich since 2015. I have been self-employed with my own consulting company for the last year and just recently started to work with one of the leading consulting companies permanently.
When did you decide to purchase a prestigious property in Italy?
We have as a family lived in many countries across the world and after 20 years returned to Germany. 20 years ago we lived in Italy and since then have always had great affection for the country, the lifestyle and its culture. We started to look recently at properties in several countries but eventually returned back to our favorite country, Italy.
Before the purchase of "Borgonuovo" did you know Montefiascone and the countryside of the area?
We did not know the area but we had many great memories of our vacation in Montepulciano which is reasonably close. Since we had the chance to visit Montefiascone, Lago di Bolsena as well as some of the beautiful cities around, we truly appreciate the wonderful surroundings.
How did you discover Great Estate and Nadia Aron, your trusted consultant and the person in charge of the GE German Market?
I researched the internet for houses in Italy and came across Great Estate. It was for another property that I reached out for more information to Nadia. She immediately responded and we had a good phone conversation to narrow down our search, which then included recommendations for us.
That's where we discovered "Borgonuovo".
We would like to discover your opinion regarding the consultancy your received from Nadia: what do you think about it?
Nadia has been fantastic in all aspects of her consultation.
She has been extremely friendly, responsive, and overall great support for the whole process. Nadia is not only professional but additionally a trustworthy, nice person. She always does what she says and delivers perfectly. Especially for a foreigner buying property in another country can be complex and the language is an additional challenge.
Let's talk now about your new splendid property, "Borgonuovo". When did you visit it for the first time? Do you remember your first feelings once there?
I visited for the first time immediately after completion of the pre-contract documentation and 4 days after we first looked at the property online based on Nadia's recommendation. I felt great, as the property looked exactly like the pictures promised.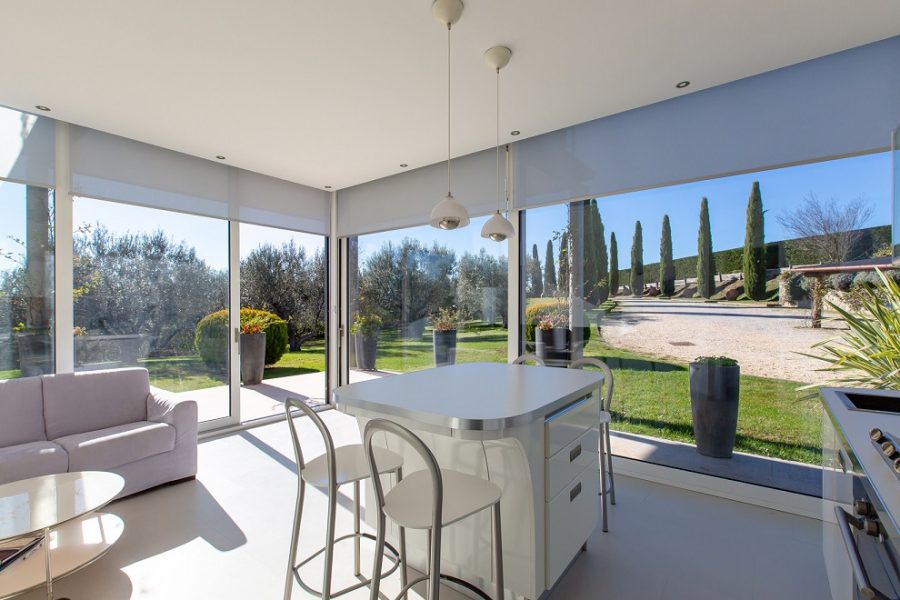 Why did you finally decide to purchase " Borgonuovo"?
We are usually fast decision-makers and have bought several times houses around the world. It felt right and we are happy with our decision.
Have you ever met the ex-owners of the property?
Yes, I met the previous owner during our visit together with my wife in April. We also stayed at the property, had dinner and good discussions with the pre-owner.
Mr. Erlemeier, you decided to purchase "Borgonuovo" the very day you viewed the property and exactly 11 days after the creation of your reserved area within our website by logging in to it.
Yes, as I explained before, we are fast decision-makers and it is a decision you "feel".
It's as much heart as mind and of course no fear of decision making.
Great Estate has introduced this new feature in order to be able to offer our clients more and higher quality content (such as virtual tours and professional, photo shoots of the properties, Drone videos…).
The photos and content have been very helpful and professional. The aerial photos help to understand the size and layout of the land, it creates a feeling of holistic nature. Well done!
What is your opinion about this opportunity that our group proposes to its clients?
It's certainly the most professional design I have come across. Easy to use, great content, excellent layout, and photos. It should provide you with a more professional appearance and therefore increased market opportunities.
Talking now about the negotiation, would you like to tell us how was it? What do you think about the consultancy and assistance you received from Nadia?
The negotiation was an easy process as we offered the asking price requested. I discussed with Nadia about the value of properties in the area and across Italy, paired with my own investigation.
To close fast and without delay, we decided to offer the full asking price as that was in a "fair" range.
To sum up, how would you rate your experience with Great Estate?
Very very happy with the experience and this is mainly due to the excellent work of Nadia, but also her support team.
Would you recommend Great Estate to other international clients who, as you did, want to purchase a prestigious property in Italy? If so, why?
I did recommend to two of my friends already Great Estate and specifically Nadia, as I know the service will be very professional.